This comprehensive guide is your compass to crafting a Bill costume from The Last of Us that captures the essence of this enigmatic character. Whether you're gearing up for a gaming convention, a themed costume event, or simply wish to pay tribute to one of the most memorable figures in the game, we've got you covered. From nailing Bill's distinctive attire to embracing his unique personality traits and quirks, we'll walk you through every step of the process. So, gather your crafting supplies, channel your inner eccentric, and let's embark on the journey of becoming Bill in the unforgiving world of "The Last of Us."
Bill Costume from The Last of Us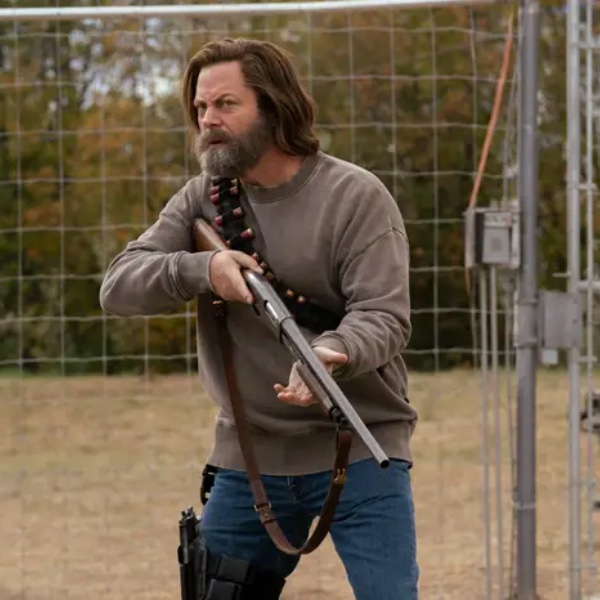 | | |
| --- | --- |
| Grey Sweatshirt | Bill is typically seen wearing a grey sweatshirt. It's a fundamental part of his costume and contributes to his rugged, practical look. |
| Black Drop Holster | Bill is known for carrying a holstered pistol. The black drop holster not only adds authenticity but also represents his readiness for defense in the post-apocalyptic world. |
| Rubber Practice Pistol | For safety reasons, a rubber practice pistol is a suitable choice to replicate Bill's firearm. It adds a realistic touch to the costume without the risks associated with real weapons. |
| Long Brown Men's Wig | Bill has long, unkempt brown hair. A wig is essential to capture his hairstyle accurately, as it's a defining feature of his appearance. |
| Brown Beard and Mustache | Bill has a rugged beard and mustache. These facial hair elements are crucial for achieving his distinctive look. |
| Dark Blue Jeans | Bill typically wears dark blue jeans. They are practical for his character and reflect the gritty atmosphere of the game. |
| Safety Shotgun Shells | Shotgun shells can be added for authenticity, but it's essential to ensure they are safe and non-functional to avoid any potential risks. |
| Shotgun Shell Belt | Bill often carries shotgun shells on a belt. This accessory not only enhances the costume but also reflects his preparedness for combat. |
| Brown Plaid Shirt | A brown plaid shirt is a key element of Bill's outfit. It adds texture and layers to the costume, representing his practical and utilitarian style. |
| Tweed Blazer | Bill occasionally wears a tweed blazer over his shirt. It's a distinct piece of clothing that adds depth to his costume. |
| Brown Button Down Shirt | Underneath his plaid shirt, Bill typically wears a brown button-down shirt. Layering these shirts adds authenticity to his appearance. |
| Silver Wedding Band | Bill wears a wedding band. Including this detail adds depth to the character and showcases his personal history, as hinted at in the game's narrative. |
Bill from The Last of Us Overview
Key Characteristics and Role:
Survivalist Expertise: Bill is a survivalist with unparalleled knowledge of the post-apocalyptic world. His experience in navigating the dangers of the infected and hostile humans makes him a valuable ally to Joel and Ellie during their journey.
Eccentric Personality: Bill's character is marked by eccentricity and a touch of madness. He has idiosyncrasies, such as setting up elaborate traps and barricading his hideout obsessively, that reflect the toll of isolation in a harsh world.
Complex History: As players interact with Bill, they uncover hints of his complex history and relationships, including his troubled past with Frank. These elements add depth to his character and underscore the layers of complexity within the game's narrative.
Bill's Distinctive Attire:
Bill's costume is practical, reflecting his survivalist lifestyle, while also showcasing his unique personality. He is often seen wearing a dark green cargo jacket, a plaid shirt, cargo pants, combat boots, and a utility belt. His attire captures the ruggedness and eccentricity that define his character.
Cosplay and Tribute:
Crafting an authentic Bill costume allows fans of "The Last of Us" to pay homage to this unforgettable character and step into the shoes of a survivor who has thrived in a world where others have fallen. In our comprehensive guide, we'll provide detailed instructions on how to recreate Bill's distinctive look, from choosing the right clothing and accessories to adopting his eccentric mannerisms. Whether you're an avid cosplayer or simply a fan seeking to embody Bill's unique persona, this guide will help you bring the enigmatic character to life. Prepare to embrace the eccentricity and resilience of Bill as you step into the world of "The Last of Us."
Check out more The Last of Us TV show costume ideas here.