With a sneer that could melt hearts and a rebel yell that echoed through the ages, Billy Idol epitomizes the spirit of rock 'n' roll. A punk rock icon and charismatic performer, Billy Idol's music and edgy style continue to inspire generations. If you're ready to infuse some "White Wedding" energy into your wardrobe, join us on a journey through our guide on creating the ultimate Billy Idol costume.
Billy Idol Costume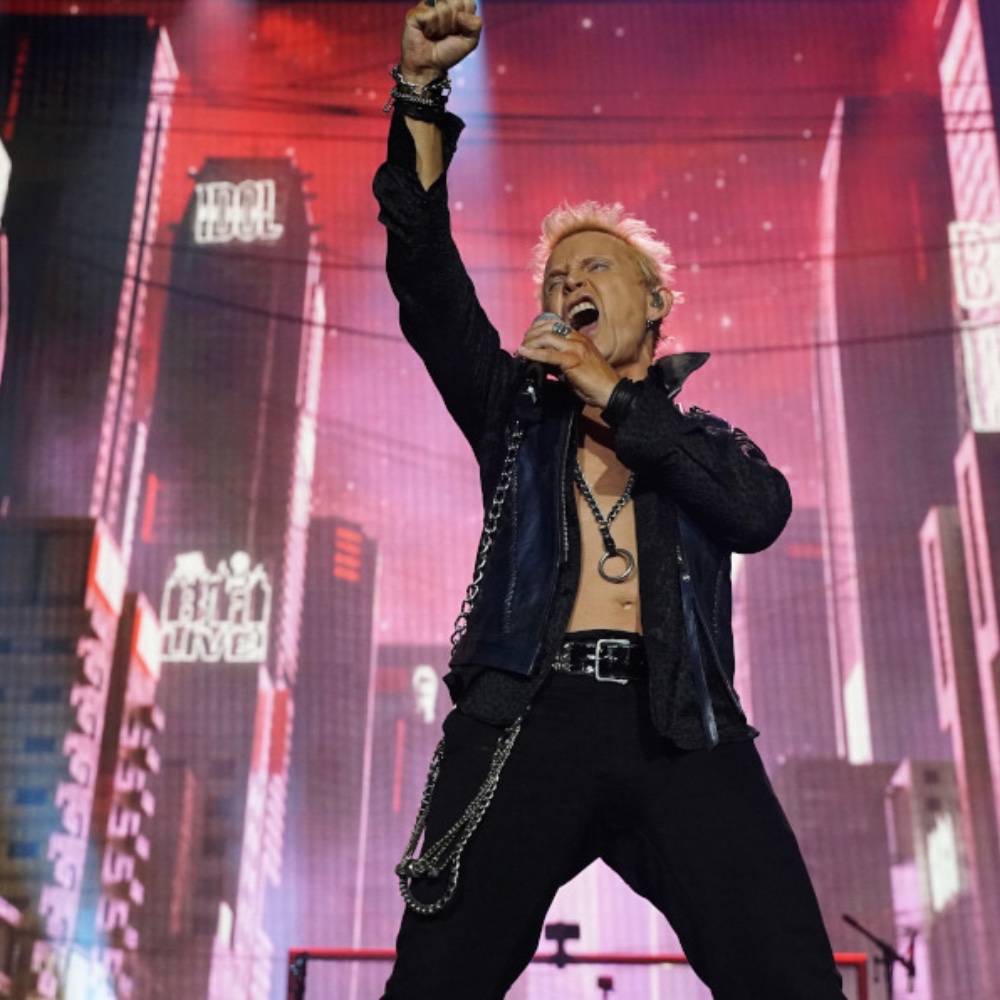 | # | Item | Description |
| --- | --- | --- |
| 1 | Black Punk Leather Jacket | Transform into a rock icon with this stylish black punk leather jacket. Crafted from genuine cowhide, it exudes the perfect blend of rebellion and fashion. |
| 2 | Black Metallic Leg Trousers | Pair your punk jacket with these eye-catching black metallic leg trousers. Their sleek, straight fit complements your rocker vibe perfectly. |
| 3 | Black Punk Boots | Elevate your look with these black punk boots featuring a chain and silver spikes. They're the ideal finishing touch for your edgy ensemble. |
| 4 | 80s Rocker Fingerless Rivet Gloves | Continue your theme with these 80s rocker fingerless rivet gloves. They're not just fashionable but also practical for any rockstar. |
| 5 | Black Studded Bracelets | Enhance your rogue attire with these striking black studded bracelets. They add an extra layer of punk authenticity to your look. |
| 6 | Punk Pants Chain | Attach this gothic punk chain to your pants for a unique touch. It's a small detail that makes a big difference in your overall appearance. |
| 7 | Cross Pendant Chain Necklace | Sport this chain necklace with a cross pendant, reminiscent of your favorite rockstars. It's a must-have accessory for your rocker persona. |
| 8 | Blonde 80s Rock Idol Wig | Complete your transformation with this blonde 80s rock idol wig. It's the finishing touch that will make you look just like Billy Idol. |
Billy Idol Costume Overview
Born William Michael Albert Broad in Stanmore, Middlesex, England, Billy Idol rose to fame as the frontman of the punk rock band Generation X. His charisma, snarling vocals, and rebellious attitude set him apart in the punk scene of the late 1970s. However, it was his solo career that catapulted him to international stardom in the 1980s.
Billy Idol's music blended punk, new wave, and hard rock elements, producing anthems that remain fixtures on rock playlists worldwide. Hits like "Rebel Yell," "Dancing with Myself," "Eyes Without a Face," and "White Wedding" defined an era of rock music. His energetic stage presence and iconic sneer became symbols of rock rebellion.
One cannot discuss Billy Idol without mentioning his distinctive style. The platinum blonde, spiky hair, leather jackets, and rebellious fashion choices contributed to his punk rock image. His penchant for tight pants, fingerless gloves, and an endless collection of leather jackets made him a fashion icon.
Billy Idol's impact on music and pop culture is immeasurable. His bad-boy image and unapologetic approach to rock 'n' roll have solidified his place in music history. Beyond his music career, Billy Idol's charisma continues to captivate audiences, making him a true punk rock maverick.
Check out more celebrity costume ideas here.