Welcome to our comprehensive guide on creating an extraordinary BoJack Horseman costume! Whether you're a devoted fan of the hit Netflix series or searching for a unique and captivating costume idea, this guide is here to help you embody the complex and unforgettable character of BoJack Horseman. Get ready to embark on a creative journey as we guide you through the process of bringing this beloved animated character to life. From his iconic attire to his distinctive features, we'll provide you with all the necessary steps, insights, and tips to create an unforgettable BoJack Horseman costume. Let's dive in!
BoJack Horseman Costume – BoJack Horseman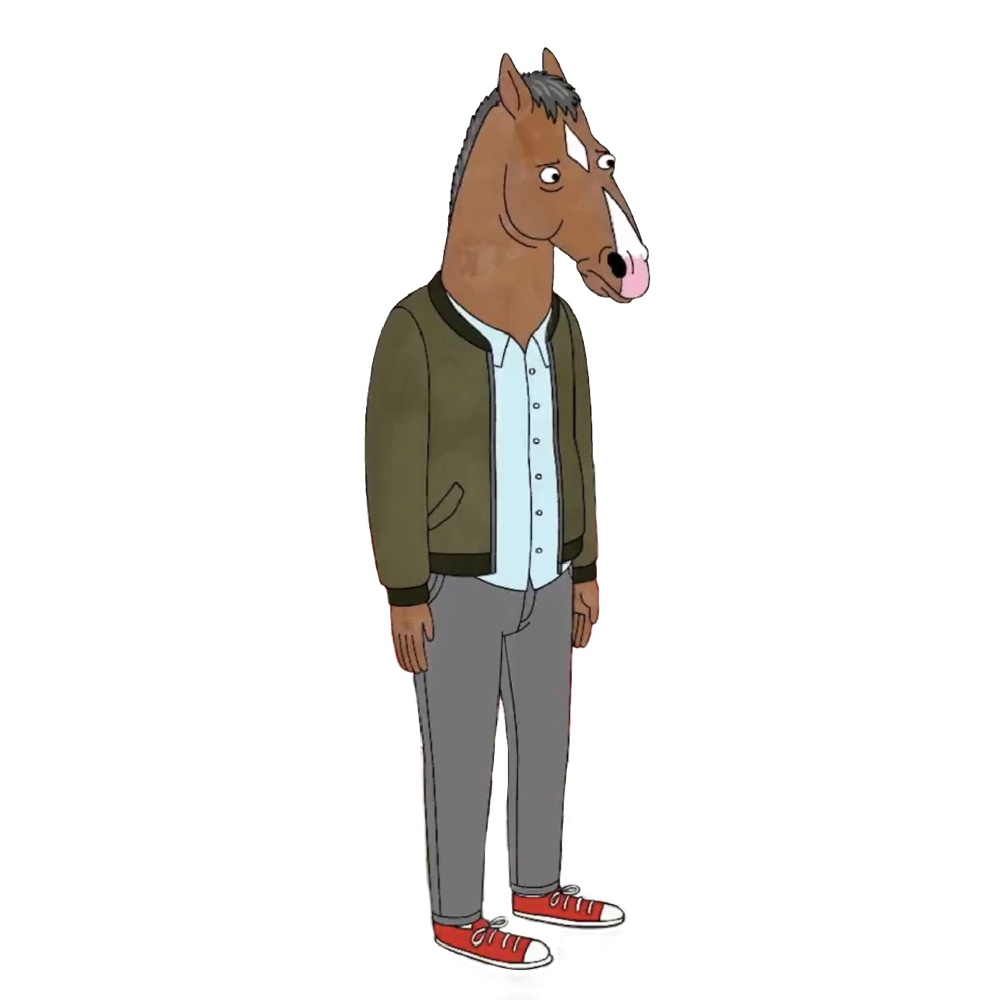 | # | Item | Description |
| --- | --- | --- |
| 1 | Gray, two-button blazer | BoJack may not be known for his impeccable style, but when it comes to retirement fashion, he knows how to make a statement. Step up your wardrobe with a casual gray blazer, preferably with two buttons. We recommend opting for linen fabric for its versatility, allowing you to wear it for various occasions. However, you're free to choose other fabric types that suit your preference. Elevate your style and channel your inner BoJack. |
| 2 | Blue, sweatshirt with X's pattern | Take a closer look, and you'll notice that BoJack always sports a blue pullover sweater with a distinctive X's pattern just below his blazer. Get in on the style by finding a long-sleeve blue t-shirt featuring the same eye-catching pattern. Alternatively, go the extra mile and recreate the design on a blue pullover sweater using black fabric paint. This attention to detail will set your costume apart. |
| 3 | Slim, turquoise jeans | To capture the essence of the animated series, opt for a pair of slim, turquoise jeans. These vibrant pants will make a bold statement and bring you closer to BoJack's signature style. However, if you prefer a more subtle approach, a pair of light-washed, tapered, blue jeans will still do the trick. Don't forget to roll up the cuffs slightly for that extra touch of authenticity. |
| 4 | Red, All-Star Converse sneakers | If you appreciate this type of footwear, you're in for a treat. Embrace simplicity with a pair of classic red All-Star Converse sneakers or any similar style that catches your eye. These iconic shoes will complete your BoJack Horseman costume with a touch of timeless fashion. Step out in style and channel your inner BoJack. |
| 5 | Horse mask | Make a striking entrance at any costume party with this remarkable horse latex mask. This versatile accessory is not limited to themed events but can add an element of fun and mystery to various occasions. While horse masks come in various colors, you might need to customize yours slightly to match BoJack's distinct markings. Draw a small white diamond in the middle of the eyes and a white triangle just a couple of inches below the diamond, starting from the pink upper lip. Unleash your inner BoJack with this unique mask. |
| 6 | Brown aviator glasses | Catch everyone's attention with a pair of brown aviator sunglasses, just like the ones BoJack occasionally sports. These stylish shades will add a touch of sophistication and shine to an already extravagant costume. Let your eyes be shielded in style and embrace BoJack's iconic look with these classic aviator glasses. |
BoJack Horseman Overview
BoJack Horseman, the titular character of the acclaimed Netflix series, is a complex and deeply flawed anthropomorphic horse. As a former sitcom star grappling with his fading fame and personal demons, BoJack captures the struggles and contradictions of the human experience with a touch of satirical humor.
BoJack's appearance is instantly recognizable, characterized by his distinctive design. He is a horse with a humanoid figure, sporting a sleek black suit, a white collared shirt, and a red bowtie. This timeless ensemble symbolizes his connection to the world of show business and his attempt to maintain a semblance of class and sophistication amidst his turbulent life.
Beyond his attire, BoJack's character is defined by his expressive and troubled eyes, which mirror his inner conflicts and emotional journey throughout the series. His charismatic yet self-destructive nature serves as a captivating portrayal of a complex individual struggling with his past, present, and future.
By embracing BoJack Horseman's unique blend of humor, depth, and vulnerability, you can embark on a transformative costume creation process. So, let's dive into the details, explore the essential elements, and discover how to assemble a remarkable BoJack Horseman costume that pays homage to this unforgettable character. Get ready to embrace your inner BoJack!
Check out more TV show costume ideas here.