Are you a fan of iconic fashion moments and a lover of all things fabulous? If so, channeling your inner Carrie Bradshaw might be the perfect costume choice for your next event or party. Carrie Bradshaw, the beloved character from the hit TV series "Sex and the City," is known for her unique and daring fashion sense. Her outfits are a mix of high-end designer pieces, vintage finds, and unexpected combinations that never fail to turn heads. In this guide, we'll take you through the steps of creating a show-stopping Carrie Bradshaw costume that captures her essence and lets you step into the shoes of this fashion-forward icon.
Carrie Bradshaw Costume – Sex and The City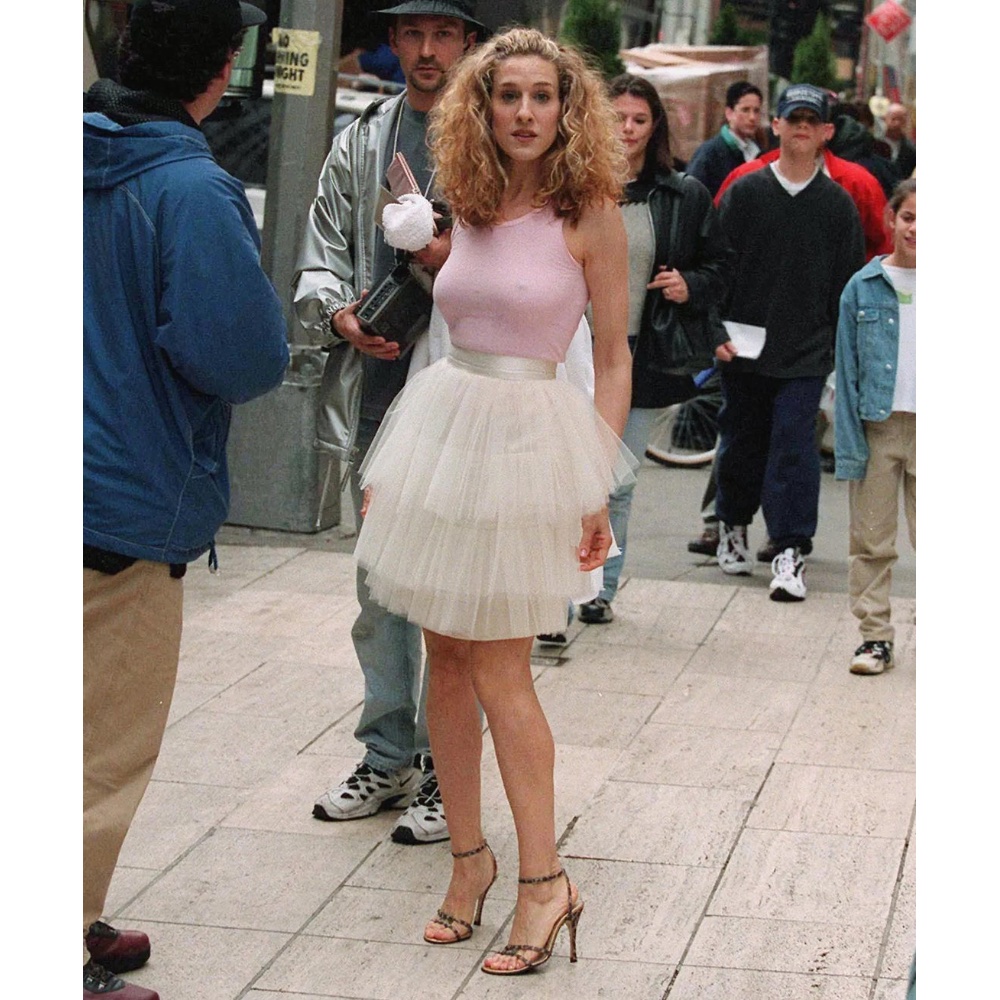 | # | Item | Description |
| --- | --- | --- |
| 1 | Pink tank top | Begin the ensemble with this delightful light pink top. |
| 2 | Tulle Skirt | Elegantly tuck the top into this charming white tulle skirt. |
| 3 | Open-toe Pumps | Elevate the look with a dash of high-fashion using these open-toed high heels. |
| 4 | Curly Wig | Complete the transformation with a curly blonde wig that perfectly tops the outfit. |
| 5 | Clutch | Accessorize elegantly with a sophisticated black clutch purse. |
Carrie Bradshaw Overview
Carrie Bradshaw, portrayed by Sarah Jessica Parker, is not just a character; she's a fashion inspiration that has left an indelible mark on pop culture. As the central character of "Sex and the City," Carrie is a freelance writer and columnist navigating her way through the complexities of relationships, friendships, and, of course, the fashion world of New York City. Her style is a delightful blend of eclectic, glamorous, and daring choices that reflect her bold personality.
Carrie's wardrobe is a treasure trove of sartorial surprises, combining unexpected pieces with a distinct flair. She effortlessly mixes vintage thrift store finds with high-fashion statement items, creating looks that are both timeless and avant-garde. Her outfits often play with layers, textures, and colors, resulting in ensembles that challenge conventional fashion norms and embrace the idea that personal style is a form of self-expression.
From her tutus paired with tank tops to her obsession with Manolo Blahnik shoes, Carrie's wardrobe is a celebration of individuality and fearlessness in fashion. Her confidence in pulling off even the most daring ensembles serves as a reminder that fashion is a means of embracing one's uniqueness and embracing the joy of self-presentation.
Check out more TV show costume ideas here.