Step into a realm of elegance, charm, and creativity as we embark on a journey to recreate the mesmerizing Dream House Barbie Costume, inspired by the iconic portrayal of Margot Robbie in the 2023 Barbie movie. Immerse yourself in the magic of fashion and imagination, as we guide you through the process of crafting a costume that captures the essence of Barbie's enchanting world.
Dream House Barbie Costume – Barbie Movie 2023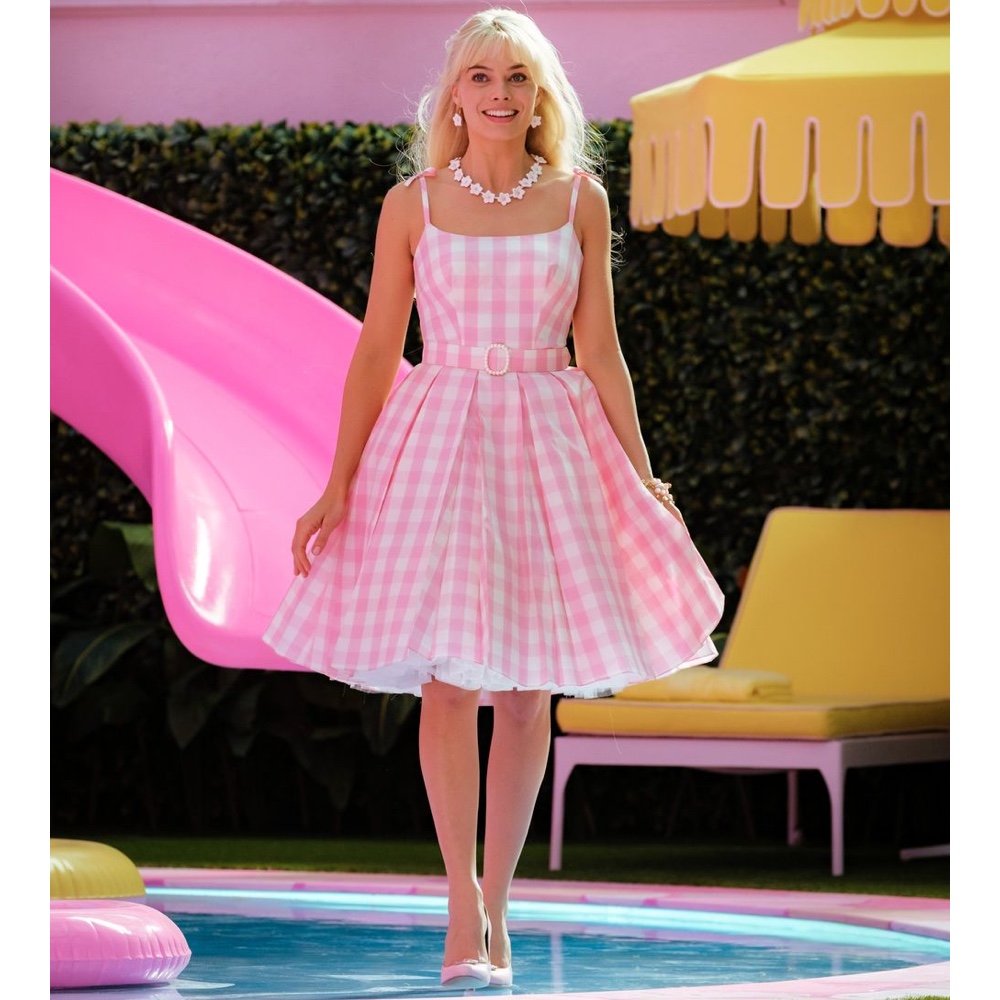 | | |
| --- | --- |
| Pink Check Dress | The Pink Check Dress serves as the foundation of the Dream House Barbie Costume, capturing the essence of Margot Robbie's character with its playful yet sophisticated design. This dress mirrors the iconic style of Barbie, embodying her timeless elegance and vibrant personality. The pink check pattern adds a touch of whimsy, while the fitted silhouette accentuates Barbie's graceful figure, allowing you to step seamlessly into her world of charm and fashion. |
| Pink High Heels | Pink High Heels are a must-have accessory to elevate your Dream House Barbie Costume to new heights of glamour. These heels not only add a touch of sophistication and class, but they also mirror the exquisite footwear that Barbie is known for. The pink hue complements the overall color palette, while the height and style of the heels capture the essence of Barbie's poised and confident demeanor, ensuring you embody her allure from head to toe. |
| Boho Flower Necklace | The Boho Flower Necklace adds a touch of bohemian chic to your Dream House Barbie Costume, infusing it with an element of free-spirited charm. This accessory complements Barbie's diverse and eclectic style, showcasing her ability to effortlessly transition between different fashion aesthetics. The floral design symbolizes Barbie's connection to nature and beauty, allowing you to embrace her enchanting versatility and expressiveness. |
| Boho Flower Earrings | The Boho Flower Earrings complete your Dream House Barbie Costume with a harmonious blend of elegance and bohemian flair. These earrings mirror the intricate attention to detail that Barbie's character embodies, showcasing her penchant for statement accessories. The floral motif resonates with Barbie's effervescent personality and adds a touch of whimsy to your overall look, ensuring that every element of your costume captures the magic of the Dream House world. |
| Blonde Wig | If you do not happen to be a natural blonde you always have the option of a blonde Barbie style wig. |
Barbie Movie 2023 Overview
Prepare to be whisked away into a dazzling realm of fantasy and comedy as we journey through the enchanting tapestry of the 2023 American blockbuster, "Barbie." Directed by the visionary Greta Gerwig, who skillfully penned the screenplay alongside Noah Baumbach, this cinematic masterpiece takes inspiration from the beloved Barbie fashion dolls by Mattel, breaking new ground as the first live-action adaptation in a realm previously dominated by computer-animated adventures.
Set against a backdrop of self-discovery and existential contemplation, "Barbie" follows the captivating escapades of the titular character, portrayed by the charismatic Margot Robbie, and her charming companion Ken, brought to life by the charismatic Ryan Gosling. Together, they navigate a world of introspection and transformation, accompanied by an ensemble of brilliant supporting stars, including America Ferrera, Kate McKinnon, Issa Rae, Rhea Perlman, and Will Ferrell.
The inception of this captivating tale dates back to the year 2009 when Universal Pictures first unveiled plans for a live-action Barbie film, spearheaded by producer Laurence Mark. However, it wasn't until 2014 that Sony Pictures took the reins, ushering in a period of development characterized by creative exploration and evolution. From the casting of notable names like Amy Schumer and Anne Hathaway to a transfer of rights to Warner Bros. Pictures in 2018, the film's journey to fruition was as captivating as the story it aimed to tell.
Margot Robbie's casting in 2019 marked a pivotal moment, setting the stage for Greta Gerwig's directorial prowess and her collaborative venture with Noah Baumbach, solidified in 2021. The remainder of the ensemble cast was unveiled in early 2022, adding layers of anticipation and excitement to the impending cinematic spectacle.
Filming itself unfolded as a transcontinental odyssey, taking place at the renowned Warner Bros. Studios in Leavesden, England, and amidst the vibrant vibes of the Venice Beach Skatepark in Los Angeles. From March to July 2022, these locales served as the canvas upon which the enchanting world of Barbie came alive, capturing the essence of the characters and their profound journey.
"Barbie" made its grand debut at the iconic Shrine Auditorium in Los Angeles on July 9, 2023, setting the stage for its triumphant theatrical release in the United States on July 21, courtesy of Warner Bros. Pictures. The film's simultaneous release alongside "Oppenheimer" spawned a remarkable social media phenomenon christened "Barbenheimer," enticing audiences to partake in a double feature of these cinematic wonders.
As the curtains drew back, "Barbie" garnered accolades from critics and fans alike, amassing a staggering worldwide box office gross of over $795 million. With its captivating narrative, exceptional performances, and visual splendor, the film soared to become the third-highest grossing cinematic masterpiece of 2023, leaving an indelible mark on the annals of cinematic history.
Join us in exploring the enchanting plot that weaves through the fabric of this extraordinary tale. Venture into the heart of Barbieland, where societal norms are turned on their head, where introspection begets transformation, and where the pursuit of identity becomes a journey of empowerment. Walk alongside Barbie and Ken as they navigate a world brimming with self-discovery, evoking laughter, inspiration, and a renewed sense of wonder.
Embark on this captivating adventure, where the boundaries between reality and fantasy blur, and the vibrant spirit of Barbie herself illuminates every frame. Are you ready to embrace the magic and embrace the allure of "Barbie"? The journey awaits, and it's nothing short of extraordinary.
Check out more Barbie costume ideas here.