Welcome to our comprehensive guide on creating an authentic Enid Sinclair Nevermore Uniform costume. Enid Sinclair is a captivating character known for her mysterious allure and the enigmatic Nevermore Uniform she wears in the series. Whether you're a dedicated fan looking to cosplay as Enid or simply interested in creating a striking costume, this guide will walk you through the steps to bring her character to life.
Enid Sinclair Nevermore Uniform Costume – Wednesday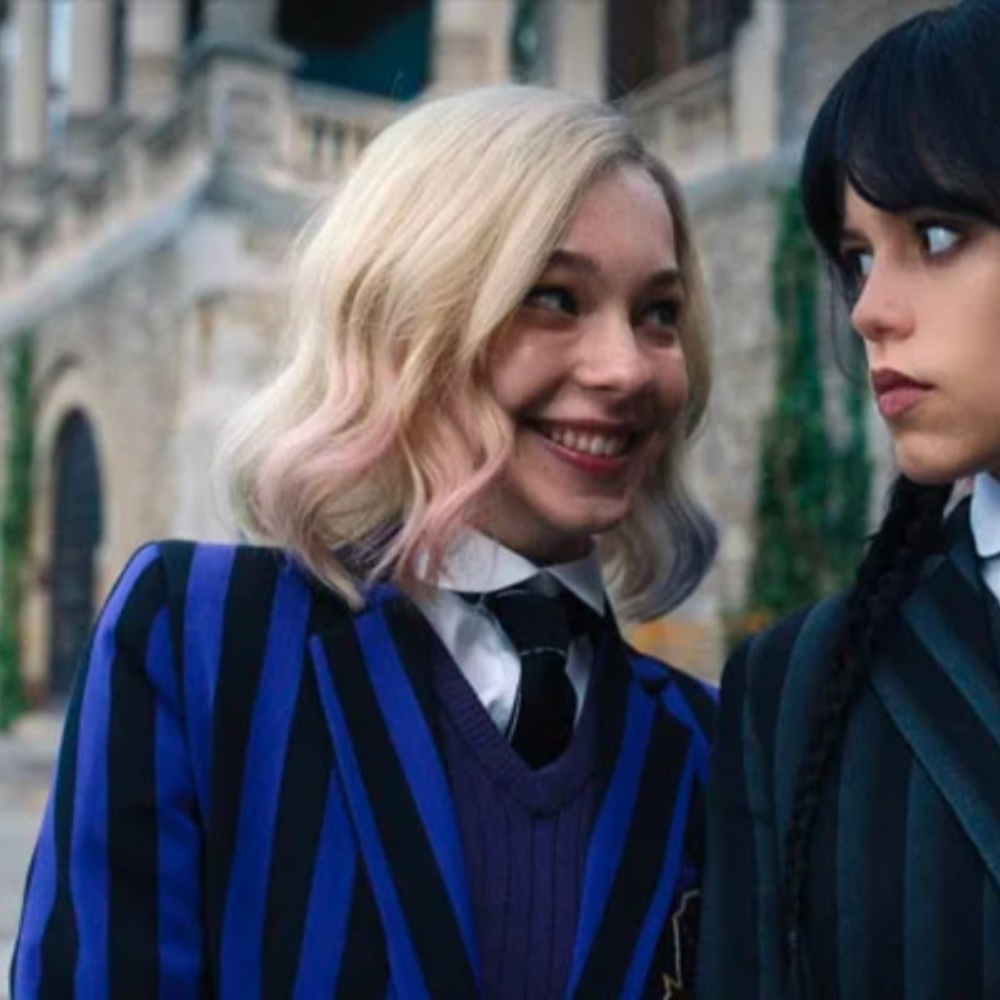 | | |
| --- | --- |
| Short Blonde Wig with Blue and Pink Streaks | Enid Sinclair is recognized by her short blonde hair with blue and pink streaks. This wig is essential to accurately portray her hairstyle and make your costume instantly recognizable as Enid Sinclair. It's a defining feature of her character's appearance. |
| Black Tie | The black tie is part of the Nevermore uniform and is worn as part of the dress code. It adds a formal and organized touch to the costume, emphasizing Enid's association with the Nevermore organization. |
| White Button Down | A white button-down shirt is a classic element of the Nevermore uniform. It represents the uniformity and discipline associated with the organization. Enid Sinclair frequently wears this as part of her outfit. |
| Navy Blue Sweatervest | The navy blue sweatervest is a key component of the Nevermore uniform. It adds a layer of professionalism to the costume and symbolizes Enid's commitment to the organization. |
| Striped Blazer | Enid Sinclair often wears a striped blazer as part of her Nevermore uniform. This blazer adds a touch of sophistication and authority to her character, making it a crucial piece for a complete costume. |
| Long Blue Pleated Skirt | Enid's long blue pleated skirt is another essential part of her uniform. It contributes to the overall look and style of the costume, aligning it with the character's appearance in the source material. |
| Indigo Rit Dye | Indigo Rit Dye is used to achieve the uniform blue color for the skirt and other uniform elements. It ensures that the costume closely matches the distinctive Nevermore uniform's shade of blue, enhancing the accuracy of your portrayal. |
| Nevermore Patch in Blue & Gold | The Nevermore patch in blue and gold is the emblem of the organization and is typically worn on the uniform. It signifies Enid's allegiance to the Nevermore group and is a recognizable symbol that ties the costume together. |
Enid Sinclair Overview
Enid Sinclair is a central character from the animated series "OK K.O.! Let's Be Heroes." She is an enigmatic and intriguing character with a strong presence throughout the series. Enid is an employee at Gar's Bodega, a location that plays a pivotal role in the show's storyline. However, it's not just her job that defines her character, but also her unique personality and striking appearance.
Key Characteristics of Enid Sinclair:
Mysterious Persona: Enid often maintains an air of mystery around her, making her a character of intrigue. She's known for her cool and composed demeanor.
Ninja Skills: Enid is a ninja and a highly skilled fighter. Her combat abilities are showcased in several episodes, adding depth to her character.
Nevermore Uniform: Enid's iconic Nevermore Uniform is an essential part of her character's visual identity. This uniform consists of a distinct color palette and design that sets her apart.
Blue Hair: Enid sports striking blue hair that contrasts with the colors of her uniform. Her hairstyle is unique and adds to her overall appeal.
Employee at Gar's Bodega: Enid works at Gar's Bodega alongside other main characters. Her interactions with customers and coworkers reveal different facets of her personality.
Friendship: While she may seem distant at times, Enid forms deep friendships throughout the series, particularly with K.O. and Radicles.
Nevermore Uniform Overview:
Enid's Nevermore Uniform is a crucial element of her character. It consists of a few key components that are instantly recognizable:
Black Tunic Dress: Enid wears a sleek, black tunic dress that gives her a ninja-like appearance. The dress is characterized by its simplicity and elegance.
Red Sash Belt: To break the monotony of black, Enid's outfit includes a vibrant red sash belt. It adds a pop of color and serves as a defining feature of her uniform.
Red Leggings: Enid pairs her tunic dress with matching red leggings, creating a cohesive and striking look.
Ninja Shoes: Completing her ensemble, Enid wears ninja shoes, which are functional for her combat skills and align with her character's identity.
Check out more TV show costume ideas here.