Welcome to "Unleash Your Inner Hero: A Guide to Creating the Finn (F-2187) Costume!" This comprehensive guide is your key to bringing to life the iconic character of Finn, also known as F-2187, from the Star Wars saga. Whether you're a devoted fan of the series or seeking a captivating costume for cosplay, we've got you covered. Prepare to embark on an epic journey as we unveil the secrets to crafting an authentic and awe-inspiring Finn costume that will make you stand out in any galaxy.
Finn (F-2187) Costume – Star Wars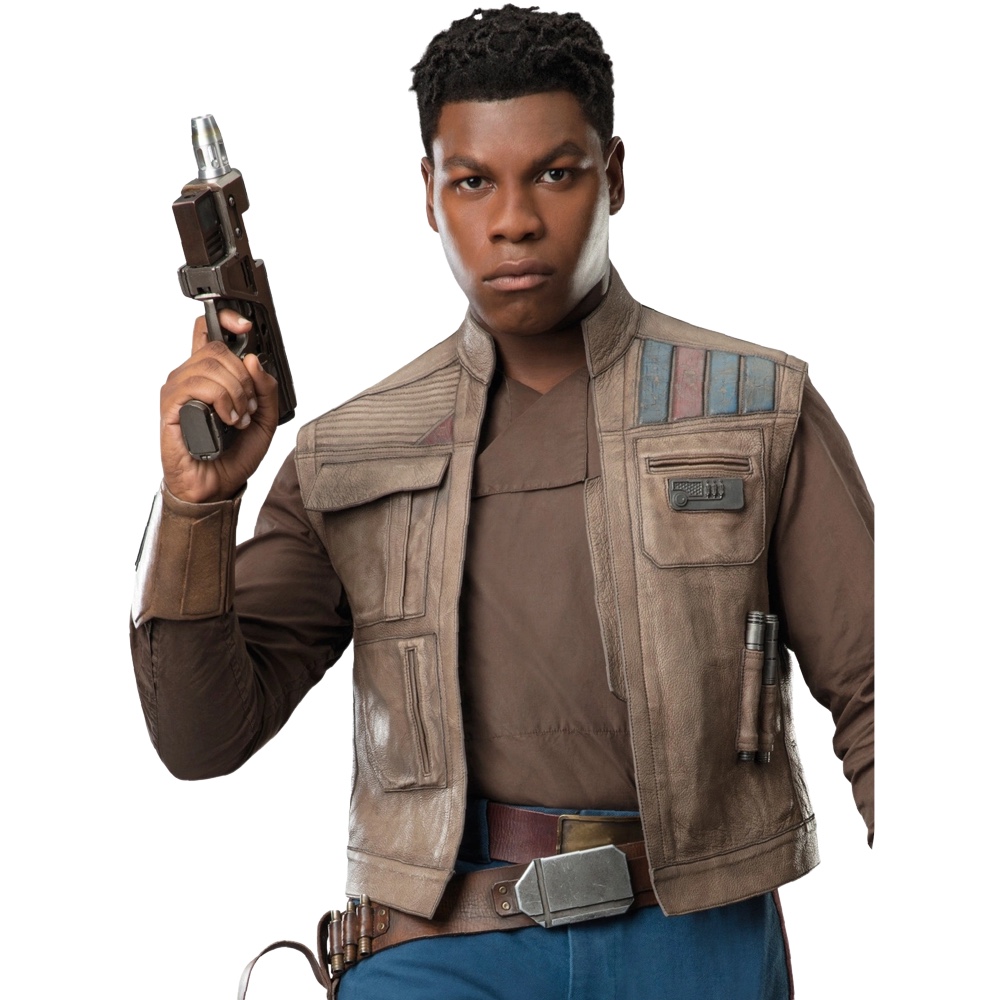 | # | Item | Description |
| --- | --- | --- |
| 1 | Black, long sleeve, knit t-shirt with a crew-neck | To achieve a more authentic look, we recommend opting for a black, long-sleeve, knit t-shirt featuring a crew neckline. However, feel free to use a regular black long-sleeve shirt or even one with short sleeves. Don't worry about it too much since it will be covered by a jacket. |
| 2 | Black canvas pants | These pants are specifically black, tapered cut, slim fit canvas pants, but any black pants will suffice for the costume. |
| 3 | Brown leather jacket (racer style) | The key element of this outfit is the racer-style, brown leather jacket. It stands out as the most distinctive piece of clothing in Finn's attire. |
| 4 | Black slip-on sneakers | For devoted Star Wars fans aiming to capture every detail of the costume, we suggest Po-Zu's white slip-on ankle sneakers, which are exact replicas of Finn's footwear from the movie—only cleaner. Alternatively, you can consider the Gracosy slip-on bootsies linked to the left, which offer a close resemblance at a more affordable price. |
| 5 | Finn Blaster With Strap | To complete the ensemble, include this blaster in your outfit. It closely resembles the one seen in the movie and serves as a great prop for striking poses in your photos. |
| 6 | Deluxe Adult Finn Costume | In case you prefer the convenience of a ready-made costume, we have provided a link to the full costume available on Amazon through the left-hand link. |
Finn (F-2187) Overview
Finn, portrayed by John Boyega in the Star Wars sequel trilogy, is a central character with a captivating and complex story. Originally designated as Stormtrooper FN-2187, he rebels against the First Order, seeking freedom and a chance to fight for a cause he believes in. Finn's journey showcases courage, growth, and the power of choosing one's destiny. With his distinctive personality, endearing wit, and unwavering loyalty, Finn quickly becomes a fan-favorite. His transformation from a conflicted Stormtrooper to a formidable Resistance fighter inspires audiences worldwide. Finn's heroic spirit, determination, and undeniable charisma make him a remarkable character to portray and emulate.
So, if you're ready to channel the essence of Finn and immerse yourself in the Star Wars universe, this guide is your ultimate resource. From assembling the costume's key elements to capturing Finn's unique characteristics, we will provide you with step-by-step instructions and valuable tips. Get ready to showcase your own heroism as you embody Finn (F-2187), fighting for justice and standing up against oppression. Let's embark on a journey to a galaxy far, far away and discover the art of creating a remarkable Finn costume that will make you shine among fellow Star Wars enthusiasts. May the Force be with you!
Check out more Star Wars costume ideas here.