Get ready to step into the whimsical world of fairy tales with our comprehensive guide on creating a delightful Goldilocks from Puss i Boots costume! Goldilocks is a charming and endearing character who brings a touch of enchantment to the Shrek universe. If you've ever dreamt of embodying this adventurous and fun-loving heroine, you're in for a treat. In this guide, we'll walk you through the steps to craft an enchanting Goldilocks costume that captures all the magic and mischief of this beloved character. So, gather your crafting materials, unleash your inner explorer, and let's embark on this enchanting journey into the world of "Puss in Boots"!
Goldilocks from Puss in Boots Costume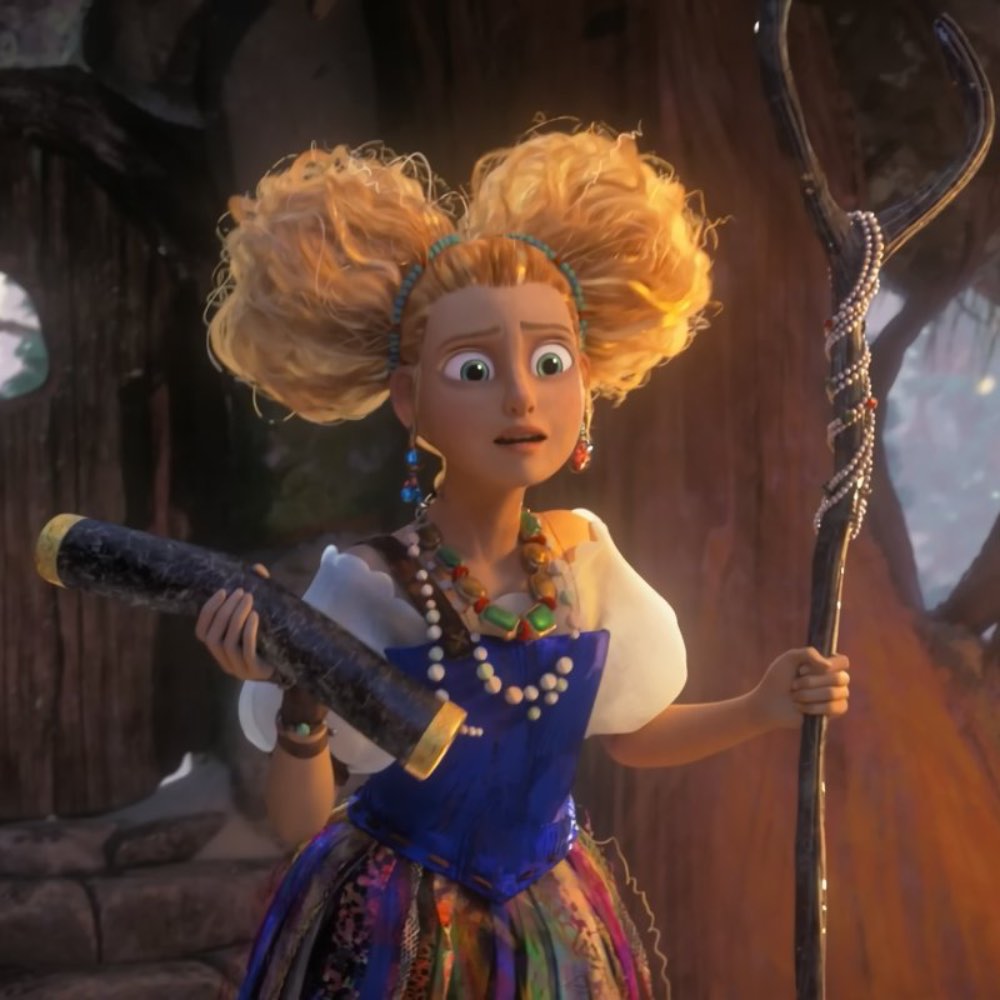 | | |
| --- | --- |
| White Off-Shoulder Peasant Top | The white off-shoulder peasant top serves as the base layer of the costume, adding a touch of innocence and whimsy to Goldilocks' attire. It reflects her free-spirited nature and complements her adventurous style. |
| Blue Corset Top | The blue corset top adds a layer of intricacy to the costume, providing a visually striking contrast to the white peasant top. It highlights Goldilocks' playful and spirited personality. |
| Pack of Multicolor Sari Wrap Skirts | The multicolor sari wrap skirts are a versatile addition to the costume, reflecting Goldilocks' love for the unusual and vibrant. They provide a sense of wanderlust and exploration to her character. |
| Brown Lace Up Boots | Brown lace-up boots are essential for a character known for her adventurous spirit. They are both practical and stylish, suitable for a character always ready for a new quest. |
| Leather Wrist Wrap | The leather wrist wrap adds a touch of ruggedness to Goldilocks' look, symbolizing her readiness for adventure and her love for the outdoors. |
| V-Notch Walking Stick | The V-notch walking stick is both a practical accessory and a symbol of exploration. It reflects Goldilocks' adventurous spirit and readiness to face challenges head-on. |
| Blue Drop Earrings | Blue drop earrings add a pop of color to the costume, mirroring Goldilocks' playful and whimsical style. They enhance her overall appearance. |
| Fuchsia Drop Earrings | Fuchsia drop earrings provide a vibrant contrast to the blue elements of the costume. They add depth and character to Goldilocks' outfit. |
| Multicolor Necklace | The multicolor necklace contributes to Goldilocks' eclectic and unusual style. It symbolizes her love for the extraordinary and adds visual interest to the costume. |
| Fake Pearl Strands | Fake pearl strands add a touch of elegance and charm to the costume, balancing the playful and adventurous elements of Goldilocks' character. |
| Telephone Cord Hair Ties | The telephone cord hair ties are a unique and whimsical accessory, reflecting Goldilocks' love for the unusual and adding an element of fun to the costume. |
| Blonde Wig with Curly Pigtail Clip-Ins | Goldilocks is known for her distinctive blonde hair, and the wig with curly pigtail clip-ins helps you achieve her iconic hairstyle. |
Goldilocks from Puss in Boots Overview
Goldilocks is a character from the "Puss in Boots" spin-off film, known for her spirited and adventurous nature. Here's a brief overview of the character:
1. Spirited Adventurer: Goldilocks is a spirited and adventurous character who is always ready for a new quest or challenge. Her fearless attitude and boundless curiosity often lead her into exciting escapades.
2. Signature Attire: Goldilocks typically wears a green dress with a white apron, reflecting her playful and whimsical style. Her outfit is practical for exploration and adds to her charm.
3. Golden Locks: As her name suggests, Goldilocks has golden blonde hair, often styled in playful and tousled locks. Her hair adds to her distinctive and endearing appearance.
4. Explorer's Accessories: Goldilocks is often seen carrying a backpack filled with exploration essentials. This accessory reflects her adventurous spirit and readiness for any encounter.
5. Loyal Friend: Goldilocks is a loyal friend to Puss in Boots and his companions, often joining them on their adventures. Her presence adds a dynamic and spirited element to the group.
6. Love of the Unusual: Goldilocks has a penchant for the unusual and the magical. Her willingness to embrace the extraordinary makes her character all the more enchanting.
As you embark on creating your Goldilocks costume, it's crucial to capture the spirit, curiosity, and distinctive style of this adventurous character. With the right costume elements and a sense of whimsy, you'll become the embodiment of Goldilocks and bring her magical and adventurous nature to life in your own unique way. Get ready to explore the fantastical world of "Puss in Boots" with a costume that's as charming and spirited as the character herself!
Check out more Puss in Boots costume ideas.