Welcome to the ultimate guide on creating the clever and witty Hanging Chad costume! If you're a fan of pop culture references and memorable characters, you'll undoubtedly appreciate this unique and humorous costume idea. The Hanging Chad costume pays tribute to a significant moment in history, combining it with a touch of humor and creativity. In this guide, we'll take you through the steps to transform into the iconic Hanging Chad, a costume that is both clever and conversation-starting. Whether you're gearing up for a costume party, a themed event, or just want to showcase your wit and cleverness, this costume is bound to leave a lasting impression. So, let's dive into the world of crafting the Hanging Chad look and turn heads with a costume that's sure to elicit smiles and admiration.
Hanging Chad Costume – How I Met Your Mother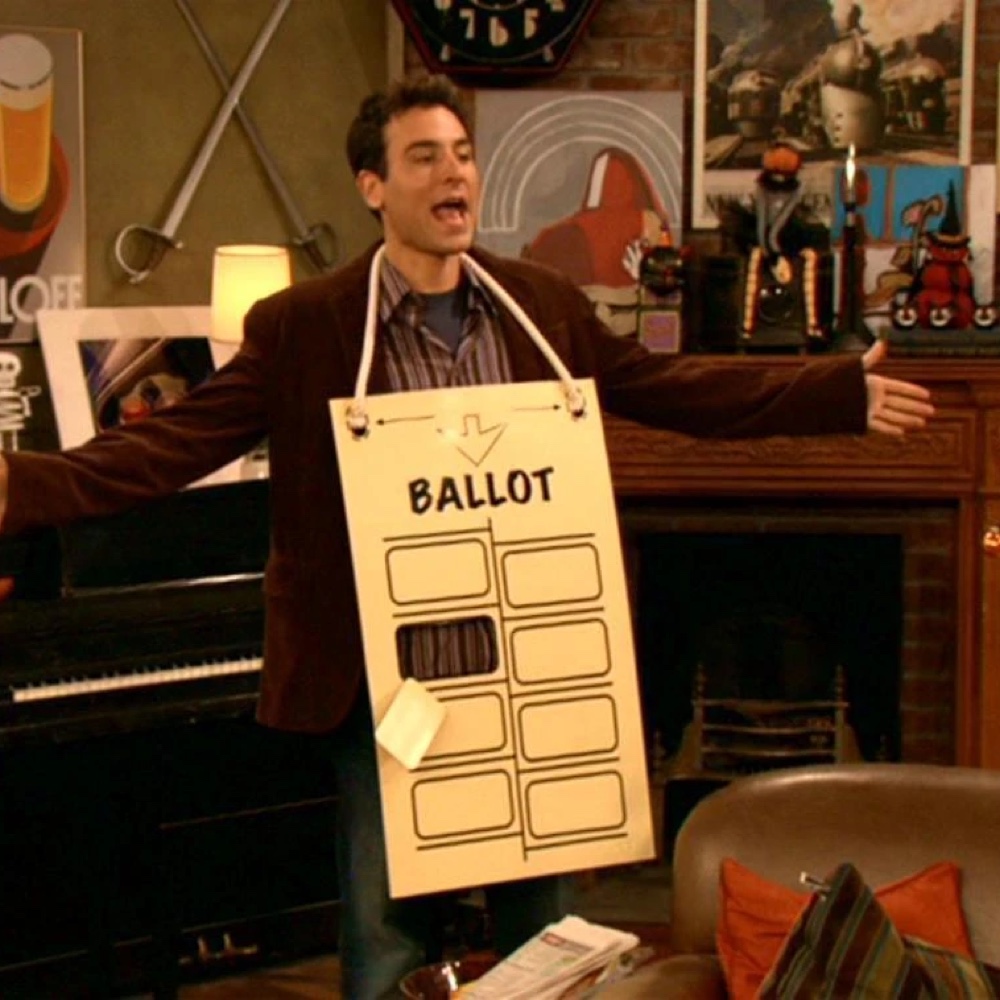 | # | Item | Description |
| --- | --- | --- |
| 1 | Large white poster board | The large white poster board serves as the foundation for this unique costume. It forms the entire body of the costume and is crucial to achieving the look of an oversized chad. Prepare to have some fun with this creative and attention-grabbing outfit that will surely stand out at any event. |
| 2 | Black marker | The black marker is your artistic tool to bring the chad details to life on the poster board. Drawing the extra huge chad won't take long, and you'll quickly transform the blank canvas into a hilarious costume piece. Prepare to leave everyone in stitches with your clever portrayal of the hanging chad. |
| 3 | Scissors | The scissors are essential for creating the "hanging chad" effect on the poster board. You'll skillfully cut out one of the drawn ballot holes and leave it hanging, adding a humorous touch to the costume. Additionally, you'll cut a small hole at the top to thread the string through for wearing the costume around your neck. Get ready to make everyone chuckle with your witty costume choice. |
| 4 | String, white | The white string comes into play as you wear the chad costume around your neck. Simply thread it through the hole you previously cut, and your costume is complete. Get ready to entertain everyone with your clever and hilarious portrayal of the infamous hanging chad. |
| 5 | Brown suit jacket, corduroy | The legendary corduroy suit jacket, worn by Ted, is a key element of this costume. Embrace Ted's signature style with this classic piece that adds authenticity and charm to your overall look. Get ready to exude the confident and charismatic vibe of Ted Mosby. |
| 6 | T-shirt, navy blue | Layer the navy blue t-shirt under the jacket to achieve a disheveled and laid-back appearance. This simple addition adds depth to your costume and completes the overall look of a casually cool Ted Mosby. Get ready to charm and entertain with your witty portrayal of this beloved character. |
| 7 | Button-up shirt, gray striped | Layer the gray striped button-up shirt over the navy t-shirt and under the jacket to form the base of your hanging chad costume. The combination of these layers will capture the essence of Ted Mosby's relaxed and easy-going style. Get ready to embody the charisma and humor of this beloved character. |
| 8 | Jeans, regular blue | For your lower half, opt for regular blue jeans, just like Ted himself. These comfortable and versatile jeans perfectly complement the rest of the costume, completing Ted Mosby's signature look. Get ready to embody Ted's endearing and relatable qualities with this iconic outfit. |
| 9 | Oxfords, simple black | Complete your Ted Mosby look with a pair of simple black oxfords. These classic shoes add a touch of sophistication to your costume and perfectly complement the overall ensemble. Get ready to charm and entertain with your witty portrayal of the iconic Ted Mosby. |
Hanging Chad Overview
The Hanging Chad is a symbolic representation of the controversies surrounding the 2000 United States presidential election, specifically the Florida ballot recount. In the election, paper ballots in Florida were punched using punch-card voting systems, leaving tiny chads, small pieces of paper, hanging from the punched holes. The issue arose when some of these chads were left partially attached, causing confusion and disputes over whether they should be counted as valid votes. The Hanging Chad became a metaphor for the complexities and challenges in the electoral process. As a costume, Hanging Chad offers a clever and humorous way to reference this historic event. By dressing up as a Hanging Chad, you not only evoke a piece of political history but also demonstrate a keen sense of humor and a clever twist on a significant moment in democracy. So, let's get creative and craft a Hanging Chad costume that will surely spark conversations and laughter wherever you go!
Check out more TV show costume ideas here.