Prepare to delve into the dark and spellbinding world of "Castlevania" with our comprehensive guide on creating an authentic Isaac from Castlevania costume! Isaac, the enigmatic and formidable magician and forgemaster, is a captivating character in the Netflix animated series. Known for his mastery of dark magic, intelligence, and complex motivations, Isaac has left a lasting impression on fans of the series. If you've ever aspired to embody this iconic character, celebrated for his intricate storytelling and mystical abilities, you're about to embark on a journey into the realm of dark sorcery and revenge. In this guide, we'll lead you through the steps to craft an impressive Isaac costume that captures all the complexity and dark allure of this iconic "Castlevania" character. So, embrace the shadows, harness the power of forgemastery, and let's bring Isaac to life!
Isaac from Castlevania Costume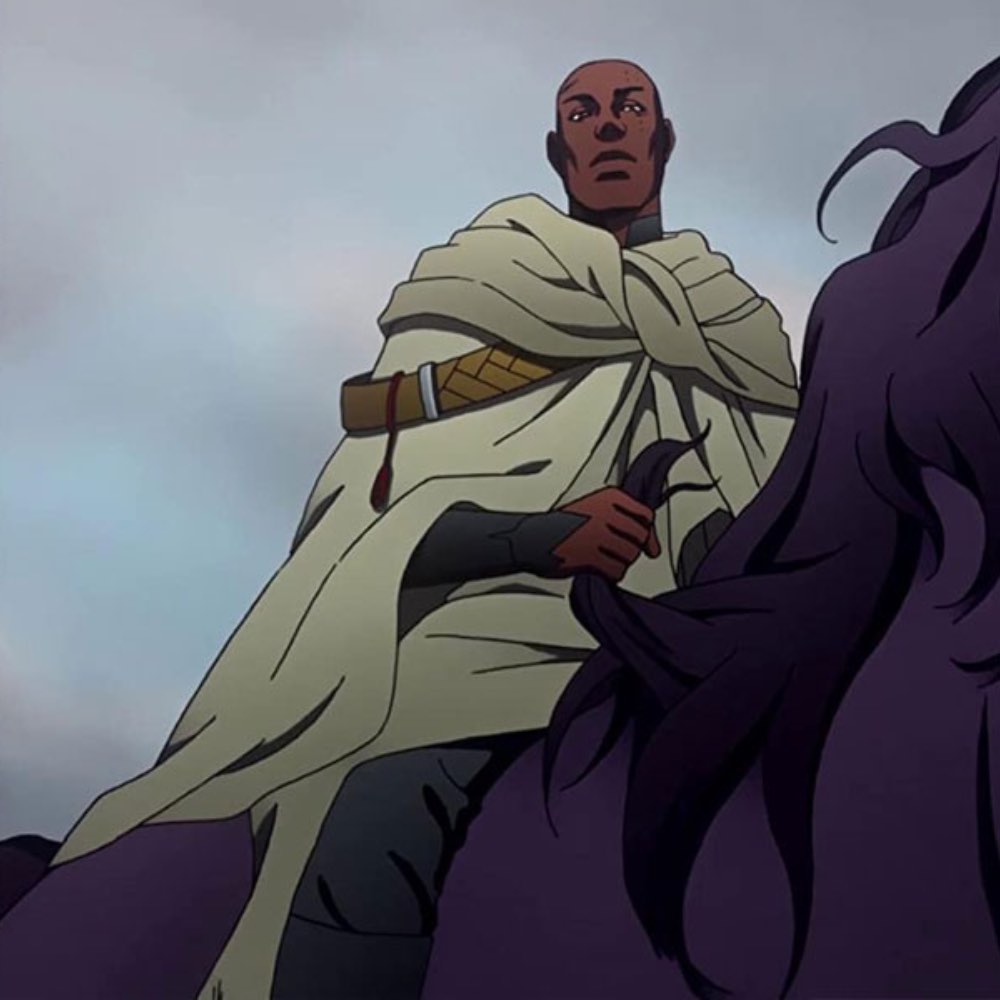 | | |
| --- | --- |
| Twist Knot Ruby Gemstone Dagger | The ruby gemstone dagger is a crucial prop that represents Isaac's association with dark magic and his ability to control night creatures. It adds an essential element of authenticity to the costume. |
| Black Engineer Boots | These boots replicate Isaac's distinctive footwear, completing the character's overall appearance and contributing to the costume's accuracy. |
| Medieval Trouser Pants | The medieval trousers serve as the character's lower garment, providing the essential clothing base and matching Isaac's attire. |
| Medieval White Hooded Cloak | The white hooded cloak is a central element of Isaac's costume, capturing the character's mysterious and sorcerer-like appearance. |
| Wine Red Sash Belt | The wine red sash belt complements Isaac's attire, adding a touch of color and authenticity to the costume. |
| Medieval Black Lace Up V-Neck Long Sleeve | The black long-sleeve shirt replicates the character's upper garment, contributing to the overall look and accuracy of the costume. |
| Black Leather Riveted Bracers | The riveted bracers add a medieval and warrior-like aspect to the costume, reflecting Isaac's resilience and combat abilities. |
| Black Leather Neck Seal | The neck seal complements the character's attire, enhancing the costume's overall authenticity. |
| Black Leather Costume Shoulder Armor | The shoulder armor is a distinctive feature of Isaac's look, emphasizing his warrior and sorcerer hybrid persona. It's essential for capturing the character's appearance. |
Isaac from Castlevania Overview
Isaac is a central character in the "Castlevania" animated series on Netflix, based on the classic video game franchise. Here's a brief overview of the character:
Forgemaster and Magician: Isaac is a forgemaster, a rare and powerful magician with the ability to create demonic creatures called night creatures. His command over dark magic is formidable.
Complex Motivations: Isaac is a character with intricate motivations and a tragic backstory. His experiences have shaped him into a complex individual with a quest for revenge.
Loyalty and Betrayal: He has a strong sense of loyalty to Dracula but faces betrayal from those he trusted, leading him on a path of vengeance.
Mysterious Persona: Isaac is known for his stoic and enigmatic personality. His reserved nature conceals the depth of his thoughts and emotions.
Unique Attire: He wears distinctive clothing, including a long robe, a hooded cloak, and a staff, reflecting his status as a magician and forgemaster.
Powerful Sorcery: Isaac's dark magic allows him to control night creatures, forge weapons, and use various spells, making him a formidable opponent.
Journey of Redemption: Over the course of the series, Isaac embarks on a journey of self-discovery and redemption, seeking his place in a world filled with conflict.
Antiheroic Role: Isaac's character is complex, and he is often portrayed as an antihero, challenging conventional notions of morality.
As you embark on creating your Isaac costume, it's essential to capture the character's dark and enigmatic persona, his unique attire, and the sense of revenge that drives him. With the right costume elements and a touch of Isaac's complex personality, you'll become the embodiment of this iconic forgemaster, ready to immerse yourself in the intricate and spellbinding world of "Castlevania."
Check out more Castlevania costume ideas.