Welcome to our comprehensive guide on creating a remarkable John Hammond costume. John Hammond, a prominent character from the iconic Jurassic Park franchise, is known for his vision and passion for resurrecting dinosaurs through genetic engineering. In this guide, we will provide you with step-by-step instructions and valuable tips to help you bring this captivating character to life. Whether you're preparing for a cosplay event, Halloween party, or simply want to pay tribute to the Jurassic Park series, this guide will assist you in crafting an authentic and impressive John Hammond costume.
John Hammond Costume – Jurassic Park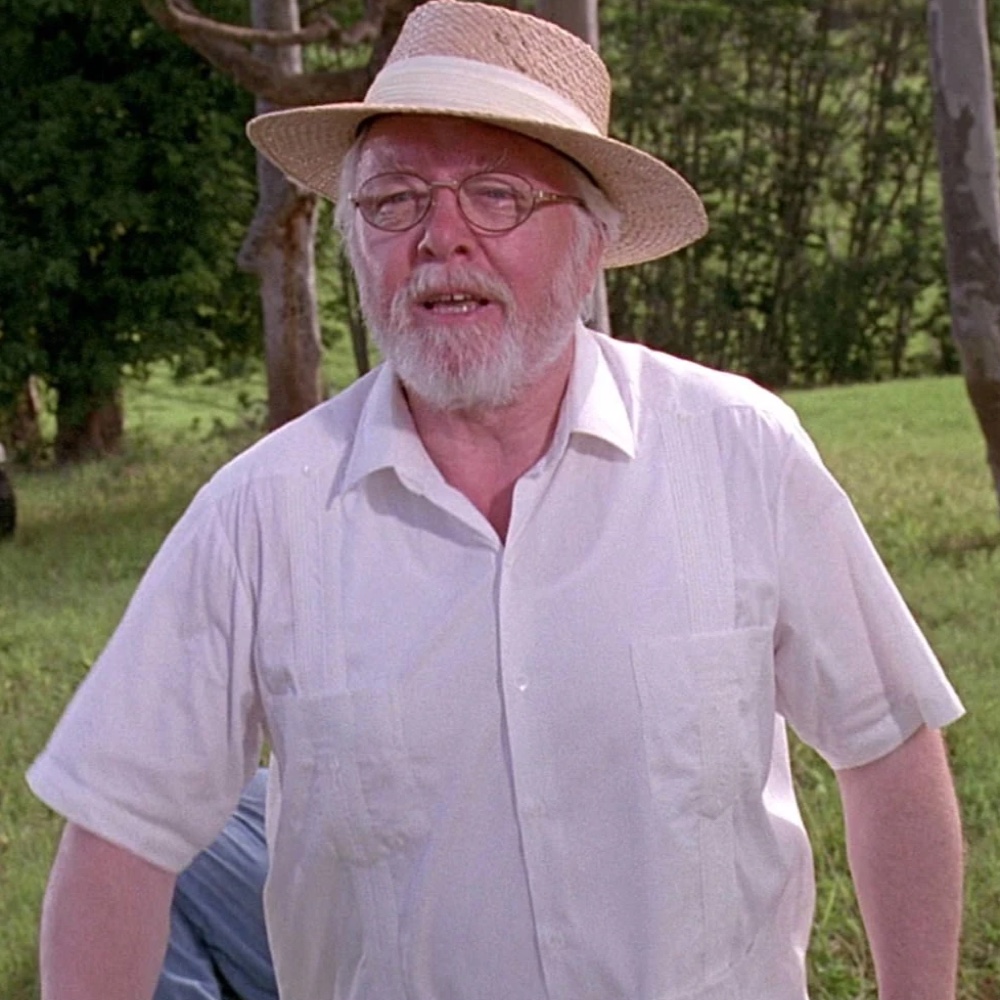 | # | Item | Description |
| --- | --- | --- |
| 1 | Straw Hat for Men | Elevate the hat's appearance by adding a charming white ribbon or fabric to achieve an exquisite touch. |
| 2 | Retro Clear Glasses | Embrace the retro vibe with these non-prescription glasses, featuring a stylish metal frame. |
| 3 | White Beard Costume | To achieve the desired effect, carefully trim the hair of the beard, making it slightly shorter. |
| 4 | Oxford Short Sleeve Shirt | For an accurate representation, opt for a white Oxford short-sleeve shirt. Alternatively, you can choose other simple white short-sleeve shirts that suit your preference. |
| 5 | White Fit Pants | Complement the top with white long pants, preferably in an old-fashioned business style. |
| 6 | Brown Leather Belt | Add a touch of contrast to the ensemble by wearing a tan leather belt, choosing any shade of brown that appeals to you. |
| 7 | White Moccasins Shoes | Complete the look with a pair of formal, clean white shoes suitable for the occasion. |
| 8 | Gold Steel Watch | Exude a sense of prosperity with a luxurious gold watch for men, or any classic gold watch that captures your style. |
| 9 | Gold Ring | Accentuate Hammond's affluence by adorning your finger with this beautiful stainless gold ring. |
| 10 | Bamboo Stick | Carry a 5-foot bamboo pole, resembling Hammond's walking stick, to enhance your portrayal of the character. |
| 11 | Amber Fossil with Insect Inside | Procure an educational amber piece with an insect encased inside, ideally in an oval shape, and attach it atop the walking stick as a signature accessory. |
| 12 | Egg Hatchling | (Optional) |
| 13 | ID Badge | (Optional) |
John Hammond Overview
John Hammond, portrayed by the talented Richard Attenborough, is a charismatic and visionary entrepreneur who founded the fictional theme park known as Jurassic Park. With his boundless enthusiasm and unwavering belief in the awe-inspiring potential of recreating prehistoric creatures, Hammond invites visitors to experience the wonders of a world long extinct. Dressed in his signature attire, Hammond exudes an air of sophistication and authority. His distinguished style and attention to detail make him an unforgettable character to embody in costume form. Join us as we delve into the intricacies of replicating John Hammond's iconic look and capturing the essence of this larger-than-life personality.
Check out more movie costume ideas here.