Step into the world of Succession and embrace the intricate character of Kendall Roy with a captivating Kendall Roy costume that mirrors his dynamic personality. As the second son of the powerful CEO, Logan Roy, Kendall is both an heir to the company throne and a complex figure struggling to prove himself worthy. Played by Jeremy Strong in the HBO series, Kendall's journey unfolds through a combination of ambition, vulnerability, and the desire to gain his father's trust.
Creating a Kendall Roy costume allows you to explore his multifaceted fashion choices, reflecting his efforts to fit into various social circles. From donning expensive sneakers to impress the art world to adopting outdoorsy gear to appear less buttoned-up, Kendall's wardrobe reflects his ever-evolving persona.
In this comprehensive guide, we'll delve into the diverse elements that define Kendall's distinctive style. You'll have the freedom to select your favorite aspects of his looks and mix and match different pieces to craft a personalized and authentic portrayal of this complex character.
Kendall Roy Costume – Succession Fashion and Style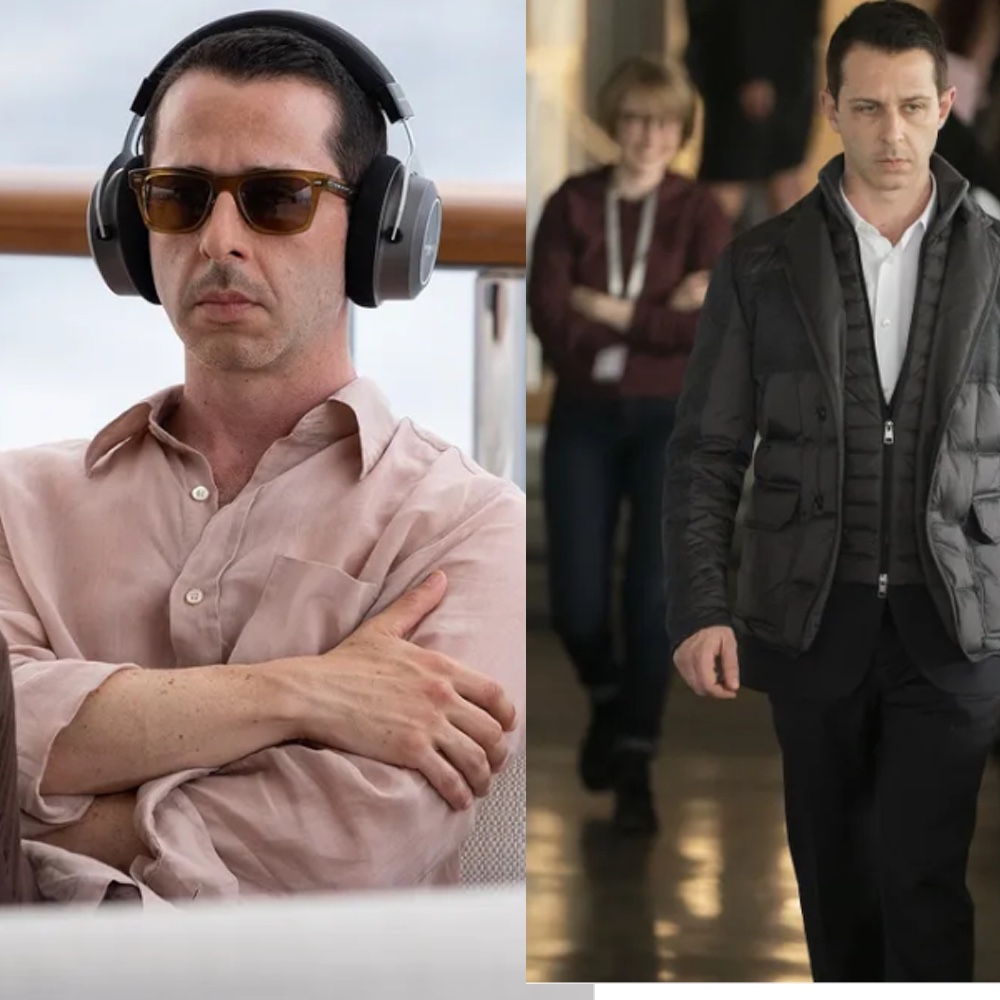 | | |
| --- | --- |
| | Kendall's signature look often includes a sleek and well-fitted black two-piece suit, exuding confidence and power. |
| White Dress Shirt | A crisp and classic white dress shirt is a staple in Kendall's wardrobe, adding a touch of elegance and formality to his ensemble. |
| Dark Grey Puffer Jacket | Kendall occasionally embraces a sportier look with a dark grey puffer jacket, showcasing his ability to effortlessly blend style and comfort. |
| Dark Grey Puffer Vest | The dark grey puffer vest is another versatile layering piece that reflects Kendall's fashion-forward choices, making him stand out in a crowd. |
| Dusty Rose Chambray Shirt | Adding a pop of color to his outfits, the dusty rose chambray shirt demonstrates Kendall's willingness to experiment with unique and trendy pieces. |
| Brown Sunglasses | Accessories play a crucial role in Kendall's style, and a pair of sleek brown sunglasses complements his enigmatic personality. |
| Brown Trousers | Accessories play a crucial role in Kendall's style, and a pair of sleek brown sunglasses complements his enigmatic personality. |
Tips for Your Kendall Roy Costume, Fashion and Style
To capture the essence of Kendall Roy's character and iconic style, follow these tips to create an authentic and impressive costume:
Tailored Suits and Formal Attire: Kendall often dons sharp and impeccably tailored suits in neutral colors like navy, charcoal, and black. Look for suits with a modern cut and clean lines to exude confidence and sophistication.
Expensive Sneakers: Kendall's fashion choices reflect a blend of high-end luxury with a touch of casual appeal. Invest in designer sneakers to add a subtle yet fashionable statement to your outfit.
Turtlenecks and Layering: Emulate Kendall's penchant for stylish layering by pairing turtleneck sweaters or shirts with blazers or jackets. Opt for monochromatic colors for a chic and polished look.
Crisp Dress Shirts: Kendall often appears in crisp dress shirts with subtle patterns or solid colors. Choose high-quality shirts to achieve a polished and professional appearance.
Accessorize with Minimalism: Keep accessories simple and refined, just like Kendall. A classic watch or minimalist jewelry can complement your outfit without overwhelming it.
Relaxed Outdoors-y Attire: For a more casual and laid-back Kendall look, incorporate outdoors-y elements like a practical jacket, rugged boots, or a cozy knit beanie.
Messy Hairstyle: Kendall's signature messy hairstyle is a critical part of his overall look. If your hair is not naturally similar, consider using styling products to achieve the tousled appearance.
Confidence and Swagger: Beyond the clothing, Kendall's most essential style element is his confidence and swagger. Channel his self-assured demeanor and assertive attitude to embody the character fully.
By paying attention to these fashion cues and adopting Kendall Roy's distinct style, you'll be ready to impress at any themed event, costume party, or Succession watch party. Embrace the complexities of this compelling character and showcase his fashion-forward persona with panache.
Kendall Roy Overview
Kendall Roy, portrayed by Jeremy Strong in the HBO series Succession, is a compelling and multi-faceted character at the heart of corporate intrigue and family drama. As the second son of the powerful CEO, Logan Roy, Kendall occupies a central role in the succession battle for his father's empire. Despite being seen as the heir apparent, Kendall struggles to earn his father's trust and faces the constant pressure to prove his worthiness.
Kendall's journey is marked by a complex mix of ambition, vulnerability, and a desperate desire to carve his own path while grappling with his father's legacy. His character evolves throughout the series as he navigates the cutthroat world of business and family dynamics.
In terms of style, Kendall's wardrobe reflects his efforts to fit into different social circles and situations. From elegant tailored suits that exude confidence in boardroom meetings to casual, trendy attire that seeks to impress the art world or create a more approachable image, Kendall's fashion choices are as intricate as his personality.
With his intriguing character arc and dynamic style, Kendall Roy offers an alluring and challenging persona to explore and emulate. Whether you are a fan of Succession, dressing up for a themed event, or simply drawn to the complexities of this character, diving into the world of Kendall Roy promises an unforgettable journey through ambition, family ties, and the corporate landscape.
Check out more TV show costume ideas here.