Prepare to step into the pages of history and the frigid, enigmatic North as we embark on a journey to craft a Lyanna Stark costume. In this comprehensive guide, we delve into the rich lore of George R.R. Martin's "A Song of Ice and Fire" and the epic television series "Game of Thrones." Lyanna Stark, a character shrouded in mystery and myth, left an indelible mark on the world of Westeros. Now, you have the opportunity to embody her ethereal beauty, inner strength, and the legendary aura that surrounds her name. Join us as we unveil the secrets to creating a costume that captures the essence of Lyanna Stark, a character whose memory echoes through the ages and whose story is woven into the very fabric of the Seven Kingdoms.
Lyanna Stark Costume – Game of Thrones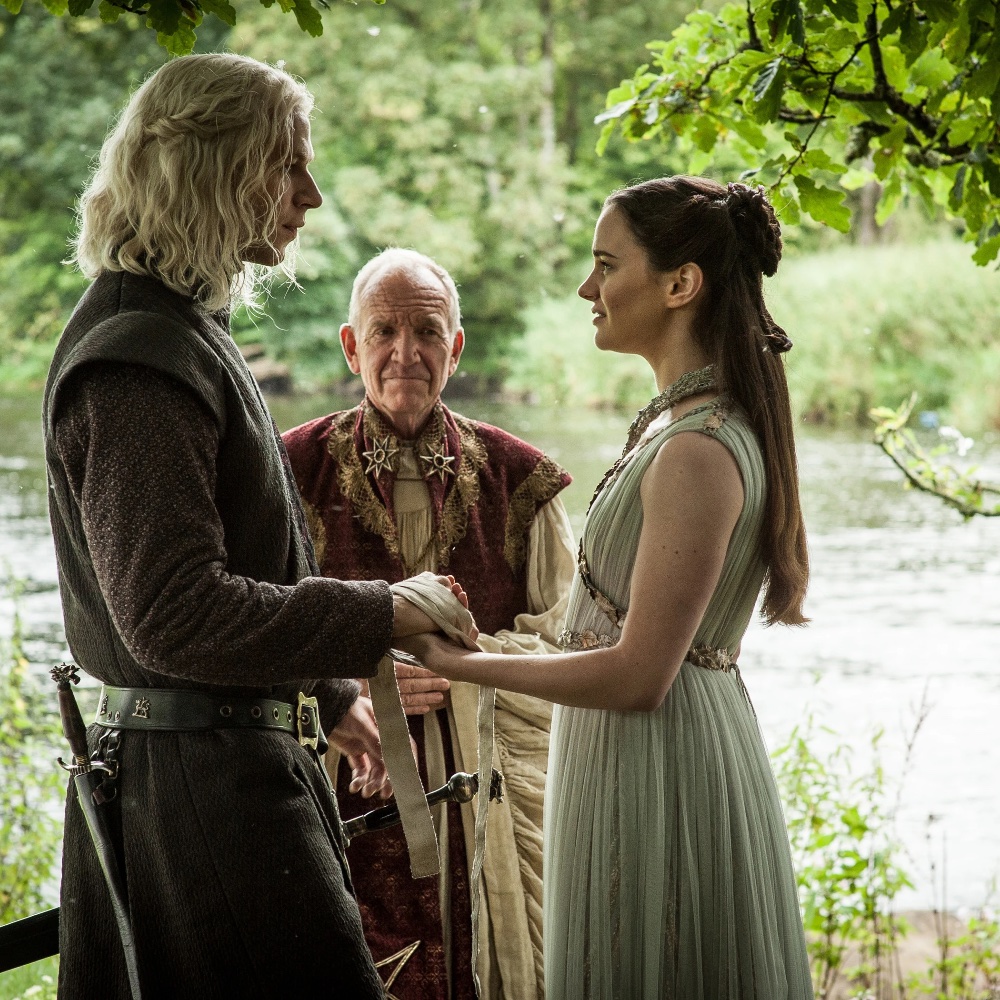 | | |
| --- | --- |
| Sage Green Gown | The sage green gown is a central component of Lyanna Stark's attire, often associated with her iconic image. It reflects her ethereal and natural beauty, as well as her connection to the North. The gown's color complements her character's portrayal as a strong, free-spirited, and independent woman. |
| Leaf Body Chain (in Gold or Silver) | The leaf body chain serves as a unique and symbolic accessory that adds depth to the costume. It represents Lyanna's connection to nature and the mystical qualities that are often attributed to her character. Whether in gold or silver, the body chain adds an ethereal and otherworldly touch to the overall look. |
| Long Brown Wig | Lyanna Stark is described as having long, dark hair. A long brown wig replicates this iconic feature, ensuring that your costume immediately reflects her distinct appearance and the mystique that surrounds her. |
Lyanna Stark Overview
Lyanna Stark is a character whose legacy looms large in the world of Westeros, despite her limited on-screen presence. Here's an overview of this enigmatic character:
Appearance: Lyanna Stark is described as having striking beauty with long dark hair and a graceful presence. Her ethereal beauty is often cited as one of the reasons for her legendary status.
Mystery and Myth: Lyanna's character is shrouded in mystery and intrigue. Her abduction and supposed death are pivotal events that set off Robert's Rebellion, leading to the downfall of the Targaryen dynasty. Her memory is revered and romanticized, adding to her mythic quality.
Relationship with Rhaegar Targaryen: Lyanna's relationship with Rhaegar Targaryen is a central part of her character's story. Their romance and alleged secret marriage are at the heart of the rebellion that changed the course of Westerosi history.
Symbols: Lyanna is often associated with blue winter roses, which are symbolic of her character. These roses represent her beauty, her connection to the North, and the mystery that surrounds her.
Legacy: Lyanna's memory is still very much alive in Westeros. She is remembered as a strong-willed and independent woman who stood up for her beliefs, even in the face of great danger.
Creating a Lyanna Stark costume allows you to step into the world of Westeros, embodying the elegance, mystery, and strength of a character whose legacy continues to shape the fate of the Seven Kingdoms. With her distinctive appearance, her association with winter roses, and her pivotal role in the history of Westeros, Lyanna is a character whose story resonates through time. So, let's embark on this costume-making journey and pay homage to one of the most iconic figures in the "Game of Thrones" universe!
Check out more Game of Thrones costume ideas here.