Looking for  a unique Star Wars fancy dress? In that case our guide on creating an extraordinary Mara Jade Skywalker costume! Whether you're a dedicated Star Wars fan or simply seeking a striking and iconic character to portray, Mara Jade Skywalker offers a compelling choice. In this guide, we will provide you with step-by-step instructions, tips, and insights to help you bring this enigmatic character to life through an impeccable costume. Get ready to embark on an exciting journey as we delve into the details and essence of Mara Jade Skywalker.
Mara Jade SkywalkerCostume – Star Wars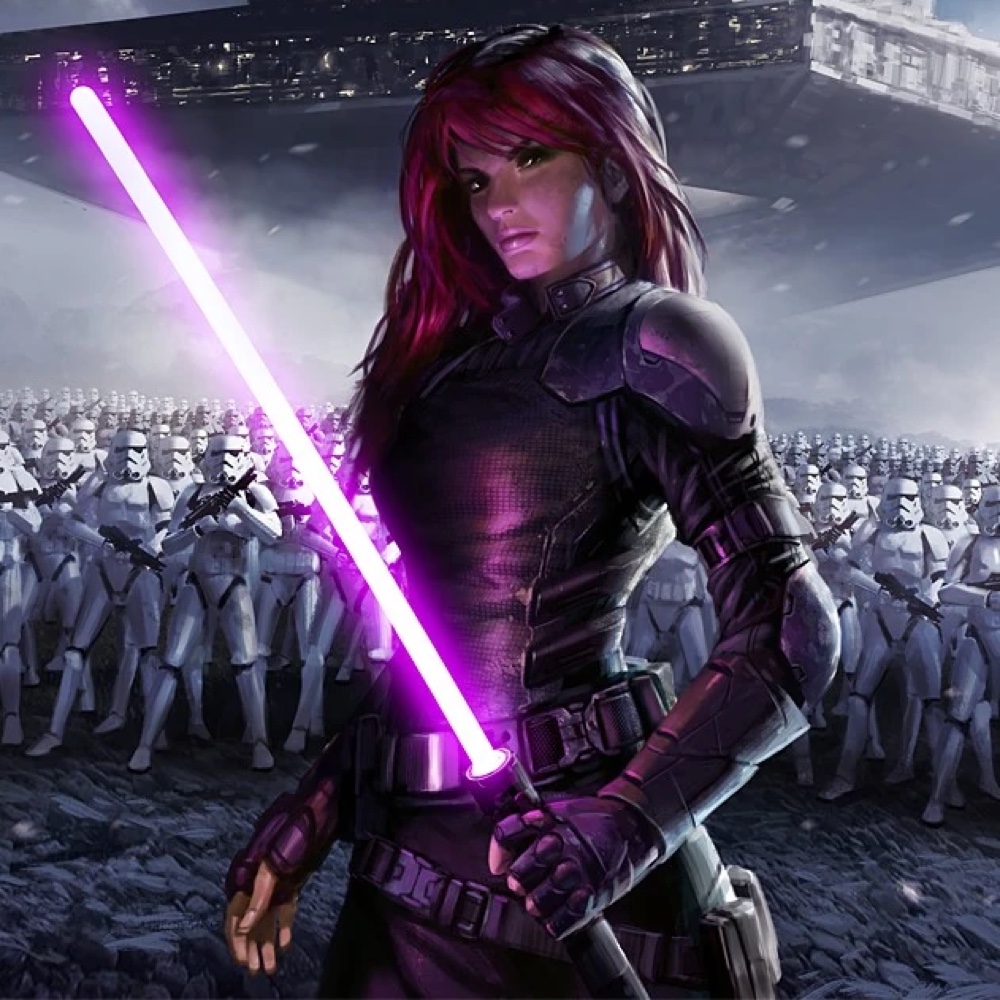 | # | Item | Description |
| --- | --- | --- |
| 1 | Black Sleeveless Turtleneck Bodysuit | For effortless mobility and lethal agility, Mara Jade opts for a sleek and versatile black sleeveless turtleneck bodysuit that allows her to unleash her deadly skills with unparalleled freedom of movement. |
| 2 | Black Tight Pants | To exude both comfort and undeniable allure, Mara Jade dons a pair of form-fitting black pants that effortlessly accentuate her curves while providing a touch of sultry elegance. |
| 3 | Brown Utility Belt | Securely fastened around her waist, Mara Jade adorns a practical and stylish brown utility belt that not only adds a fashionable touch but also conveniently holds essential tools and gadgets within easy reach. |
| 4 | Black Boots | In the heat of battle, Mara Jade relies on her reliable and sturdy black boots, designed to provide optimal support and agility, allowing her to swiftly maneuver and outmaneuver her adversaries. |
| 5 | Brown Poncho | When the need for disguise arises, Mara Jade expertly utilizes a brown poncho with a hood, effortlessly blending into the surroundings while maintaining an air of mystery and intrigue. |
| 6 | Black Goggles | To shield her eyes from harsh environments and enhance her tactical awareness, Mara Jade wears a pair of sleek black goggles that not only provide protection but also add a touch of futuristic sophistication to her ensemble. |
| 7 | Black Leg Guards | Recognizing the importance of additional protection during combat encounters, Mara Jade equips herself with durable black leg guards that safeguard her lower limbs, ensuring she remains agile and safeguarded throughout her missions. |
| 8 | Black Gloves | From wielding a lightsaber to executing precise maneuvers, Mara Jade's hands are encased in a pair of sleek and resilient black gloves, providing both protection and enhanced grip for unparalleled dexterity and combat prowess. |
| 9 | Purple Lightsaber | Mara Jade skillfully wields a distinctive purple lightsaber, igniting a brilliant blade that represents her unwavering dedication to the Force and her formidable skills as a warrior. |
Mara Jade Skywalker Overview
Mara Jade Skywalker is a prominent figure in the Star Wars expanded universe, captivating fans with her complex personality and remarkable story arc. Originally introduced as an assassin and a member of Emperor Palpatine's elite force, the Emperor's Hand, Mara Jade eventually transitions into a Jedi Knight and plays a pivotal role in the Star Wars saga. Known for her exceptional combat skills, intelligence, and a signature fiery red hair, Mara Jade embodies strength, determination, and unwavering loyalty.
As Luke Skywalker's wife, Mara Jade brings a unique dynamic to the Star Wars universe, intertwining her fate with that of the legendary Jedi Master. Her journey from serving the dark side to embracing the light showcases her resilience and redemption, making her a beloved character among Star Wars enthusiasts. Crafting a Mara Jade Skywalker costume allows you to step into the shoes of this multifaceted character, channeling her fierce spirit and leaving a lasting impression at conventions, cosplay events, or themed parties.
Throughout this guide, we will dive into the key elements that define Mara Jade Skywalker's appearance, including her distinctive clothing, accessories, and makeup. So, let's embark on this creative adventure and unlock the secrets of bringing Mara Jade Skywalker to life through an exceptional and authentic costume. May the Force be with you as we journey together into the realm of the Star Wars universe.
Check out more Star Wars costume ideas here.