There are so many cool characters that we have been introduced to from the Barbie movie of 2023 starring Margot Robbie. This has led to plenty of costumes and fancy dress ideas for anyone wanting to cosplay or for halloween costumes. In this guide we look at how to make your own Midge from Barbie costume as portrayed by actress Emerald Fennell.
Midge from Barbie Costume – Barbie Movie 2023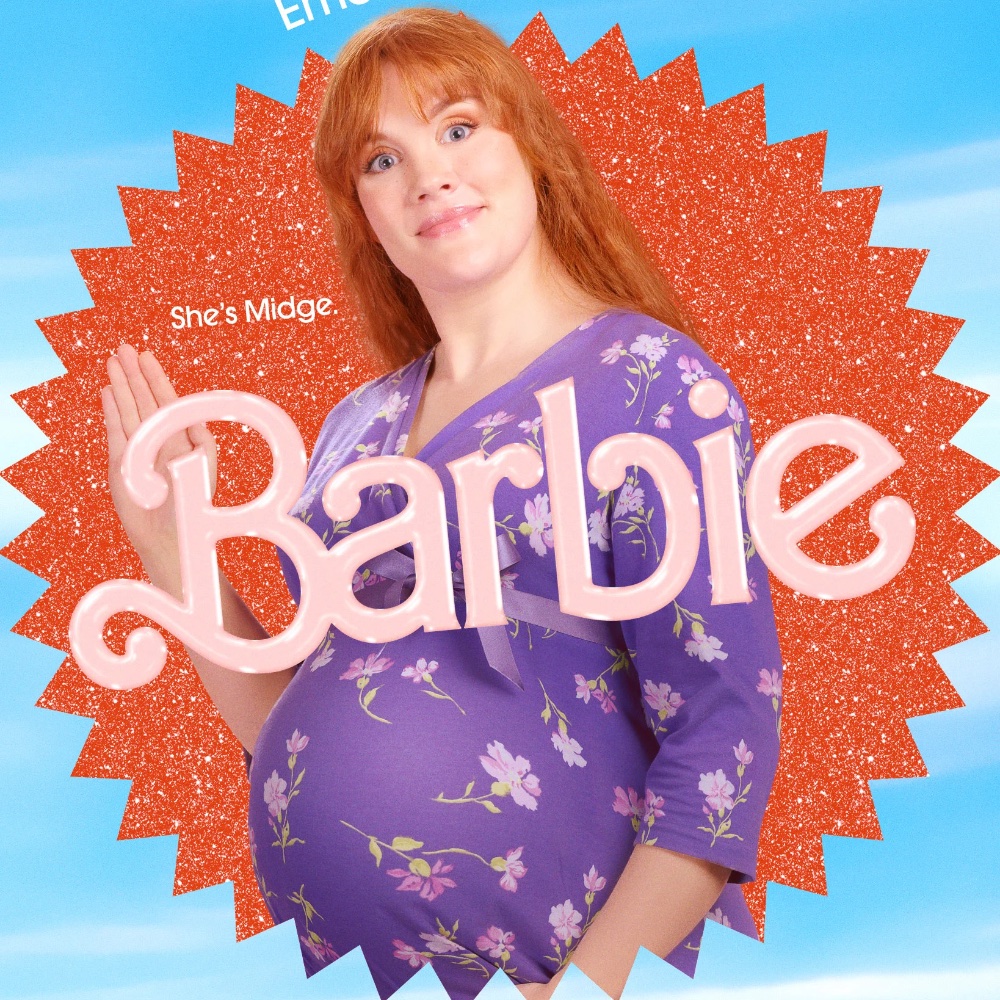 | | |
| --- | --- |
| Long Orange Wig with Bangs | The easiest way to replicate the hairstyle of Midge from Barbie is to wear a long orange wig with bangs. |
| Orange Eyeshadow Duo | Start copying the Midge from Barbie's makeup by using orange eyeshadow. |
| Clear Pink Lip Gloss | Copy the style of Midge from Barbie with some clear pink lip gloss. |
| Fake Pregnancy Belly | You are going to need to make it look like you are pregnant for this fancy dress idea. The easiest way to do this is by using a simple fake pregnancy belly. |
| Purple Floral Maxi Dress | Finally, you need to consider the dress you choose so you can copy the style of the character. In this instance we would suggest a long, floral maxi dress. |
Midge from Barbie Overview
In the acclaimed 2023 film "Barbie," helmed by director Greta Gerwig, Midge takes on the role of a charming yet minor character who adds depth and relatability to the storyline. Midge stands as a close friend and neighbor to the titular character, Barbie. Set against the backdrop of a vibrant and whimsical world, Midge resides in her delightful purple treehouse, a loving homage to the iconic toy that has enchanted generations.
What distinguishes Midge in this rendition is her noticeable pregnancy, which serves as a unique and heartwarming aspect of her character. Amidst the whirlwind of adventures and aspirations that characterize the film, Midge's pregnancy brings a touch of realism and tenderness to the narrative, reflecting the various dimensions of life and relationships. This portrayal beautifully captures the nuances of friendship and the experiences that shape it, showcasing the power of support and connection between Barbie and Midge.
Stepping into Midge's shoes in this cinematic journey is Emerald Fennell, whose portrayal lends depth and authenticity to the character. As Midge, Fennell seamlessly merges the character's endearing qualities with her own acting prowess, contributing to the film's rich tapestry of emotions and relationships.
Midge's presence as Barbie's dear friend and neighbor, along with the imaginative incorporation of her pregnancy, elevates the film's narrative and resonates with audiences on multiple levels. Through Midge's journey, "Barbie" delivers a message that friendships evolve and endure through the highs and lows, making it a heartwarming addition to the beloved franchise's legacy.
Check out more Barbie costume ideas here.