Get ready to join the Resistance with our comprehensive Poe Dameron costume guide! If you're a fan of the brave and charismatic X-wing pilot from the Star Wars sequel trilogy, this guide is your ticket to embodying the heroic spirit of Poe Dameron. Whether you're gearing up for a cosplay event, Halloween celebration, or simply want to channel the daring essence of this beloved character, we've got you covered. From his iconic flight suit to his trusty blaster, we'll walk you through all the essential elements to create an authentic Poe Dameron costume that will make you feel like a true Resistance fighter.
Poe Dameron Costume – Star Wars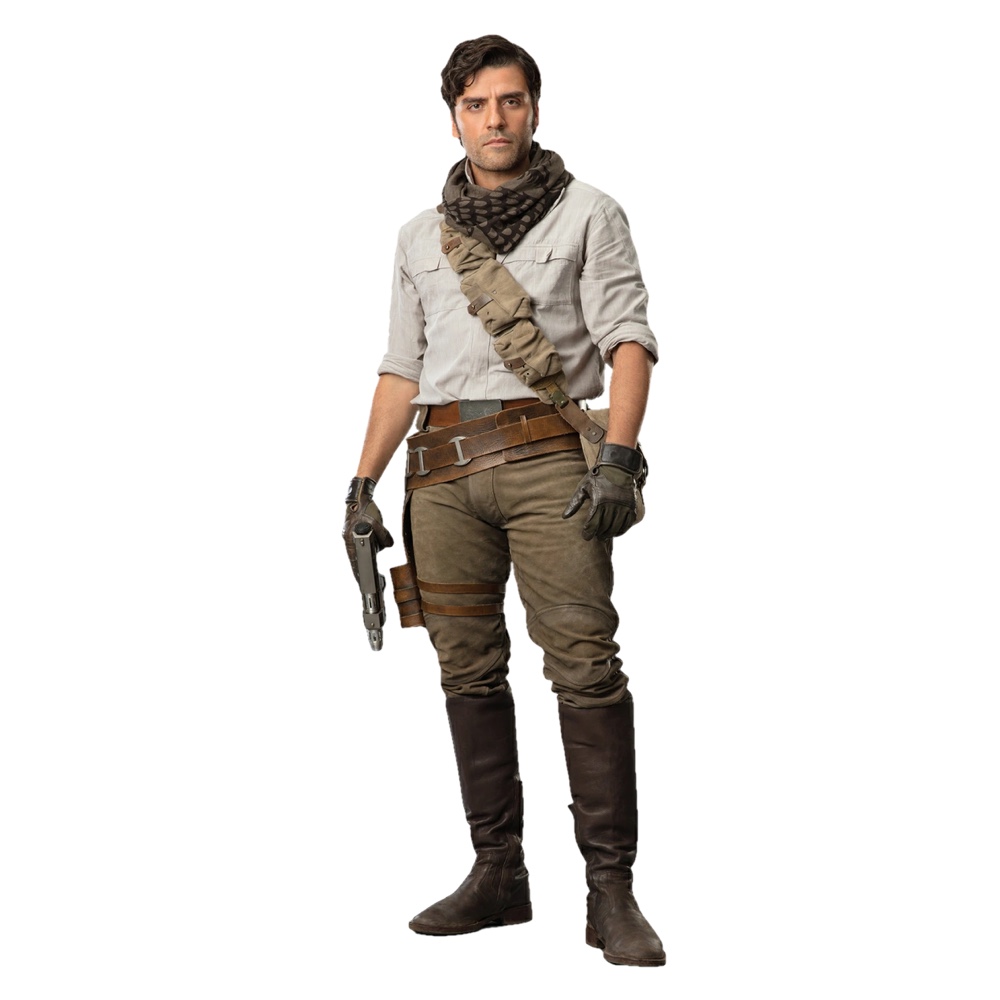 | # | Item | Description |
| --- | --- | --- |
| 1 | Brown faux leather racer jacket | Step into the shoes of Poe Dameron with this rugged brown faux leather racer jacket. Inspired by his iconic style in Star Wars – Episode VIII: The Last Jedi, this jacket features the Resistance insignia and adds a touch of rebellion to your ensemble. |
| 2 | Beige, V-neck, half-collar, long sleeve shirt | Emulate the iconic fashion of Poe Dameron and Han Solo with this beige, V-neck, half-collar, long sleeve shirt. With its distinctive lapels and reminiscent style, it captures the essence of these legendary pilots. |
| 3 | Moss colored cotton relaxed pants | Add a touch of practicality to your Poe Dameron costume with these moss-colored cotton relaxed pants. With their relaxed fit and versatile color, they provide both comfort and style. |
| 4 | Black, pull-on, faux leather boots | Complete your Poe Dameron look with these sleek black, pull-on, faux leather boots. While they may differ slightly from the on-screen version, they still exude the adventurous spirit of the Resistance pilot. |
| 5 | Brown leather belt with blaster holster | Secure your costume's authenticity with this brown leather belt featuring a blaster holster. Designed to mimic Poe's belt from the movie, it adds an extra level of detail to your ensemble. |
| 6 | full costume | For a hassle-free option, consider this complete Poe Dameron costume set. It includes the jacket with an attached inner shirt, pants with attached boot tops, and a belt with a decorative blaster. Dress as the daring pilot from The Last Jedi and make a lasting impression. |
| 7 | Zip Front Faux Leather Moto Jacket | Alternatively, you can opt for a plain brown racer jacket made of leather or faux leather, such as this zip front faux leather moto jacket. It offers a close resemblance to the jacket seen in the movie, allowing you to channel Poe Dameron's style. |
| 8 | Rebel Alliance Insignia patch | Add an authentic touch to your costume by sewing on the Rebel Alliance Insignia patch. This simple addition helps you showcase your allegiance to the Resistance and complete the Poe Dameron look. |
Poe Dameron Overview
Poe Dameron, portrayed by Oscar Isaac, is a skilled pilot and key member of the Resistance in the Star Wars sequel trilogy. Known for his unwavering determination and exceptional flying skills, Poe plays a vital role in the fight against the First Order. As the best pilot in the Resistance, he commands the trust and admiration of his fellow fighters. With his signature flight suit, trusty blaster, and charismatic personality, Poe embodies the spirit of a true hero. Whether soaring through space in his X-wing or leading daring missions on the ground, Poe Dameron's unwavering bravery and loyalty have made him a beloved character among Star Wars fans. Now, it's time to step into his shoes and bring his heroic persona to life through the art of costume creation.
Check out more Star Wars costume ideas here.