The great thing about the new 2023 Barbie movie with Margot Robbie is that there are so many awesome characters that lead to so many costume ideas for a fancy dress party or for halloween. In this guide we look at how to make your own DIY Supreme Court Justice Judge Barbie Costume.
Supreme Court Justice Judge Barbie Costume – Barbie Movie (2023)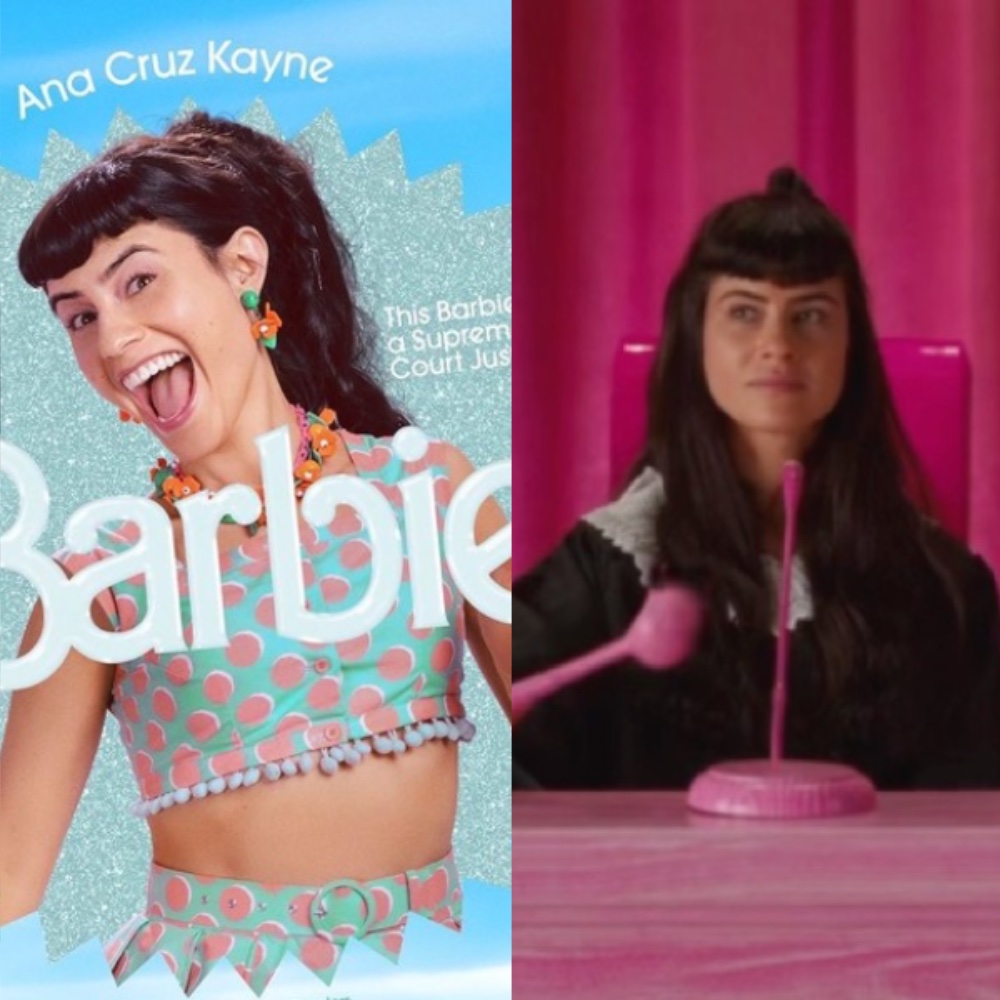 Judges Robes
If you are choosing to dress as Judge Barbie as she looks when on the bench you will certainly need to start your fancy dress with judicial robes.
Judges Gravel
You will also need to carry a judges gravel which will need a slight modification to really make your costume pop.
Pink Spray Paint
Spray your gravel with pink spray paint.

By doing this you are making sure your costume stands out as a Barbie costume and not just any old judge costume.

Floral Necklace and Earrings
If you are choosing the other version of this Supreme Court Justice Judge Barbie Costume you can start with a floral necklace and earrings.
Turquoise Crop Top
Next you will need a turquoise crop top that also features pink hearts or pinks spots.
Turquoise Mini Skirt
Finally you can finish this costume with a matching turquoise mini skirt that features the same pink hearts or spots.
Supreme Court Justice Judge Barbie Overview
Barbie, a prominent character in the movie "Barbie: The Movie 2023," is brought to life by the talented Ana Cruz Kayne. Within the enchanting realm of Barbie Land, Barbie assumes the esteemed role of a judge, specifically serving as a distinguished member of the Supreme Court.
In this captivating cinematic world, Barbie dons the robe of justice, embodying the principles and responsibilities of a Supreme Court Justice. Her character reflects a dedication to upholding the law, ensuring fairness, and making impactful decisions that shape the course of Barbie Land. With a gavel in hand and a keen sense of integrity, Barbie's portrayal as a judge underscores her commitment to justice and the pursuit of a harmonious society.
As a beacon of wisdom and virtue within the fantastical universe of Barbie Land, Supreme Court Justice Judge Barbie stands as an inspiring figure who showcases the empowerment of women in positions of authority and leadership. Her role not only adds depth to the narrative of "Barbie: The Movie" but also serves as a reminder that even in imaginative worlds, the pursuit of justice remains a timeless and essential theme.
Check out more Barbie costume ideas here.