Welcome to our DIY guide on creating an epic T-Bo costume from the beloved Nickelodeon series "iCarly"! If you're a fan of T-Bo's quirky personality and unique fashion sense, get ready to bring his vibrant and eccentric style to life. Whether you're attending a cosplay event, a themed party, or simply want to embrace your inner T-Bo, this guide is here to help.
T-Bo Costume – iCarly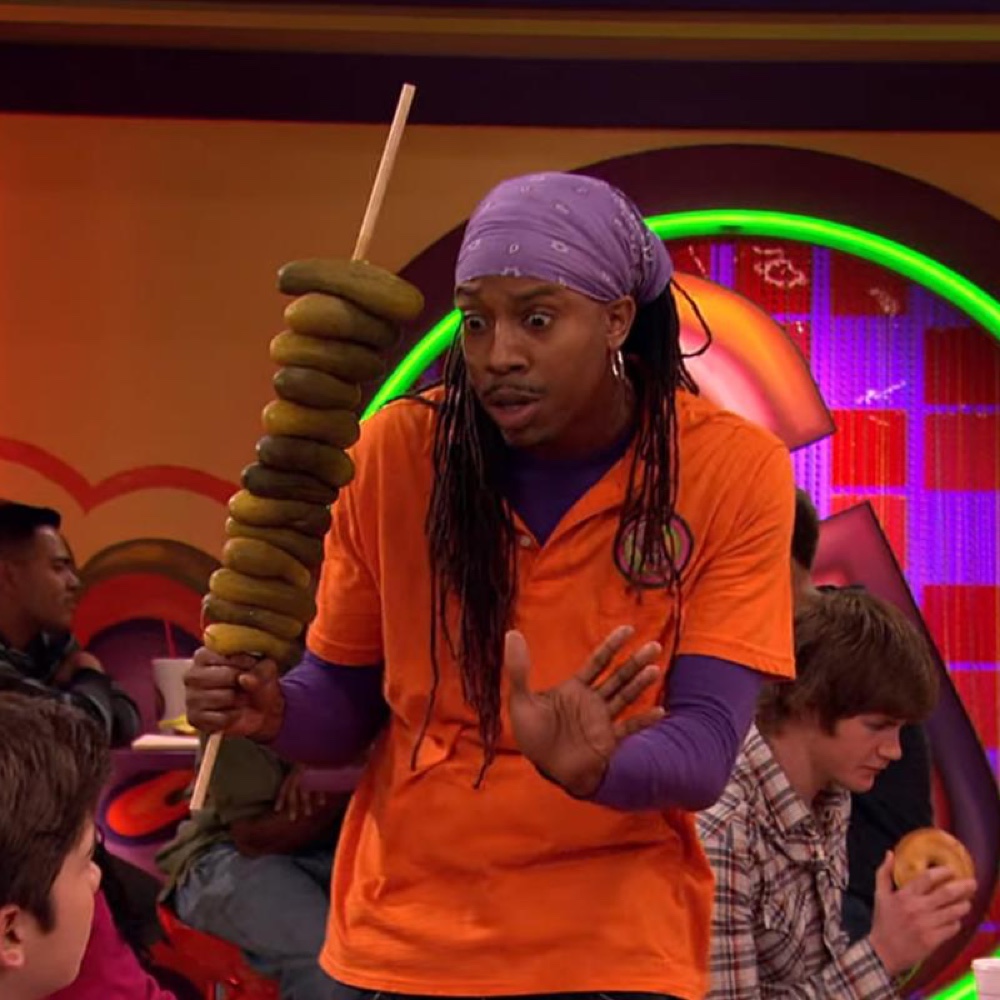 | # | Item | Description |
| --- | --- | --- |
| 1 | Orange Shirt | Set the foundation of T-Bo's attention-grabbing ensemble with this vibrant orange shirt that demands notice. |
| 2 | Black Long-sleeve Top | Add versatility and style by layering a sleek black long-sleeve top underneath the orange shirt for a chic and coordinated look. |
| 3 | Black Pants | Create a polished and sophisticated outfit by pairing the top with a sleek pair of black pants that effortlessly complements the ensemble. |
| 4 | Braided Wig | Achieve a more comprehensive transformation by adorning yourself with this intricately braided wig that perfectly captures T-Bo's distinctive hairstyle. |
| 5 | Black Headband | Perfectly accentuate the look and tie all the elements together with this elegant black headband, adding a touch of flair. |
| 6 | Stick | Enhance the authenticity of the costume by carrying a long stick prop, giving your portrayal of T-Bo an added visual element. |
| 7 | Fake Donuts | Complete the immersive experience by impaling some faux donuts onto your stick prop, adding a playful and whimsical touch to the costume. |
T-Bo Overview
T-Bo, short for "Theodore Boonesworth," is a recurring character from the popular Nickelodeon television series "iCarly." Portrayed by actor BooG!e, T-Bo is known for his quirky personality, eccentric fashion sense, and his role as the owner of the Groovy Smoothie, a popular smoothie shop frequented by the show's main characters.
T-Bo is often portrayed as energetic, humorous, and slightly offbeat. He brings a unique flair to the show with his distinctive fashion choices, which typically include vibrant and unconventional outfits that reflect his vibrant personality. T-Bo is also known for his catchphrase, "No shirt, no shoes, no service, no problem!"
Throughout the series, T-Bo often finds himself entangled in various comedic situations and interactions with the show's main characters, Carly, Sam, Freddie, and Spencer. He serves as a source of comic relief and adds an extra dose of wackiness to the overall dynamic of the show.
With his memorable presence and infectious energy, T-Bo has become a fan-favorite character, leaving a lasting impression on viewers of all ages. His role as the smoothie shop owner brings a sense of community and familiarity to the iCarly universe.
Please note that the television series "iCarly" originally aired from 2007 to 2012, and any further developments or storylines involving T-Bo would not be covered in this overview.
Check out more TV show costume ideas here.