Welcome to a journey into the richly woven tapestry of George R.R. Martin's "A Song of Ice and Fire" and the beloved television series, "Game of Thrones." In this comprehensive guide, we will embark on the creative adventure of crafting an Alicent Hightower costume that exudes the elegance, intrigue, and power of this iconic character. Alicent Hightower, a central figure in the Game of Thrones saga, is known for her complex persona, political prowess, and timeless beauty. Now, it's your opportunity to step into her shoes and explore the intricate world of Westeros. Join us as we unravel the secrets to creating a costume that captures Alicent's grace, strength, and the enigmatic allure that defines her character.
Alicent Hightower Costume – Game of Thrones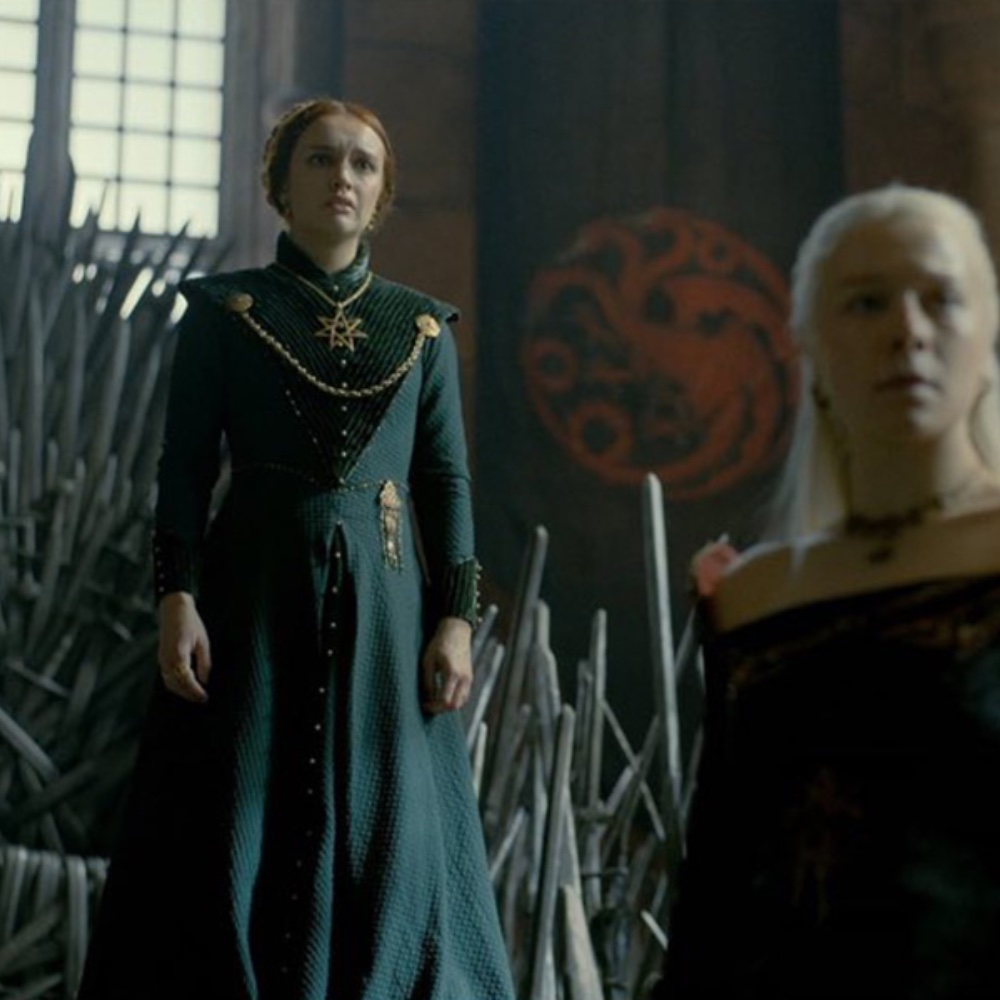 | | |
| --- | --- |
| Light Brown Wavy Wig | Alicent Hightower is known for her timeless beauty, and her hair plays a significant role in her regal appearance. The light brown wavy wig replicates her hairstyle, allowing you to embody her graceful and elegant look. |
| Green Satin Medieval Hooded Fancy Gown Dress | The gown dress is the cornerstone of Alicent's attire. It reflects her noble status and affinity for courtly fashion. The green satin fabric adds a touch of richness and elegance to the costume, making you instantly recognizable as the character. |
| Gold Seven-Pointed Star Pendant Necklace | The seven-pointed star pendant necklace is a significant emblem of the Faith of the Seven, the dominant religion in Westeros. Alicent's connection to the Faith, through her marriage to King Viserys I, is a crucial aspect of her character. This necklace adds authenticity and symbolizes her influence. |
| Green Emerald Gold-Plated Pendant Earrings | Earrings serve as essential accessories in capturing Alicent's regal appearance. The green emerald earrings complement the green gown, adding a touch of sophistication and elegance. They enhance the overall aesthetic of the costume. |
| White Stockings | White stockings provide a contrast to the rich green gown while adhering to the fashion of the time. They are a practical element of the costume, ensuring that your portrayal of Alicent is historically accurate. |
| Green Velvet Ballet Flat Shoes | Footwear completes the overall look and ensures comfort during your portrayal. The green velvet ballet flats are not only stylish but also match the gown, enhancing the character's elegance and grace. |
Alicent Hightower Overview
Alicent Hightower is a multifaceted character in George R.R. Martin's fantasy world, renowned for her complex personality and significant role in the power struggles of Westeros. Here's an overview of this captivating character:
Appearance: Alicent is known for her timeless beauty, with long, flowing hair and a regal bearing. Her attire is elegant, reflecting her highborn status and affinity for courtly intrigue. Her clothing often features intricate designs and fabrics that denote her noble lineage.
Personality: Alicent is a woman of intelligence, ambition, and a deep understanding of the political machinations of Westeros. Her charm and grace are matched by her cunning and determination to secure power for her family, House Hightower. She is skilled in navigating the treacherous waters of court politics.
Role in History: Alicent's role in the history of Westeros is significant. As the queen consort of Viserys I Targaryen and mother to Rhaenyra and Aegon II, she plays a central role in the Targaryen civil war known as the "Dance of the Dragons." Her influence on the succession crisis and her alliances with powerful houses are pivotal to the conflict's outcome.
Ambition and Intrigue: Alicent's character is marked by her ambition to see her son, Aegon II, seated on the Iron Throne. Her political maneuvers and willingness to challenge the established order make her a formidable player in the game of thrones.
Creating an Alicent Hightower costume allows you to explore the multifaceted character of a woman who navigates the treacherous currents of Westerosi politics with grace and determination. Her regal appearance, political acumen, and intriguing personality provide a captivating canvas for your costume-making journey. So, let's delve into the details and craft a costume that pays homage to one of the most enigmatic figures in the Seven Kingdoms!
Check out more Game of Thrones costume ideas here.