Welcome to a journey through the intricate tapestry of Westerosi history and fantasy as we delve into the art of crafting a Rhaenyra Targaryen costume. In this comprehensive guide, we'll explore the captivating world of George R.R. Martin's "A Song of Ice and Fire" and its iconic adaptation, "Game of Thrones." Rhaenyra Targaryen, a figure of strength, ambition, and regal charisma, played a pivotal role in the Targaryen dynasty's tumultuous history. Now, you have the opportunity to embody this remarkable character and step into the shoes of a dragon-riding queen. Join us on this creative journey as we unveil the secrets to crafting a costume that captures the essence of Rhaenyra, a woman who defied conventions and soared with dragons in a realm of power and intrigue.
Rhaenyra Targaryen Costume – Game of Thrones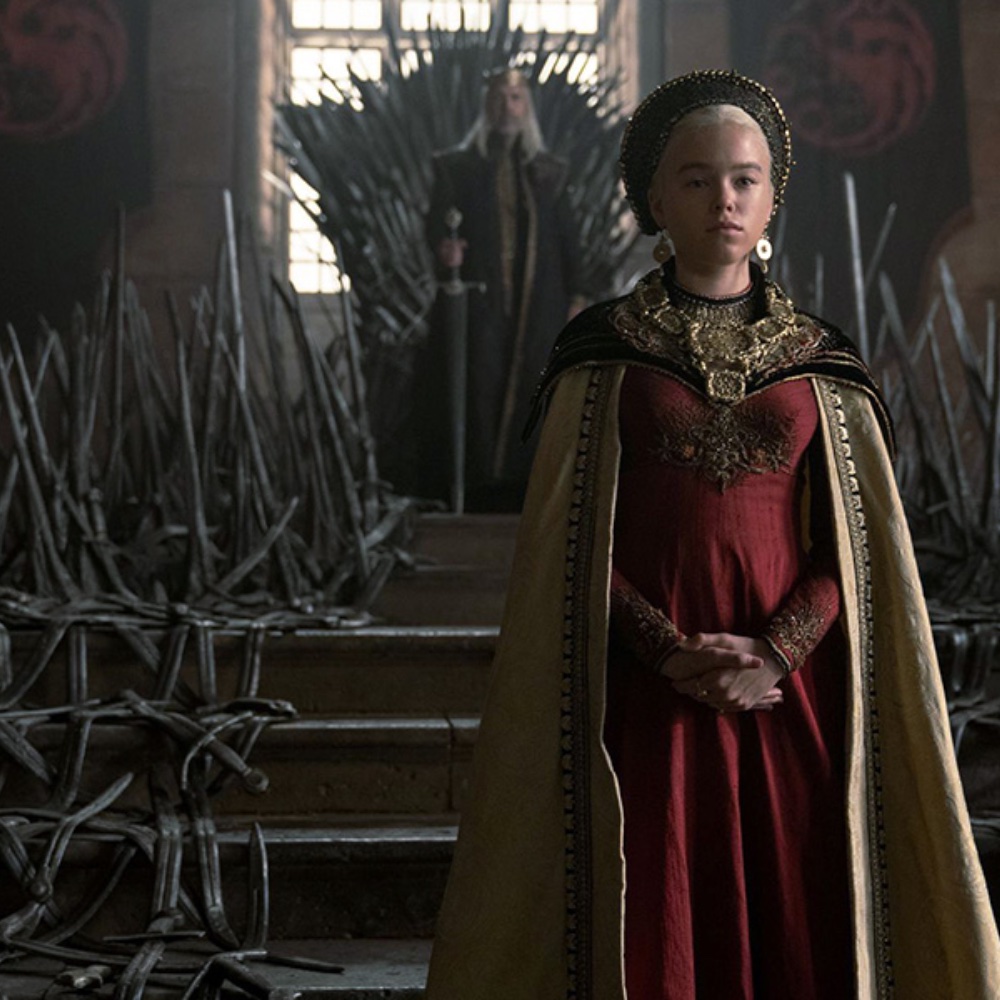 | | |
| --- | --- |
| Long Platinum Blonde Curly Wig | Rhaenyra Targaryen is renowned for her striking silver-gold hair. The long, platinum blonde curly wig replicates this iconic feature, ensuring that your costume immediately reflects her distinct Targaryen lineage. |
| Rhaenyra Red Royal Gown with Cloak and Hat | his elegant red royal gown serves as the cornerstone of Rhaenyra's regal attire. The accompanying cloak and hat add depth and authenticity to her noble look, making you instantly recognizable as the dragonrider queen. |
| Rhaenyra Ruby Red Long Robe Dress | This robe dress provides an alternative costume option for Rhaenyra, offering a variation of her regal attire. The rich ruby red color reflects her royal status and fiery personality. |
| Young Rhaenyra White Medieval Robe with Chain Belt | If you wish to portray Rhaenyra in her earlier years, this white medieval robe with a chain belt represents her youth and innocence. It adds versatility to your costume, allowing you to depict different stages of her life. |
| Red Long Medieval Princess Dress | This dress offers yet another variation for your Rhaenyra costume, providing an elegant and regal look suitable for a Targaryen princess. It allows you to explore different facets of her character. |
| Princess Rhaenyra Celtic Pendant Chain Necklace | Accessories play a crucial role in capturing Rhaenyra's royal appearance. This Celtic pendant chain necklace adds a touch of authenticity and complements |
| Yellow Gold and Garnet Red Pendant Earring Jewelry Set | To complete the royal ensemble, this jewelry set includes pendant earrings that match the necklace. They add intricate detail and elegance to your costume, ensuring that every aspect of your attire is in line with Rhaenyra's majestic character. |
Rhaenyra Targaryen Overview
Rhaenyra Targaryen is a central figure in the rich lore of Westeros and George R.R. Martin's fantasy world. Here's an overview of this captivating character:
Appearance: Rhaenyra is known for her striking Targaryen features, including silver-gold hair and violet eyes. Her beauty is enhanced by the regal attire she wears as a queen and dragonrider, often adorned with dragon motifs and Targaryen sigils.
Personality: Rhaenyra is a woman of fierce determination and unyielding ambition. She is a dragonrider, a skilled warrior, and a charismatic leader. Her boldness and unapologetic pursuit of power make her a force to be reckoned with in the tumultuous politics of Westeros.
Dragonrider: Rhaenyra is closely associated with her dragon, Syrax. The bond between rider and dragon is central to her character, symbolizing her authority and strength as a queen. The dragon's fiery breath and majestic presence add to her mystique.
Role in History: Rhaenyra's story is intertwined with the Targaryen civil war known as the "Dance of the Dragons." Her claim to the Iron Throne, her determination to break gender norms, and her complex relationships with family members set the stage for a brutal conflict that would reshape the future of Westeros.
Creating a Rhaenyra Targaryen costume allows you to step into the complex and compelling world of "A Song of Ice and Fire." With her distinctive appearance, fierce personality, and the power of her dragon, Rhaenyra is a character who embodies strength, ambition, and the challenges of navigating a world filled with political intrigue and rivalries. So, let's embark on this costume-making adventure and pay homage to one of the most iconic figures in the Seven Kingdoms!
Check out more Game of Thrones costume ideas here.