In the enchanting world of Barbie, where glamorous fashion and iconic characters reign supreme, there's one doll who stands out as a truly unique and unforgettable personality – Allan. Played by the talented Michael Cera in the upcoming movie Barbie, directed by Greta Gerwig, Allan may not be a Ken, but he's certainly not one to be overlooked. As the quirky sidekick and buddy to Ken, Allan brings his own brand of charm and individuality to the Barbie universe. Let us dive into this guide on how to make your own Allan from Barbie costume.
Allan from Barbie Costume – Barbie (2023)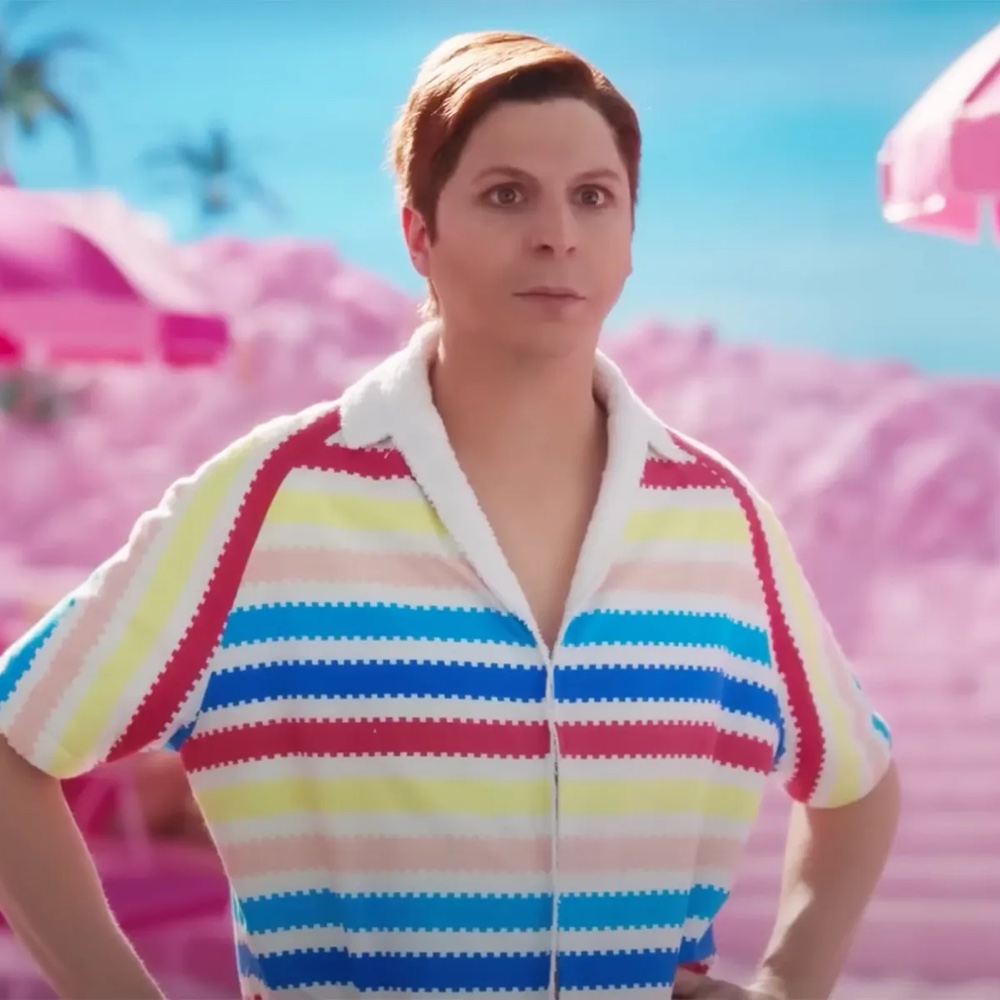 | | |
| --- | --- |
| Striped Allan Shirt | The white and multicolored striped collared shirt is the cornerstone of Allan's attire, reminiscent of the classic 1960s doll's fashion. This retro-inspired shirt instantly transports you to a bygone era, infusing your costume with a touch of nostalgia and timeless style. |
| Blue Shorts | Paired with the striped shirt, the classic blue shorts add a sense of carefree adventure to your Allan ensemble. Recreating the look of the original doll, these shorts symbolize his playful spirit and willingness to embrace life's endless possibilities. |
| Navy Blue Flip Flops | Keeping in line with Allan's laid-back and relaxed vibe, the navy blue flip flops provide comfort and ease as you embark on your Barbie-inspired adventure. Whether you're exploring the Dreamhouse or joining Barbie and her friends in their escapades, these sandals complete Allan's casual yet charming look. |
| Autumn Brown Eyeliner | To achieve Allan's distinctive appearance, pay attention to the details. Use autumn brown eyeliner to replicate the doll's captivating eyes, adding a touch of authenticity to your costume. This subtle yet significant element enhances Allan's endearing appeal. |
| Orange Temporary Hair Spray | One of the most defining features of Allan is his vibrant orange hair, making it a must-have for your costume. With the help of orange temporary hair spray, you can easily transform your locks to match Allan's playful and eye-catching hair color. |
Allan from Barbie Overview
In the captivating world of Barbie, where fashion, dreams, and imagination collide, there's one doll who stands out as a true embodiment of individuality and charm – Allan. Portrayed by the talented Michael Cera in the forthcoming movie Barbie, directed by Greta Gerwig, Allan is not your typical Ken, but that's precisely what makes him so special.
In this delightful character, inspired by a real-life and lesser-known doll from the original Barbie line, we find a refreshing departure from convention. Allan is not just a sidekick; he's a unique personality in his own right, with a captivating story that sets him apart from the rest. Embracing his own brand of quirkiness and authenticity, Allan has become a beloved figure in the Barbie universe, proving that being different is truly something to celebrate.
Dressed in an outfit reminiscent of the classic 1960s doll, Allan's style transports us back to a time of simplicity and charm. With a white and multicolored striped collared shirt exuding retro flair, paired with classic blue shorts that capture the essence of carefree adventure, Allan's ensemble is a testament to his timeless appeal.
But it's not just his attire that sets him apart. Allan's vibrant and playful personality shines through with his trademark feature – a head of bright orange hair that stands out in any crowd. His distinct look, paired with his kind-hearted and endearing demeanor, makes him a truly unforgettable character in the Barbie Dreamhouse.
In this overview, we celebrate Allan's uniqueness and take a closer look at the character that has captured the hearts of Barbie enthusiasts and newcomers alike. From his classic attire to the undeniable charm that emanates from his every move, we invite you to dive into the world of Allan from Barbie and discover the joy of embracing one's individuality. So join us on this whimsical journey and unlock the magic of Allan, a doll who proves that being different is the key to creating your own extraordinary adventure in the Barbie universe.
Check out more Barbie costume ideas here.