Step into the powerful and imaginative world of President Barbie from the highly anticipated 2023 movie, starring the talented Issa Rae. In this groundbreaking film directed by Greta Gerwig, President Barbie emerges as a captivating and influential leader in the Barbie universe, presiding over a pink utopia with her all-female team. This is a complete guide to making your own President Barbie costume.
President Barbie Costume – Barbie (2023)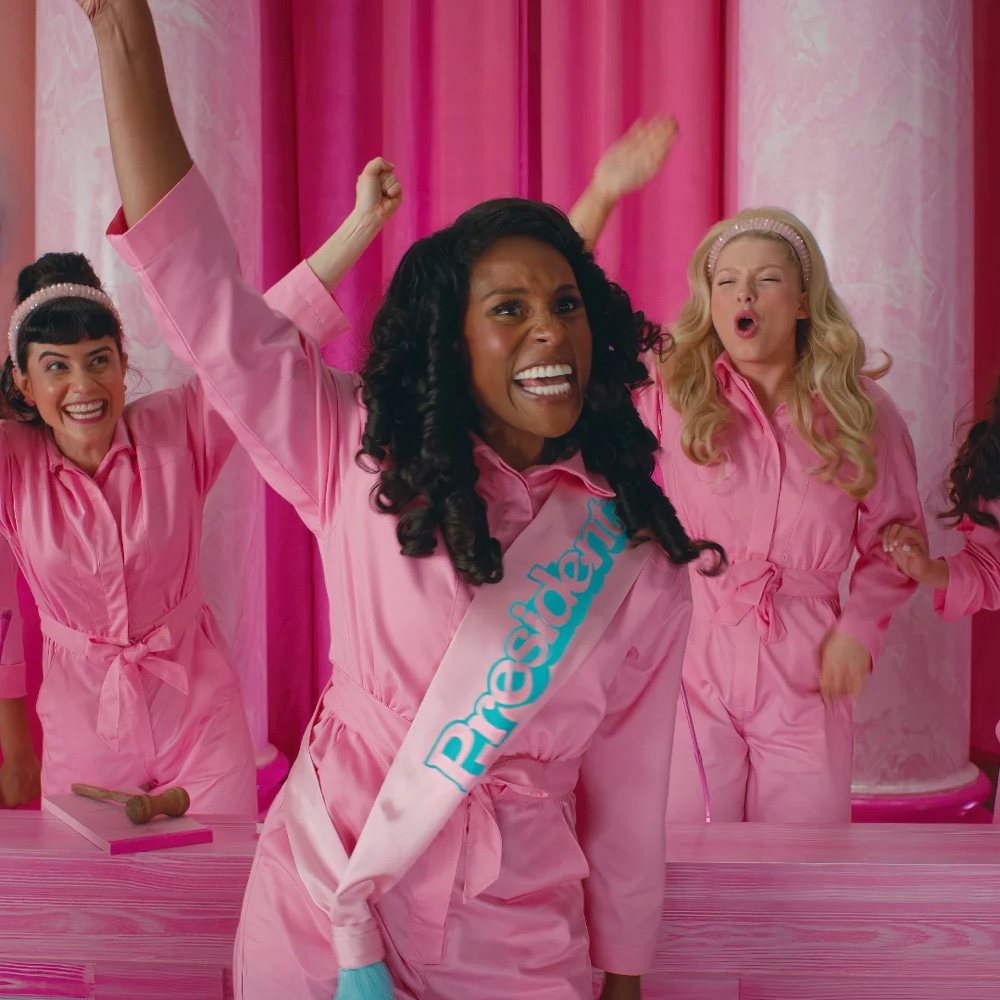 | | |
| --- | --- |
| Rose Gold Dress | The heart of your President Barbie costume is a resplendent rose gold dress. This regal and poofy princess dress exudes elegance and grace, perfect for embodying the empowering spirit of a leader. |
| Gold Costume Jewelry Necklace | To add a touch of sophistication and glamour, a gold costume jewelry necklace complements the rose gold dress beautifully, enhancing the overall presidential look. |
| Pink Blank Sash | President Barbie's signature pink sash is a must-have element for this costume. This pink sash proudly displays the title "president" over every outfit, symbolizing her powerful leadership and unwavering commitment to making a difference. |
| Teal Fabric Paint | A touch of teal fabric paint allows you to add exquisite gold details to the rose gold dress, elevating its regal appearance and capturing the attention to detail in President Barbie's costume. |
| Gold Fabric Paint | With gold fabric paint, you can accentuate the princess dress further, adding a touch of opulence and richness to create a truly captivating look. |
| Pink Jumpsuit | In some scenes of the movie, President Barbie dons a stylish pink jumpsuit. This versatile piece offers an alternative outfit option, showcasing her fashion-forward and trendsetting style. |
President Barbie Overview
President Barbie is an iconic and empowering character portrayed by the talented Issa Rae in the highly anticipated 2023 movie, Barbie, directed by Greta Gerwig. In this groundbreaking film, President Barbie reigns over a pink utopia, leading with grace, charisma, and a visionary spirit. Breaking away from the traditional portrayal of a president, Issa Rae's President Barbie embraces a fresh and imaginative approach, inspired by the whimsical dreams of a young girl.
As the leader of her all-female team, President Barbie exemplifies strength and confidence, inspiring viewers to embrace their own potential and envision a world where dreams can come true. With a regal poofy pink princess dress adorned with exquisite gold details, President Barbie exudes elegance and charm, embodying the essence of a true Barbie leader.
One of the distinctive elements of President Barbie's ensemble is her signature pink sash, proudly displaying the title "president" over every outfit she wears. This sash symbolizes her unwavering commitment to leadership and her fearless dedication to making a difference in her pink utopia.
Issa Rae's involvement in the ideation of President Barbie's costume further adds to the character's uniqueness. With a design that captures a little girl's imagination of what a president could be, President Barbie stands as a role model for empowerment, encouraging viewers to reach for the stars and dream big.
The President Barbie costume is not only a delightful visual representation of her character but also a testament to the power of embracing individuality and breaking away from traditional norms. With its poise, beauty, and vibrant charm, President Barbie's outfit showcases the magic of imagination and the strength of women in leadership roles.
In this President Barbie overview, we invite you to explore the enchanting world of this visionary leader and the magic she brings to the Barbie universe. Embrace the opportunity to embody President Barbie's spirit, drawing inspiration from her empowering style and character traits. As you delve into the details of her costume, you'll uncover the elements that make President Barbie an unforgettable and influential figure, leaving a lasting impression on audiences of all ages.
Join us as we embark on this captivating journey of transformation and empowerment, celebrating the joy of being true to oneself and embracing the limitless possibilities that lie ahead. Discover the wonder and inspiration of President Barbie, and let her magnetic charisma guide you in your own journey of self-discovery and leadership. Prepare to be captivated by the enchanting world of President Barbie and the lasting impact she leaves on hearts and minds everywhere.
Check out more Barbie costume ideas here.