Step into the enchanting world of Barbie with our ultimate guide on creating your own Barbie costume, inspired by the captivating portrayal of Barbie by Margot Robbie in the live-action movie. As one of the most iconic toys in existence, Barbie's journey from Barbieland to the real world alongside Ken is a tale of adventure and self-discovery. With her bright and outlandish outfits, Barbie's style is truly one-of-a-kind and perfect for a doll.
This is a great fancy dress idea for couples if your partner goes as Ken which you can check out here.
Barbie Costume – Barbie (2023)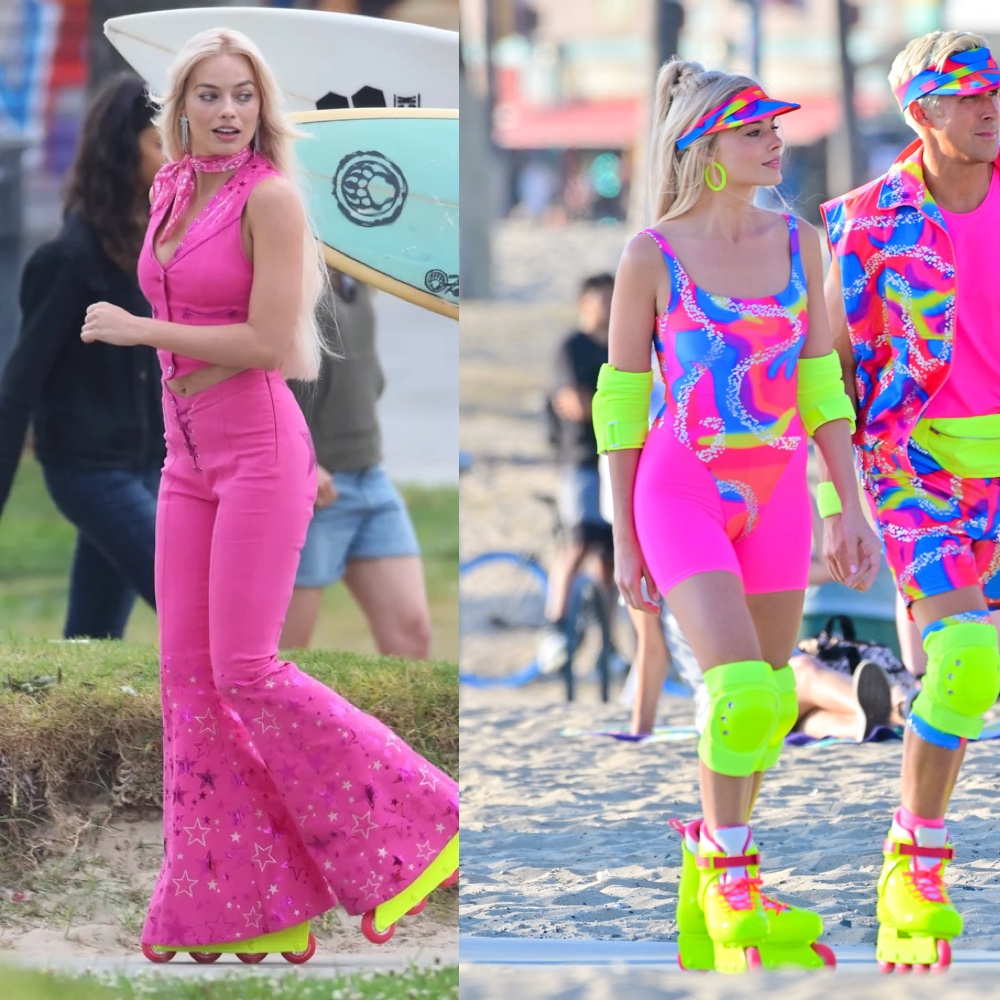 Recreating Barbie's exact movie costumes may be a challenge, but fear not! Our guide will help you capture the essence of her look while channeling the overall vibe. Embrace the fun and creativity of Barbie's world as you embark on the quest to craft your own Barbie-inspired costume.
From her vibrant pink cowgirl outfit to her neon high-tops, we'll show you how to add the perfect details to make your costume truly stand out. Iron-on star patches can bring the cowgirl ensemble to life, and if rollerblading all night isn't your thing, we've got you covered with a simple swap to neon high-tops.
Get ready to shine at your next costume party or Halloween event as you step into the shoes of Barbie. Let your imagination run wild, and with our helpful tips and tricks, you'll be able to bring the magic of Barbie to life. So, grab your crafting supplies and get ready to embark on a fashion-forward journey to create your very own Barbie costume, inspired by the iconic Margot Robbie portrayal. It's time to unleash your inner Barbie and make a dazzling impression that will leave everyone in awe!
| | |
| --- | --- |
| Pink Bandana | The pink bandana adds a touch of flair and fun to Barbie's cowgirl ensemble, completing her iconic look. |
| White Cowboy Hat | Barbie's classic white cowboy hat is a must-have accessory, exuding Western charm and complementing her cowgirl outfit. |
| Pink Waistcoat | The pink waistcoat adds a stylish layer to Barbie's ensemble, showcasing her fashion-forward sense. |
| Pink High Waist Bell Bottoms | These pink bell-bottoms perfectly capture the retro '70s vibe of Barbie's outfit, making a bold fashion statement. |
| White Cowboy Boot Heels | Barbie's chic white cowboy boot heels add sophistication and elevate her overall appearance. |
| Silver Star Tassel Earrings | These dazzling earrings add a touch of glamour and sparkle to Barbie's look, enhancing her stylish cowgirl image. |
| Star Iron On Patches – Dark Pink | The star iron-on patches in dark pink and light pink are crucial for adding delightful details to Barbie's pink cowgirl outfit. |
| Star Iron On Patches – Light Pink | Do not forget the light pink star iron on patches for your Barbie costume. |
| Long Blonde Wig | Barbie's signature long blonde wig is synonymous with her character, completing her iconic look and ensuring she is instantly recognizable. |
| Hot Pink Biker Shorts | The hot pink biker shorts provide a trendy and modern touch to Barbie's outfit, adding a contemporary twist. |
| Retro '80s Bodysuit | This retro bodysuit captures the '80s fashion era, reflecting Barbie's versatility in different styles. |
| Neon Yellow Hoop Earrings | Barbie's neon yellow hoop earrings bring a pop of color and playfulness to her ensemble, embracing her vibrant personality. |
| Neon Multi Color Visor | The neon multi-color visor is a fun accessory that adds a touch of retro flair and completes Barbie's '80s-inspired look. |
| Neon Knee and Elbow Pads | These neon pads add an element of sportiness and fun to Barbie's outfit, perfect for her adventurous spirit. |
| Neon High Tops | Barbie's neon high tops not only enhance her sporty appearance but also offer comfort and practicality for any exciting adventure. |
Barbie Overview
Barbie, the timeless and iconic doll, has captured the hearts of millions worldwide with her impeccable style, boundless imagination, and empowering message. Created by Ruth Handler and introduced by Mattel in 1959, Barbie has since become much more than just a toy – she's a cultural phenomenon, an inspiration, and a symbol of endless possibilities.
In her latest live-action movie portrayal, played by the talented Margot Robbie, Barbie embarks on an extraordinary journey from the vibrant world of Barbieland to the real world alongside her beloved companion, Ken. The movie showcases Barbie's unwavering spirit and her refusal to conform to societal expectations, making her a relatable and empowering figure for audiences of all ages.
Known for her vast and dazzling wardrobe, Barbie's outfits are nothing short of spectacular. From glamorous evening gowns to playful cowgirl ensembles, Barbie's style is characterized by vibrant colors, bold patterns, and a touch of whimsy. Channeling her overall vibe is key to bringing her character to life, even if exact costume matches seem challenging.
Crafting your own Barbie costume based on the Margot Robbie version can be an exciting and creative adventure. While getting exact replicas may prove difficult, our guide emphasizes the importance of capturing Barbie's essence while putting your own spin on her looks. For her pink cowgirl outfit, iron-on star patches add the perfect finishing touch, and neon high-tops can be a practical and stylish alternative to rollerblading all night.
Barbie's influence extends far beyond the toy aisle. She has been a source of inspiration for countless individuals, encouraging them to dream big and be unapologetically themselves. With a diverse range of careers and adventures, Barbie embodies the idea that anything is possible with determination and imagination.
As you delve into the enchanting world of Barbie, get ready to embrace your creativity and celebrate individuality. Whether you're crafting a costume for a special occasion or simply cherishing memories of playing with the doll, Barbie's timeless appeal continues to spark joy and ignite the imagination of generations to come. So, come along on this extraordinary journey and discover why Barbie remains an enduring symbol of beauty, empowerment, and limitless potential. Unleash your inner Barbie and be inspired to live life with passion, grace, and the belief that you can be anything you set your mind to.
Check out more Barbie costume ideas here.