Get ready to bring the hunky and stylish Ken (played by Ryan Gosling) to life with your own Ken costume! As the swoon-worthy counterpart to the beloved Barbie, Ken is making his big-screen debut in the upcoming live-action film, and now you have the chance to embody his iconic look. This is a complete guide to making your own Ken costume from the 2023 movie version of Barbie.
If you are looking for fancy dress ideas for couples you can check out the Barbie costume here.
Ken Costume – Barbie (2023)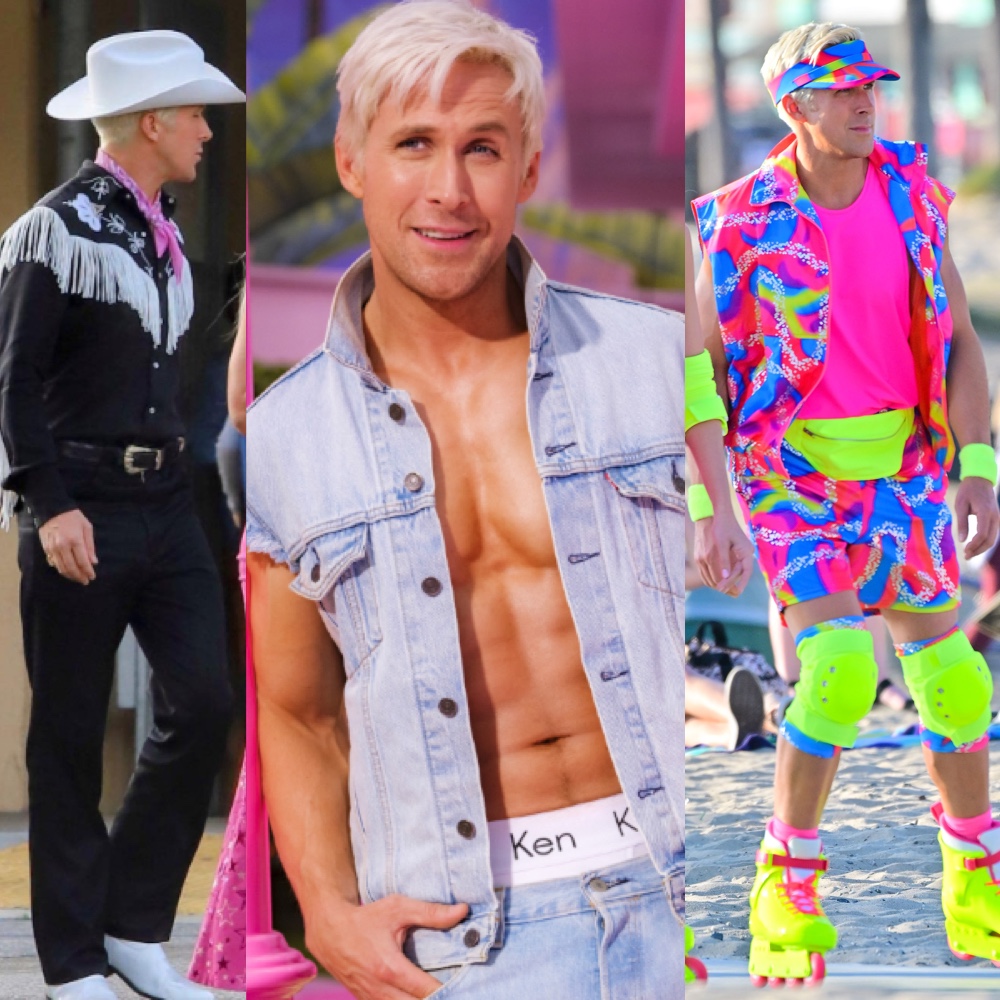 Throughout the movie, Ken dons various eye-catching outfits, from a black and white cowboy ensemble to a strikingly neon outfit adorned with funky patterns. Recreating Ken's fashionable style may require a bit of creativity, but fear not! With a little crafting and resourcefulness, you can get as close as possible to his dashing appearance.
Imagine yourself in a black and white cowboy shirt, complete with fringes delicately attached with a hot glue gun to capture the essence of Ken's cowboy-inspired outfit. Embrace his bold neon look with vibrant sneakers that can easily stand in for roller blades if you prefer not to skate all night.
In this ultimate guide to making a Ken costume, we'll take you step by step through the process of crafting Ken's distinct ensembles, ensuring you embody the charm and charisma of this iconic toy. So, dust off your crafting skills, grab your glue gun, and get ready to transform into the dashing Ken for your next costume event, themed party, or Halloween celebration. Let's dive in and create a Ken costume that will leave everyone in awe of your style and creativity!
| | |
| --- | --- |
| White Cowboy Hat | The iconic cowboy hat is a signature accessory that instantly transforms you into the charming Ken. It adds a touch of rugged charm to his look. |
| Pink Bandana | Ken's pink bandana adds a pop of color and a dash of playfulness to his cowboy ensemble, showcasing his adventurous spirit. |
| Black Cowboy Shirt | A classic black cowboy shirt with its distinctive details captures Ken's western flair and suave style. |
| Black Jeans | Complementing the cowboy shirt, black jeans complete Ken's rugged and dashing cowboy look. |
| White Cowboy Chelsea Boots | The white cowboy boots exude cowboy charm and add a polished touch to Ken's overall outfit. |
| White Fringe | Adding fringe to the cowboy shirt creates movement and a sense of authenticity, bringing Ken's western outfit to life. |
| Distressed Blue Denim Vest | The denim vest adds a contemporary edge to Ken's look, showcasing his modern and fashionable side. |
| Light Blue Jeans | The light blue jeans perfectly complement the denim vest, completing Ken's trendy and casual ensemble. |
| Blonde Wig | Ken's signature blonde hair is a defining feature. A high-quality blonde wig captures his suave and stylish appearance. |
| Neon Fanny Pack | The neon fanny pack adds a touch of '80s nostalgia and serves as a functional accessory for storing essentials. |
| Neon Sneakers | Vibrant neon sneakers stand in for rollerblades and add a playful twist to Ken's look. |
| Neon Multicolor Visor | The neon visor adds an eye-catching element to Ken's outfit, exuding an '80s retro vibe. |
| Neon Wristbands | Neon wristbands are the perfect accessory to complete Ken's energetic and athletic look. |
| Retro 80s Print Button Down Shirt | This vibrant shirt showcases Ken's love for bold patterns and '80s fashion. |
| Hot Pink T-Shirt | The hot pink shirt adds a burst of color and fun to Ken's wardrobe, representing his playful personality. |
| Neon Knee Pads | Neon knee pads are a practical yet stylish addition, embodying Ken's active and adventurous spirit. |
| Retro 80s Print Shorts | The retro '80s print shorts are an essential piece that channels Ken's love for bright and bold fashion choices. |
Ken Overview
Ken, the hunky and charismatic counterpart to Barbie, is an iconic toy and cultural figure loved by generations. Created by Mattel in 1961 as Barbie's boyfriend, Ken quickly became a beloved part of the Barbie doll family. Known for his dapper style, charming smile, and adventurous spirit, Ken has captured the hearts of children and collectors alike.
In the upcoming live-action film, Ken (played by Ryan Gosling) is given a new lease on life as he, along with Barbie, ventures from Barbieland to the real world. With his striking fashion choices and captivating personality, Ken's character comes to life on the big screen, leaving audiences enamored with his charm and wit.
Throughout the movie, Ken showcases a range of unique and eye-catching outfits, each reflecting his daring and fashionable persona. From his suave cowboy look, complete with a black and white ensemble and cowboy boots, to his vibrant and neon attire adorned with funky patterns, Ken's fashion choices are as diverse as they are stylish.
As a pop culture icon and symbol of friendship and romance alongside Barbie, Ken's influence extends beyond the toy aisle. He continues to inspire creativity and imagination, making him a popular choice for costume parties, Halloween celebrations, and themed events.
In this guide, we'll explore how to bring the beloved Ken to life with your very own Ken costume. Whether you're a devoted Barbie fan or simply captivated by Ken's charm, get ready to embark on a crafting journey to recreate his signature looks. From his cowboy-inspired ensembles to his eye-catching neon outfits, we'll provide you with the tips and inspiration to make your Ken costume truly exceptional.
So, grab your crafting supplies, unleash your creativity, and let's celebrate the enduring allure of Ken, a timeless icon who continues to capture hearts and inspire joy in the hearts of fans worldwide. Get ready to embrace the spirit of Ken as we delve into the art of creating a Ken costume that will turn heads and bring smiles to everyone you encounter.
Check out more Barbie costume ideas here.