Welcome to the comprehensive guide on creating the heartfelt costume of Beth Greene from "The Walking Dead"! If you've been touched by the character's resilience and compassion in the midst of a zombie apocalypse, then you're in for a treat. In this guide, we will take you through the steps of crafting Beth's iconic outfit, from her practical attire to her distinct accessories. Get ready to embody the strength, vulnerability, and unwavering spirit of this beloved character through your very own Beth Greene – Walking Dead costume.
Beth Greene – Walking Dead Costume – The Walking Dead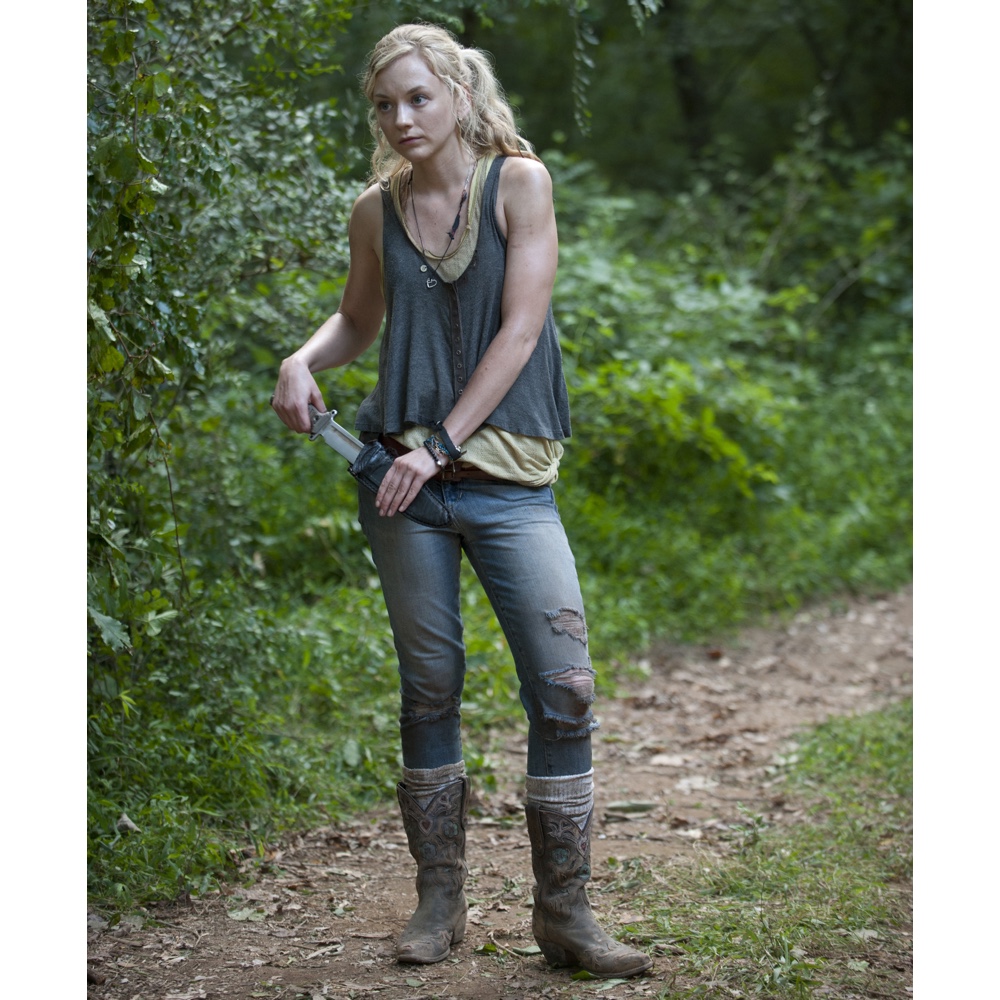 | # | Item | Description |
| --- | --- | --- |
| 1 | Loose Light Green Tank Top | Experience comfort and freedom of movement with the Loose Light Green Tank Top. As Beth, navigating the perilous world of walkers, this sleeveless top allows her arms to swing effortlessly as she wields her knife. Embrace the casual style and practicality of this tank top, perfect for surviving the post-apocalyptic chaos. |
| 2 | Gray Cropped Tank Top | Embrace layering and adapt to changing temperatures with the Gray Cropped Tank Top. In the unpredictable post-apocalyptic world, Beth knows the importance of staying warm without sacrificing style. Layer this cropped tank top over a long-sleeved shirt for a fashionable and functional look that allows her to brave the elements with confidence. |
| 3 | Ripped Light Denim Jeans | Stay timeless and rugged with the Ripped Light Denim Jeans. In a world where fashion takes a backseat to survival, Beth's worn and torn jeans reflect her resilience and adaptability. These jeans offer both style and durability, allowing her to navigate through hazardous environments with ease. |
| 4 | Gray Mid-Calf Boots | Stride with confidence and protection in the Gray Mid-Calf Boots. These boots offer Beth the stability and support she needs while traversing through dense foliage and challenging terrains. With their mid-calf height, they provide an extra layer of defense against both the elements and the relentless walkers she encounters. |
| 5 | Off-White Leg Warmers | Combat the chill of cooler nights with the cozy Off-White Leg Warmers. As the temperature drops, Beth knows the importance of keeping her legs warm and protected. These leg warmers provide an extra layer of insulation, ensuring she stays comfortable and ready for any unexpected encounters in the unforgiving world of walkers. |
| 6 | Black Leather Bracelet | Optional |
| 7 | Costume Hunting Knife | Equip yourself with the reliable Costume Hunting Knife, just like Beth does. When faced with close-range encounters, this versatile weapon becomes Beth's trusted ally in the fight against walkers. Its sharp blade allows her to slash and stab with precision, ensuring her safety and the survival of her group. Face the challenges of the post-apocalyptic world armed and ready. |
| 8 | Double Heart Pendant Necklace | Optional |
Beth Greene Overview
Beth Greene, portrayed by Emily Kinney, is a fictional character in the television series "The Walking Dead." She evolves from a shy and soft-spoken young woman to a courageous survivor in the post-apocalyptic world. Known for her angelic voice and unwavering optimism, Beth becomes a beacon of hope for the group. Her signature outfit often consists of a simple blouse, jeans, and a sturdy pair of boots. Beth's gentle nature, resilience, and growth as a character have endeared her to fans worldwide. As you embark on your journey to create a Beth Greene costume, embrace her spirit of resilience, compassion, and determination to find beauty and humanity in the midst of chaos. Let's dive into the details and bring the essence of Beth Greene to life in your own interpretation of this iconic character!
Check out more TV show costume ideas here.