Welcome to the comprehensive guide on creating a remarkable costume of the iconic character, C-3PO. Whether you're preparing for a cosplay event, a themed party, or simply expressing your admiration for the beloved protocol droid, this guide will provide you with all the essential details and step-by-step instructions to bring C-3PO's golden brilliance to life. Get ready to embark on an exciting journey of crafting and creativity!
C-3PO Costume – Star Wars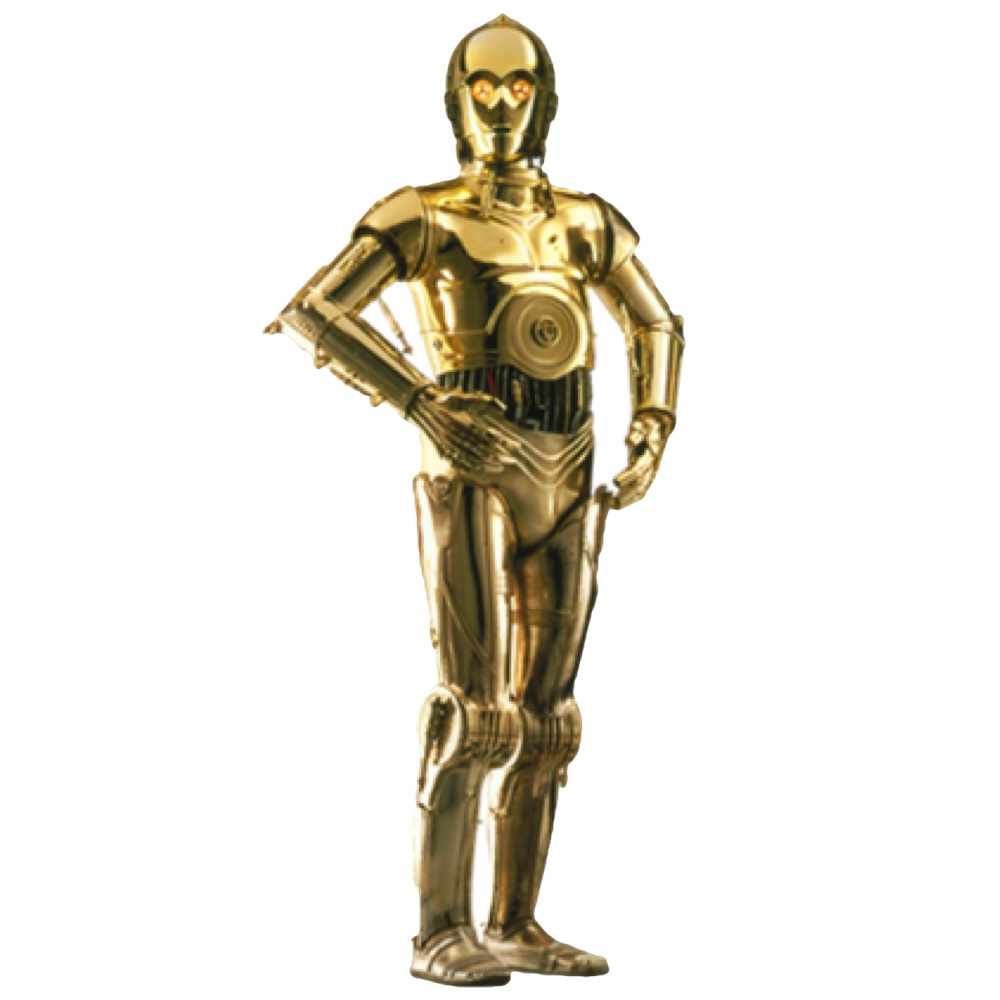 | # | Item | Description |
| --- | --- | --- |
| 1 | C3PO T-shirt | This stylish t-shirt features a captivating design showcasing the radiant golden plating and intricate black under-layer, providing an effortless way to embody C-3PO's distinctive appearance. |
| 2 | C3PO Leggings | Elevate your costume with these eye-catching leggings adorned with meticulous details resembling C-3PO's leg plates and joints. These leggings perfectly complement your overall ensemble. |
| 3 | C-3PO knitted beanie hat | Add an extra touch of authenticity to your costume with this cozy knitted beanie hat inspired by C-3PO. Its clever design includes foldable eyeholes, allowing you to transform it into a mask-like accessory. |
| 4 | C3PO Full costume | For an impeccably accurate portrayal, consider acquiring the complete C-3PO costume. This comprehensive ensemble ensures an authentic look, and we have provided a convenient link for your convenience. |
| 5 | Metallic Gold Shirt | Elevate your outfit by wearing a dazzling gold, long-sleeve shirt underneath. This addition adds a touch of completeness and enhances the overall aesthetic of your C-3PO costume. |
| 6 | Slim Fit Straight Leg Casual Flat Front Pants | For those who prefer an alternative to leggings, these slim-fit, golden pants are an excellent choice. They effortlessly capture the essence of C-3PO's leg design, ensuring a cohesive and stylish appearance. |
| 7 | Vinyl C-3Po Mask | If you're seeking an affordable yet accurate option, this C-3PO card mask provides a cost-effective solution without compromising on accuracy. It's an accessible choice for completing your costume. |
| 8 | Shiny Metallic Unitard Bodysuit Catsuit | Unleash your creativity by opting for a unique approach. Craft a striking costume by embellishing a metallic gold unitard with embroidered C-3PO plating patterns. Adding a black fabric layer and various shoelaces to imitate the robot's under-layer and wires will truly make your costume stand out. Don't forget to incorporate a matching mask! |
| 9 | Dress Ballet Flat | Complete your ensemble with elegant golden ballet flats, providing the perfect finishing touch to your C-3PO costume. These stylish shoes ensure comfort while flawlessly complementing your entire look. |
C-3PO Overview
C-3PO, also known as See-Threepio, is a protocol droid fluent in over six million forms of communication. Introduced in the Star Wars universe, this humanoid automaton played a vital role in the epic saga. With a polished golden exterior, C-3PO's appearance is instantly recognizable, symbolizing elegance, protocol, and a touch of endearing humor. He accompanies the Rebel Alliance and the Resistance on their adventures, providing translations, etiquette advice, and unwavering loyalty. C-3PO's unique personality, distinguished by his expressive mannerisms and occasional moments of anxiety, has made him an unforgettable character adored by fans worldwide. Now, let's delve into the intricate process of recreating his unforgettable appearance through an intricately crafted costume.
Check out more Star Wars costume ideas here.