Ah, welcome, dear traveler, to a world where the blackness of space is a canvas for grand adventures and daring escapades. In this comprehensive guide, we invite you to step into the boots of the legendary Captain Malcolm "Mal" Reynolds, the fearless leader of the iconic spaceship Serenity. This is your chance to learn how to make your own DIY Captain Malcolm Reynolds costume. As we traverse the uncharted territories of cosplaying, we shall equip you with all the tools and insights needed to embody the essence of this charismatic Browncoat. Captain Mal, a cunning and valiant figure, has stolen the hearts of fans far and wide with his unmatched wit, unyielding spirit, and unwavering loyalty to his ragtag crew. So, don your Browncoat, holster your trusty sidearm, and let us embark on a journey to bring to life the one and only Captain Malcolm Reynolds!
Captain Malcolm Reynolds Costume – Firefly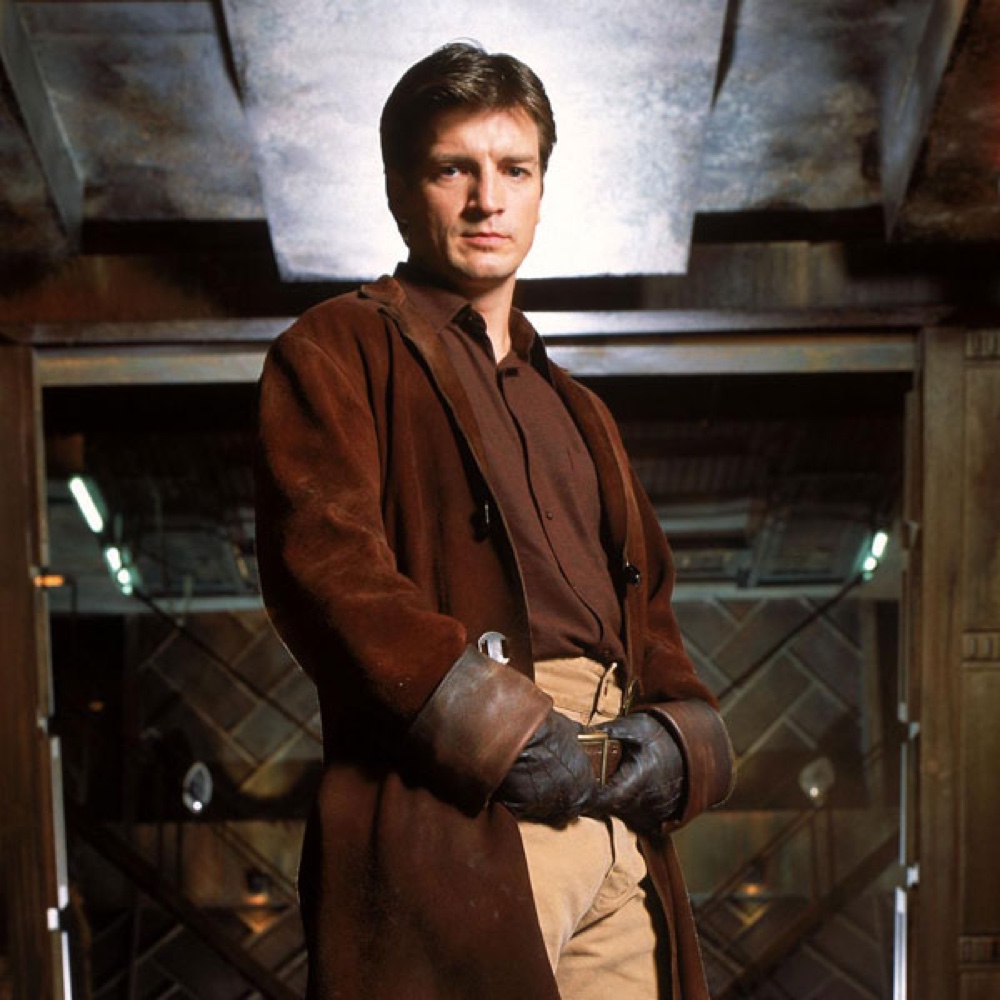 | # | Item | Description |
| --- | --- | --- |
| 1 | Long Sleeve Buttoned Shirt | Elevate your costume with a classic long sleeve buttoned shirt in a regular fit. The ideal color to look for is a warm shade of brown, capturing the essence of Malcolm Reynolds' rugged style. As you don this shirt, embrace Mal's leadership and resilience, ready to face challenges in the 'verse. Complete your look with confidence and embark on daring adventures with your crew. |
| 2 | Full Length Single-Breasted Topcoat | Channel the Browncoat spirit with a full-length, single-breasted topcoat that complements the shirt. Look for a simple and understated design to capture Mal's no-nonsense demeanor. The topcoat's color should harmonize with the shirt, adding a touch of authority to your look. As you wear this topcoat, embody Mal's command and determination, standing as a symbol of hope for those you lead. |
| 3 | Brown Suspenders | Add a dash of vintage charm to your outfit with brown suspenders. Any regular suspenders in a shade of brown will work perfectly to achieve the desired look. As you wear these suspenders, embody Mal's timeless style and resourcefulness, ready to navigate the 'verse with your crew. The suspenders add a touch of character and functionality to your costume, making it ideal for any adventure that lies ahead. |
| 4 | Dark Brown Leather Gloves | Embrace Mal's rugged and practical style with dark brown leather gloves. Seek gloves with a similar tone to the character's, adding an air of authority to your costume. As you wear these gloves, showcase Mal's expertise in handling every situation that comes your way. These gloves are an essential part of your outfit, ensuring you're ready for whatever challenges the 'verse throws at you. |
| 5 | Tan High-Waisted Trousers | Capture Mal's unique style with a pair of tan high-waisted trousers. If you can't find the exact style, regular pants in a similar color will work well. As you wear these trousers, embody Mal's adventurous and principled nature, ready to protect what's yours and fight for what's right. The trousers add a sense of timelessness to your costume, reflecting your strong presence in the 'verse. |
| 6 | Brown Belt and Gun Holster | Bring authenticity to your Mal Reynolds costume with this accurate replica of the character's belt and gun holster. This set is specially designed to match Mal's appearance in the show, leaving no room for doubt. As you wear this belt and holster, embody Mal's unwavering sense of justice and loyalty to his crew. The belt and holster complete your outfit, signifying your readiness to face any challenge in the 'verse. |
| 7 | Simple Brown Boots | Finish off your Mal Reynolds look with a pair of simple and plain brown boots. Look for boots that match the character's style, providing the right balance of functionality and ruggedness. As you wear these boots, embody Mal's determination and leadership, ready to face any challenge with your crew. These boots are the final touch to your outfit, cementing your place as the captain of your own destiny in the 'verse. |
| 8 | Brown Prop Pistol | Complete your transformation into Malcolm Reynolds with a brown and retro costume pistol. This prop adds an air of authenticity to your look, capturing Mal's resourcefulness and courage. As you wield this pistol, showcase Mal's determination to stand up for what he believes in and protect those he cares about. This prop is a pivotal element in your costume, ensuring you're prepared to face any challenges in the 'verse with unyielding resolve. |
Captain Malcolm Reynolds Overview
Captain Malcolm Reynolds, portrayed by the talented Nathan Fillion, is the enigmatic and iconic protagonist of the beloved TV series "Firefly" and the accompanying film "Serenity." As a former soldier in the Unification War, Mal now leads a motley crew aboard the Firefly-class spaceship Serenity, navigating the rough and lawless fringes of the 'verse.
Mal is a complex character, known for his sharp tongue, strong moral compass, and fierce loyalty to those under his command. Despite the hardships and moral dilemmas he faces in the unforgiving expanse of space, he remains steadfast in his pursuit of freedom and independence. With his iconic Browncoat, a symbol of rebellion against the Alliance, and his no-nonsense attitude, Mal encapsulates the spirit of a true independent soul.
His signature costume reflects the rugged and practical nature of life aboard Serenity. Often dressed in worn-in brown trousers, a leather gun belt, and a tattered brown coat that's seen its fair share of battles, Captain Mal's appearance embodies the essence of a seasoned and battle-hardened captain. Underneath that rough exterior lies a heart of gold, as he stands as a fierce protector of his crew and a champion of the underdog.
Throughout the series, Mal's complex relationships with his crew, including his second-in-command Zoe Washburne, the charming and skilled pilot Hoban "Wash" Washburne, and the mysterious and gifted fugitive River Tam, add depth and dimension to his character. As we explore the elements of Mal's iconic costume, we'll delve deeper into the essence of this captivating captain, guiding you in capturing the very essence of Captain Malcolm Reynolds in your cosplay.
In the following sections of this guide, we'll walk you through every detail, from the weathered boots to the weather-beaten Browncoat, empowering you to embody the spirit of this indomitable captain. So, fellow Browncoat, tighten your bootstraps and ready your ship, as we set course for an unforgettable cosplay adventure as the one and only Captain Malcolm Reynolds!
Check out more TV show costume ideas here.