Welcome to our comprehensive guide dedicated to bringing to life the indomitable spirit of Zoe Washburne through an authentic costume. As a devoted fan of the beloved sci-fi series "Firefly," this guide is your ticket to embodying the strength, courage, and loyalty of the esteemed first mate of the Serenity. Whether you're preparing for a thrilling cosplay event, a themed gathering, or simply wish to pay homage to the unwavering loyalty and military prowess of Zoe, this guide will equip you with all the essential elements to craft a remarkable Zoe Washburne costume that captures the essence of this fierce and beloved character. Join us as we delve into the core components of Zoe Washburne's iconic attire and embrace the spirit of adventure and camaraderie that defined this remarkable Browncoat warrior.
Zoe Washburne Costume – Firefly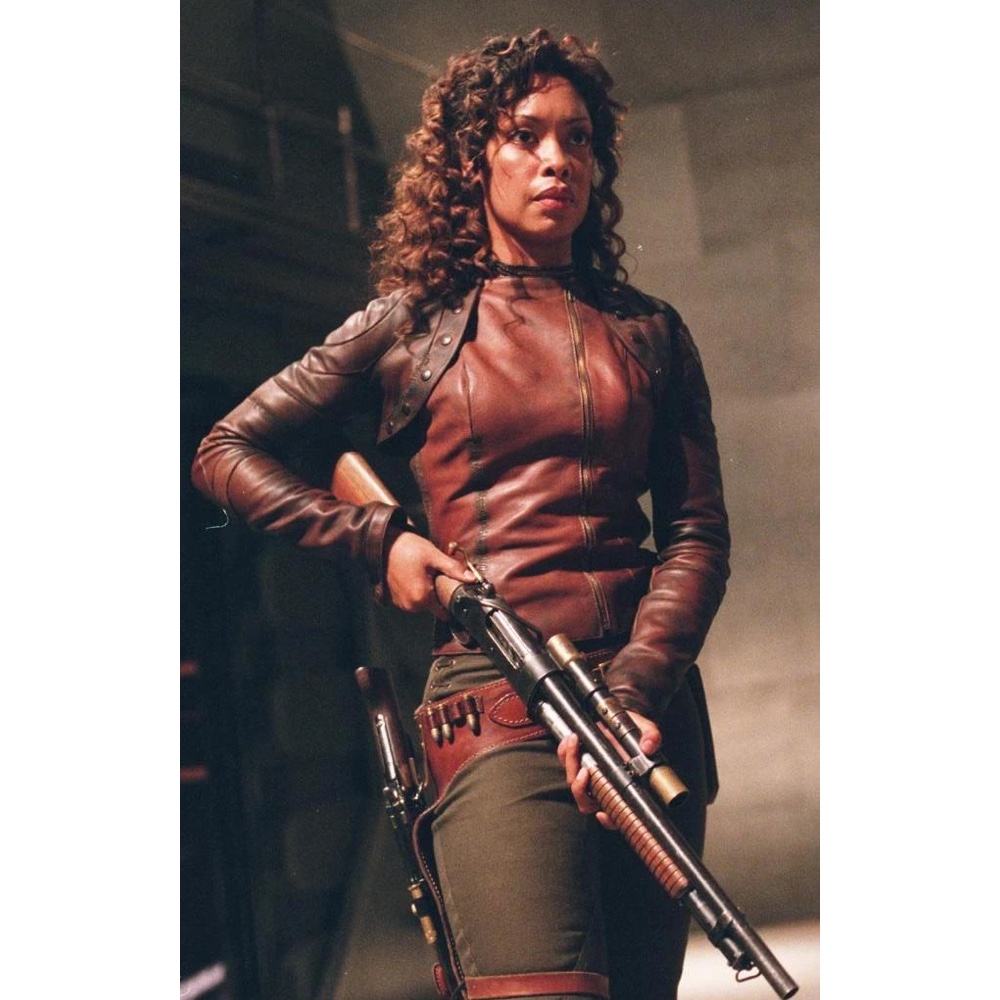 | # | Item | Description |
| --- | --- | --- |
| 1 | Long Curly Brown Wig | To achieve her stunning look, you must adorn yourself with a luxurious, long curly wig in a dark, captivating hue. This exquisite piece will instantly transform you into the spitting image of Zoë Alleyne Washburne. Feel the curls cascading down your shoulders as you embody the essence of this remarkable character. |
| 2 | V-Neck Long Sleeve Polo Shirt | The V-neck long sleeve polo shirt is a key element of Zoë's iconic appearance. Embrace the vibrant shade of green and cherish the elegant V-neck design that sets this shirt apart. Allow yourself to bask in the feeling of sophistication and power that radiates from every stitch. Feel the fabric against your skin as you embody the very spirit of Zoë Alleyne Washburne. |
| 3 | Leather Tassel Necklace | Zoë's signature brown leather tassel necklace is a must-have to complete your transformation. Let this elegant accessory grace your neck and witness the captivating aura it exudes. Feel the genuine leather against your skin, symbolizing strength and determination, just like Zoë Alleyne Washburne. |
| 4 | Brown Leather Vest | For an authentic portrayal, opt for a simple brown leather vest. Embrace the minimalistic design that encapsulates Zoë's pragmatic nature. Feel the leather against your skin as you prepare to embark on daring adventures, just like Zoë Alleyne Washburne. |
| 5 | Tan Stretch Pants | For the perfect bottom, seek out regular pants in a simple brown or tan color. Experience the comfort and flexibility these pants offer as you embrace the adventurous spirit of Zoë Alleyne Washburne. |
| 6 | Brown Leather Bracelet | Add a touch of finesse to your attire with a brown leather bracelet. Choose a design that resonates with your personal style, as Zoë's character celebrates individuality and strength. Feel the leather encircling your wrist, a constant reminder of the resilient warrior within. |
| 7 | Copper Slider Military Canvas Belt | Secure your outfit with a black canvas slider military belt. Embrace the practicality and style of this essential accessory, just like Zoë Alleyne Washburne does on her thrilling escapades. |
| 8 | Black Knee-High Boots | Slide into a simple pair of black leather knee-high boots, devoid of extravagant embellishments. Allow the boots to elevate your confidence as you stride into the unknown, echoing Zoë Alleyne Washburne's unyielding determination. |
| 9 | Brown Leather Belt and Holster | Complete your ensemble with a brown leather belt adorned with a holster. This practical addition mirrors Zoë's readiness for action and stands as a symbol of preparedness. Feel the weight of the holster and belt, reminding you of the indomitable will that Zoë Alleyne Washburne embodies. |
| 10 | Costume Shotgun | Equip the holster with a prop shotgun, and embrace the spirit of a space-faring warrior. Immerse yourself in the world of Zoë Alleyne Washburne, feeling the power and courage surging through your veins. Become the fearless character you admire. |
Zoe Washburne Overview
Zoe Washburne, portrayed by the incomparable Gina Torres, is the stalwart first mate of the spaceship Serenity and an integral member of Captain Malcolm Reynolds' crew. With a military background and exceptional combat skills, Zoe plays a crucial role in the crew's survival as they navigate the vast expanse of the 'Verse. Her unyielding loyalty to Captain Reynolds and her fellow crewmates is matched only by her formidable skills as a warrior.
In true Browncoat fashion, Zoe's costume reflects her practical and no-nonsense nature. With a blend of military-inspired elements and a touch of frontier ruggedness, her outfit conveys both her battle-hardened persona and her unshakeable dedication to her crew. The attire features earth-toned hues, sturdy fabrics, and functional accessories, all of which showcase Zoe's ability to navigate challenging terrains and face down any threat that comes her way.
Zoe's character is defined by her unwavering loyalty, professionalism, and a deep sense of honor. Throughout the series, she serves as a steadfast anchor for her shipmates, balancing her no-nonsense demeanor with a quiet and affectionate bond with her husband, the quirky pilot Hoban "Wash" Washburne. Zoe Washburne stands as a powerful symbol of strength and resilience, embodying the heart and soul of the Browncoats' indomitable spirit.
In the following sections of this guide, we will meticulously explore each element that contributes to an authentic Zoe Washburne costume, from her utilitarian clothing to the practical accessories that make her ensemble truly iconic. Prepare to step into the shoes of the fearless first mate and honor the legacy of this remarkable character from "Firefly." Together, we will craft a costume that captures the essence of Zoe Washburne, a beacon of unwavering loyalty and courage in the 'Verse.
Check out more TV show costume ideas here.