Prepare to step into the chilling world of "Castlevania" with our comprehensive guide on creating an authentic Carmilla from Castlevania costume! Carmilla, the cunning vampire queen and one of the central antagonists in the Netflix animated series, is a character of grace, intelligence, and dark power. With her strategic mind and supernatural abilities, she is a force to be reckoned with. If you've ever desired to embody this enigmatic character known for her elegance and cunning, you're about to embark on a journey into the realm of the undead. In this guide, we'll lead you through the steps to craft an impressive Carmilla costume that captures all the regal and sinister essence of this iconic "Castlevania" character. So, embrace your vampiric allure, don your elaborate attire, and let's delve into the world of Carmilla!
Carmilla from Castlevania Costume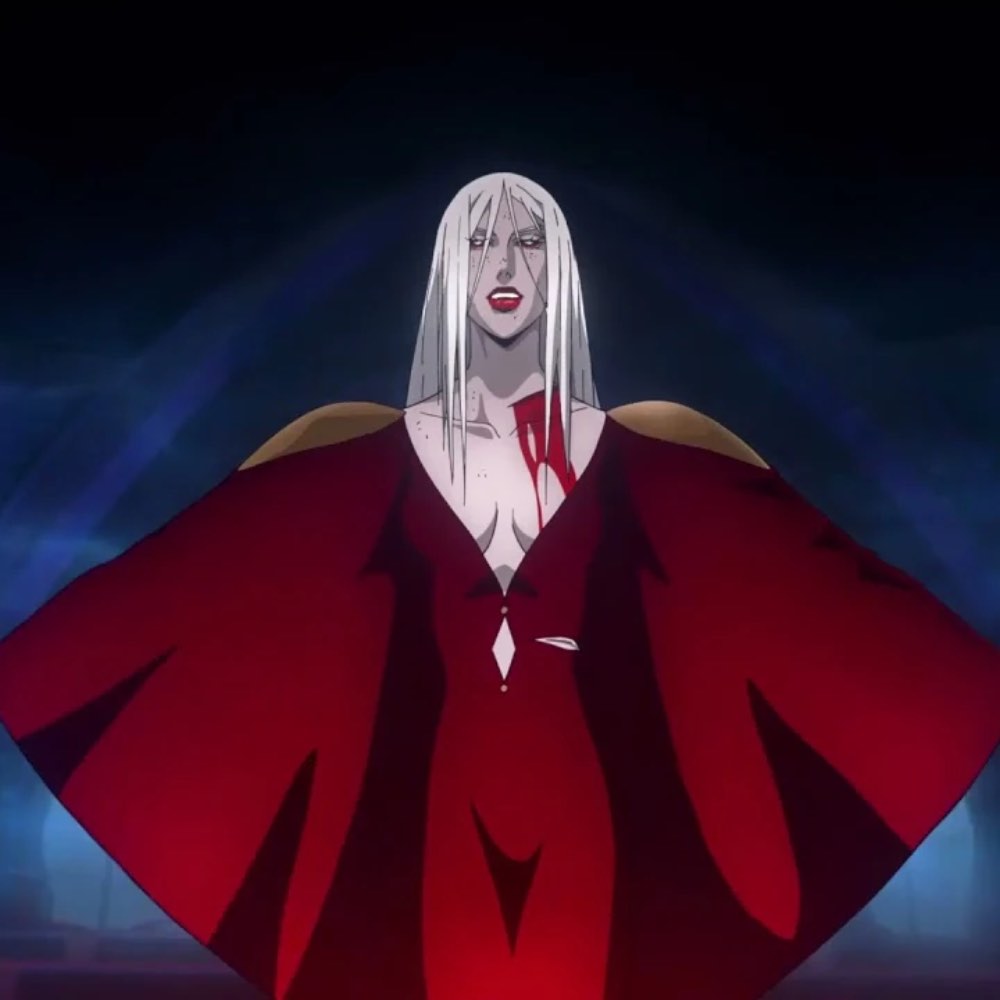 | | |
| --- | --- |
| Burgundy Backless Gown | The burgundy backless gown forms the core of Carmilla's attire, reflecting her regal and elegant appearance as a vampire queen. |
| Golden Bib Necklace | The golden bib necklace serves as a statement accessory, adding a touch of opulence and sophistication to the costume. |
| Golden Gladiator Heels | The golden gladiator heels match the character's footwear, providing an elegant yet fierce look suitable for a vampire queen. |
|  Liquid Matte Lipstick In Bloodmoon | The Bloodmoon lipstick replicates Carmilla's signature lip color, emphasizing her vampiric allure and adding a dramatic touch to the costume. |
| White Hair Coloring Wax | White hair coloring wax is used to achieve Carmilla's distinctive white hair, a prominent feature of her appearance. |
| White Mascara | White mascara is applied to the eyelashes to create Carmilla's striking white eyelash look, contributing to her vampiric aesthetic. |
| Vampire Costume Fangs | The vampire costume fangs are a crucial accessory, allowing you to emulate Carmilla's vampiric teeth and enhance the character's eerie charm. |
| Red Stick on Stiletto Nails | Red stiletto nails match Carmilla's elegant yet deadly style, providing a polished finishing touch to the costume. |
Carmilla from Castlevania Overview
Carmilla is a prominent character in the "Castlevania" animated series on Netflix, based on the classic video game franchise. Here's a brief overview of the character:
Vampire Queen: Carmilla is the vampire queen and a member of the Council of Sisters, a group of powerful vampire aristocrats ruling in the land of Styria.
Elegance and Intelligence: She is characterized by her elegance, intelligence, and manipulative nature. Carmilla is a master strategist and uses her cunning to achieve her goals.
Supernatural Powers: Carmilla possesses formidable supernatural abilities, including the power to control and manipulate blood. She uses these abilities to maintain her position of authority.
Complex Ambitions: Throughout the series, Carmilla's ambitions evolve and become increasingly sinister. Her desire for power and control drives many of the series' conflicts.
Loyal Followers: She commands a loyal army of vampire soldiers and human servants, including Lenore, whom she forms a close alliance with.
Regal Attire: Carmilla is often seen in elaborate and regal attire, reflecting her status as a vampire queen. Her wardrobe exudes an air of sophistication.
Antagonist: Carmilla serves as one of the primary antagonists in the series, frequently clashing with other central characters, including Trevor Belmont and Alucard.
Calculated Schemer: She is known for her calculated and manipulative scheming, which she employs to achieve her grand ambitions.
As you embark on creating your Carmilla costume, it's essential to capture the character's regal elegance, her vampiric allure, and her cunning intelligence. With the right costume elements and a touch of Carmilla's dark charisma, you'll become the embodiment of this iconic vampire queen, ready to immerse yourself in the intrigue and mystique of the "Castlevania" series!
Check out more Castlevania costume ideas.