Welcome to our comprehensive guide on crafting the show-stopping costume of the one and only Chanel Oberlin! Known for her impeccable fashion sense and commanding presence, this iconic character from the hit TV series "Scream Queens" has captured the hearts of many with her bold and glamorous style. In this guide, we will take you on a fashion-forward journey, providing step-by-step instructions and creative tips to help you embody the essence of Chanel Oberlin and bring her sophisticated and fabulous persona to life. Get ready to turn heads and exude confidence as you transform into this queen bee of haute couture!
Chanel Oberlin Costume – Scream Queens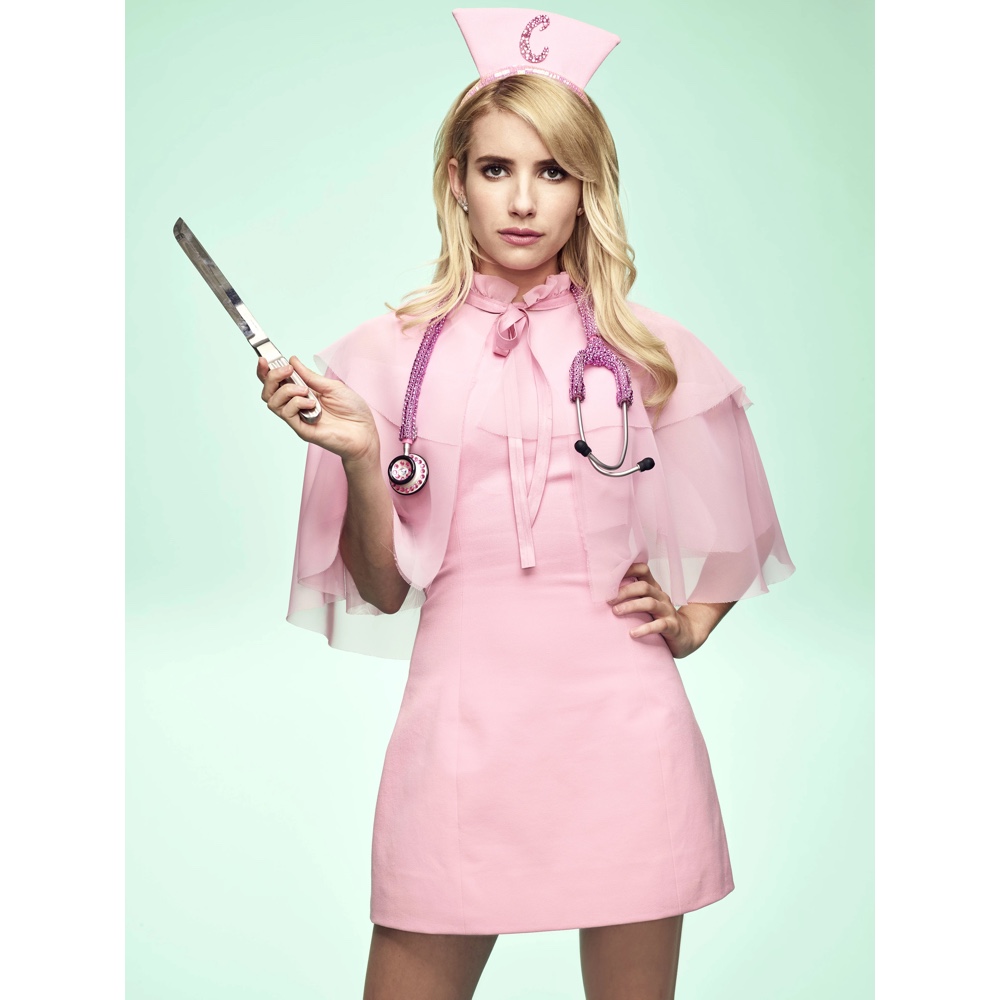 | # | Item | Description |
| --- | --- | --- |
| 1 | White Bow Tie Blouse | Elevate your everyday attire with a touch of excitement by wearing a white blouse adorned with a charming built-in bow. This versatile piece effortlessly blends sophistication and playfulness for a look that is both refined and stylish. |
| 2 | Pink Fur Jacket | Embrace a sense of luxury and glamor with a lavish pink fur jacket. This statement piece will not only keep you warm but also make you feel like a true fashion icon, exuding confidence and allure wherever you go. |
| 3 | Houndstooth Mini Skirt | Command attention with an aura of elegance and opulence as you gracefully wear a chic black and white Houndstooth mini pencil skirt. This timeless pattern adds a touch of sophistication to your look, making you stand out with sheer style. |
| 4 | Pink Knee-High Socks | Keep your legs cozy and delightful with a pair of light pink knee-high socks. These charming socks add a touch of playfulness to your ensemble, making you feel comfortable and fashionable all at once. |
| 5 | White Heels | Step into the spotlight with the elegance of an avenging angel by wearing a pristine pair of white heels. These captivating shoes add an air of grace and sophistication to your look, leaving a lasting impression on everyone you encounter. |
| 6 | Round Sunglasses | Channel the sophisticated and snobbish allure of Chanel Oberlin with a pair of round sunglasses. These chic and stylish shades add an aura of poshness to your look, elevating your fashion game to new heights. |
| 7 | Hot Pink Clutch | Complete your ensemble with a touch of sophistication by carrying a hot pink clutch. This eye-catching accessory adds a pop of color and flair to your look, ensuring you make a bold and confident statement wherever you go. |
Chanel Oberlin Overview
Chanel Oberlin, portrayed brilliantly by Emma Roberts, is the charismatic and cunning queen bee of the Kappa Kappa Tau sorority in the fictional Wallace University. With her razor-sharp wit and relentless pursuit of power, Chanel is a force to be reckoned with. Her unparalleled sense of style and penchant for high-end fashion make her a true fashionista, earning her the admiration of many and the envy of those who dare challenge her. Chanel's wardrobe is a showcase of elegance, with an exquisite blend of couture pieces, trendy accessories, and her signature pastel hues. Always on top of the fashion game, Chanel's looks are daring, fierce, and undeniably chic, making her a captivating character to emulate. Through the following pages, we'll delve into the details of her most iconic outfits and reveal the secrets to recreating them, helping you become the ultimate Chanel Oberlin doppelganger. So, let's get started on this sartorial adventure and unleash your inner Chanel!
Check out more TV show costume ideas here.