Enter the enchanting world of Count von Count, the beloved character from Sesame Street who captivates both children and adults with his love for counting. If you're a fan of this iconic vampire with a passion for numbers, then you're in for a treat! In this comprehensive guide, we'll walk you through the process of creating an authentic Count von Count costume that captures his lovable and quirky charm.
Count von Count Costume – Sesame Street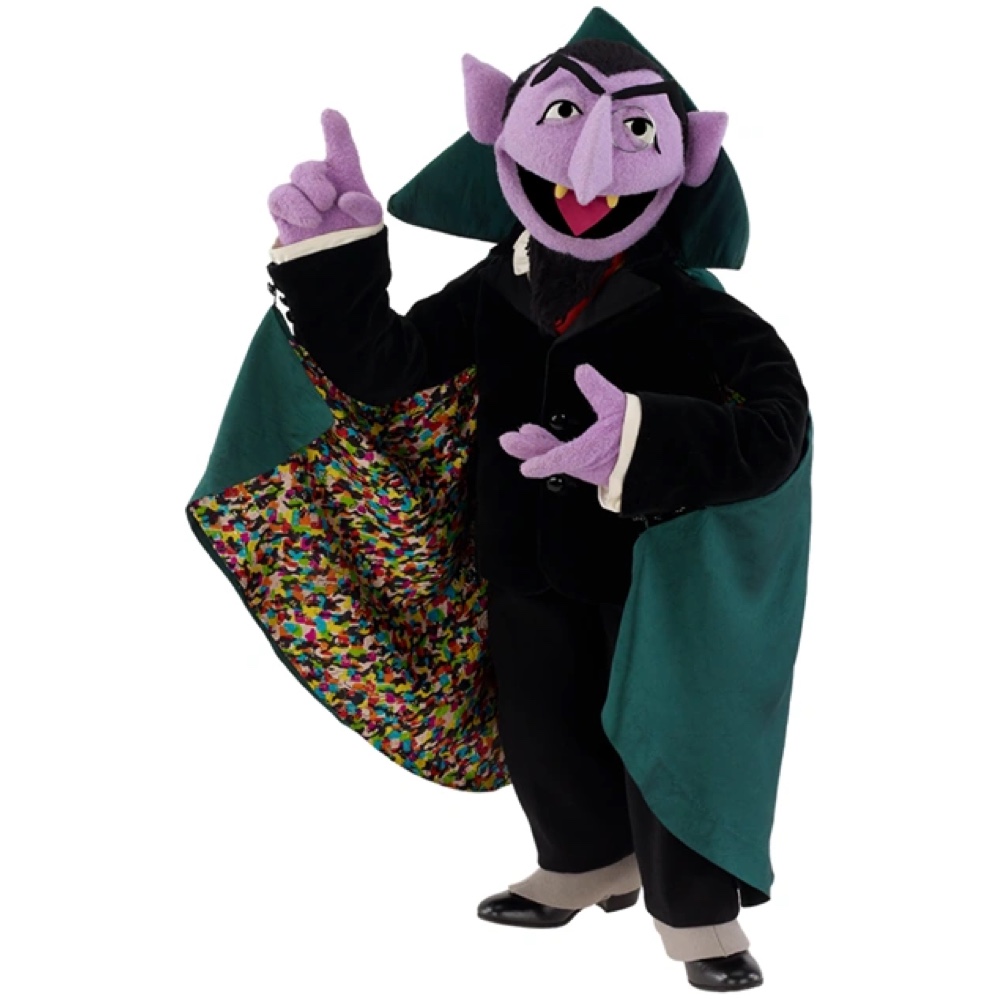 | # | Item | Description |
| --- | --- | --- |
| 1 | Black Three-Piece Suit | A black three-piece suit presents an impeccable choice for a count. Count Von Count, renowned for his sophisticated style, opts for a white bowtie to further enhance his distinguished appearance. To acquire this outfit, please click the following link: |
| 2 | Black Oxfords | Seldom do we catch a glimpse of Count's feet since he is a puppet, but he is often portrayed wearing exquisite black Oxfords. Explore the elegance by clicking the link below: |
| 3 | Green Cape | Count takes pride in wearing his vibrant green cape. To perfectly recreate his cape, consider adding a funky, colorful pattern on the inside. Don't miss out on this unique accessory: |
| 4 | Silver Monocle | Count utilizes a silver monocle to enhance his vision. Join him by acquiring your very own silver monocle: |
| 5 | Red and Yellow Sash | Recreate Count's distinctive sash by carefully gluing the yellow ribbon over the red one. Achieve the perfect look with this simple yet effective accessory: |
| 6 | Fake Fangs | Count Von Count, a distant cousin of Count Dracula, possesses a pair of fangs just like his relative. Get your own set of fake fangs and embrace your vampire charm: |
| 7 | Purple Body Paint | Count's skin color is quite unique, so make sure to paint your body purple to capture his appearance. Discover the perfect shade of purple body paint for your Count costume: |
| 8 | Plushie | Add a touch of cuteness to your Count costume with a plushie companion. Choose your favorite Count-themed plushie from the available options: |
| 9 | Babies Full Costume Set | Transform your baby into the adorable Count with this complete costume set. Ensure a delightful Count experience for your little one: |
Count von Count Overview
Count von Count, a beloved character from the iconic children's television show Sesame Street, is a vampire with an insatiable love for counting. With his distinctive Transylvanian accent and charming personality, Count von Count has been captivating audiences for decades.
The Count is known for his unique fashion sense, which includes his iconic cape, bow tie, and formal attire. With his slicked-back hair and pointy fangs, he combines the mysterious allure of a vampire with a friendly and approachable demeanor.
Count von Count's most defining characteristic is his obsession with numbers. He finds sheer delight in counting everything he encounters, from bats and flowers to lightning bolts and even the audience's laughter. With each count, he lets out his contagious laughter: "Ah-ah-ah!"
Beyond his love for counting, Count von Count has become a symbol of mathematical learning and early childhood education. Through his playful interactions with numbers and his enthusiasm for mathematics, he encourages children to explore the world of numbers and develop a lifelong love for learning.
Throughout the show, Count von Count engages in fun and educational segments, teaching concepts such as addition, subtraction, and number recognition. His joyous approach to counting inspires young viewers to embrace numbers as a fascinating and creative part of their everyday lives.
Count von Count's endearing personality and gentle nature make him a beloved character not only among children but also among adults who grew up watching Sesame Street. His catchy songs, such as "The Song of the Count," have become iconic parts of the show's legacy.
In summary, Count von Count is a lovable vampire who brings the joy of numbers to life. With his charming personality, distinctive style, and infectious laughter, he has become an enduring symbol of mathematical learning and a beloved figure in the hearts of Sesame Street fans of all ages.
Check out more Sesame Street costume ideas here.