Enter the world of AJ Lee, the trailblazing WWE wrestler known for her fierce attitude and unique fashion sense. In this concise guide, we'll show you how to create an authentic AJ Lee costume that captures her captivating style. From her punk-inspired outfits to her vibrant hair and makeup, we'll break down the key elements to help you bring AJ Lee's powerful persona to life. Get ready to embrace your inner diva and make a bold statement with an AJ Lee costume. Let's dive in and unleash your wrestling spirit!
AJ Lee Costume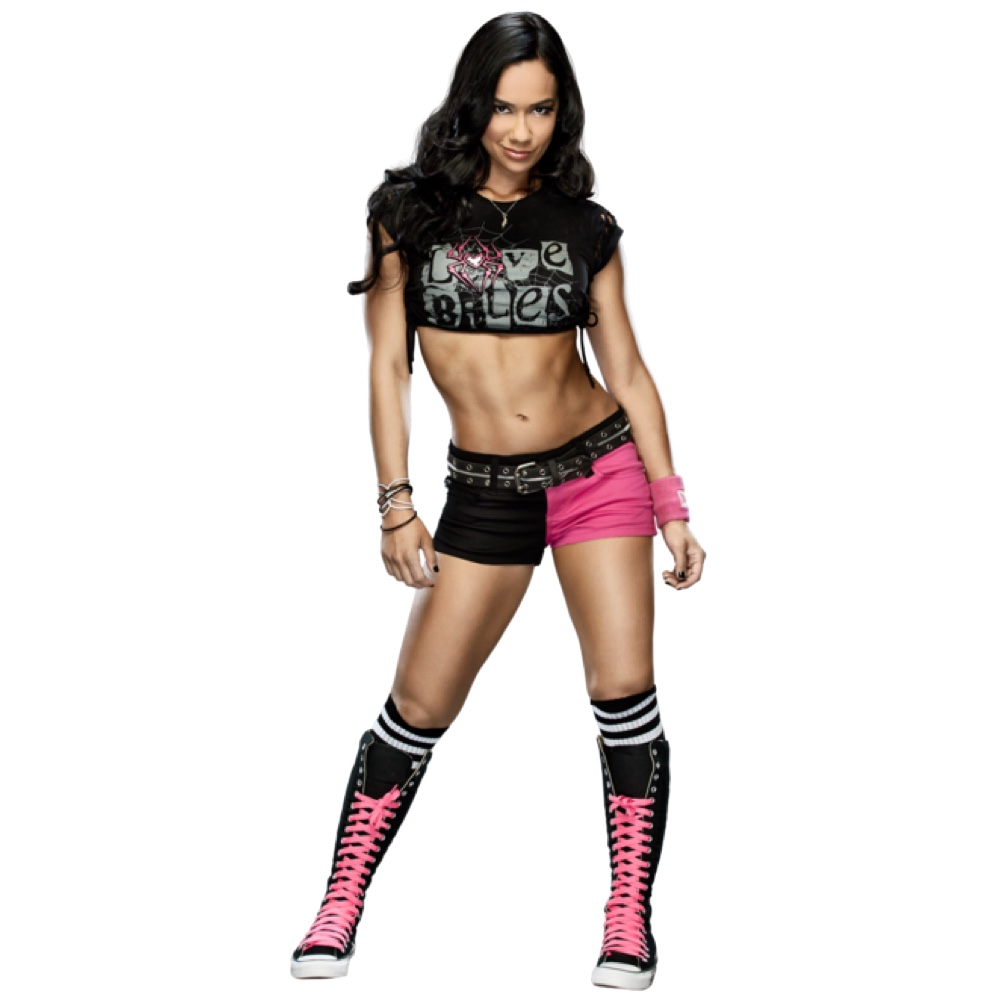 | # | Item | Description |
| --- | --- | --- |
| 1 | Tight-Fit Black Shirt | AJ loves wearing tight-fit shirts that are cropped or folded upward to show her midriff. Embrace her style with this Love Bites-printed shirt, a nod to one of her iconic looks. |
| 2 | Black Yoga Shorts | Move with agility and style in these black yoga shorts. To match AJ's perfectly, sew on some hot pink fabric to the other half of the shorts. |
| 3 | Black Knee-High Canvas Sneakers with Hot Pink Laces | Add a gamer touch to your AJ Lee-inspired look with these black knee-high canvas sneakers featuring vibrant hot pink laces. |
| 4 | Black Knee-High Socks with White Stripes | Add a cute and stylish detail with these black knee-high socks featuring white stripes, just like AJ Lee's signature look. |
| 5 | Thick Black Belt with Silver Studs | Add an edgy vibe to your AJ Lee-inspired costume with this thick black belt adorned with silver studs for a touch of rebelliousness. |
| 6 | Pink Wristband | Embrace AJ's eclectic style by wearing a pink wristband and adding a few rubber bracelets to both your wrists for a bold and vibrant look. |
| 7 | Long, Wavy, Black Wig | Transform your hairstyle with a long, wavy, black wig that mirrors AJ Lee's iconic look and adds an extra touch of authenticity to your costume. |
| 8 | Championship Belt | Carry the spirit of AJ Lee's championship reign with a championship belt, symbolizing her remarkable success in the ring. |
AJ Lee Overview
AJ Lee, whose real name is April Jeanette Mendez, is a professional wrestler who has left an indelible mark on the world of wrestling. Known for her captivating personality, exceptional in-ring skills, and unique fashion sense, AJ Lee has become an icon and an inspiration for fans worldwide.
AJ Lee's journey in the wrestling industry began in the WWE (World Wrestling Entertainment), where she made her debut in 2009. Throughout her career, she showcased her remarkable athleticism, agility, and technical prowess, earning her numerous accolades and championships.
What sets AJ Lee apart is not just her impressive wrestling abilities, but also her ability to connect with the audience through her vibrant and charismatic personality. Her energetic presence inside and outside the ring made her an instant fan favorite.
Beyond her in-ring talent, AJ Lee has been an advocate for empowerment and mental health. Her own experiences with mental health challenges have inspired her to speak out and raise awareness, becoming a voice for those facing similar struggles. She has used her platform to encourage self-acceptance, resilience, and the pursuit of dreams.
In terms of style, AJ Lee brought a unique and edgy fashion sense to the wrestling world. Known for her punk-inspired attire, she combined elements of rebellion, femininity, and individuality to create a distinct image that resonated with fans. From her trademark shorts, fishnet stockings, and personalized wrestling tops to her vibrant hair colors and striking makeup, AJ Lee's fashion choices reflected her fierce spirit.
AJ Lee's impact on the wrestling industry goes beyond her achievements in the ring. Her authenticity, determination, and unwavering self-expression have inspired a new generation of wrestlers and fans alike. She has broken barriers and shattered stereotypes, proving that women can be powerful forces within the world of professional wrestling.
Today, AJ Lee's legacy continues to inspire and empower individuals, reminding us to embrace our uniqueness and pursue our dreams with unwavering passion. Her contributions to the wrestling industry, combined with her advocacy for mental health, have cemented her as a true trailblazer and an enduring symbol of strength and resilience.
Whether you're a wrestling fan, a cosplayer, or someone seeking inspiration, AJ Lee's story serves as a reminder that authenticity and fearlessness can create an impact that transcends the ring. AJ Lee's journey embodies the spirit of empowerment, inspiring us all to embrace our inner diva and fearlessly pursue our passions.
Check out more celebrity costume ideas here.