Welcome to our comprehensive guide on creating an awe-inspiring Darth Maul costume. Known for his menacing presence and iconic appearance, Darth Maul is a character from the Star Wars universe who has captivated fans with his striking red and black attire. In this guide, we will walk you through the essential elements and accessories needed to bring this formidable Sith Lord to life. Whether you're preparing for a cosplay event, Halloween party, or simply expressing your love for Star Wars, this guide will help you achieve an authentic and attention-grabbing Darth Maul costume.
Darth Maul Costume – Star Wars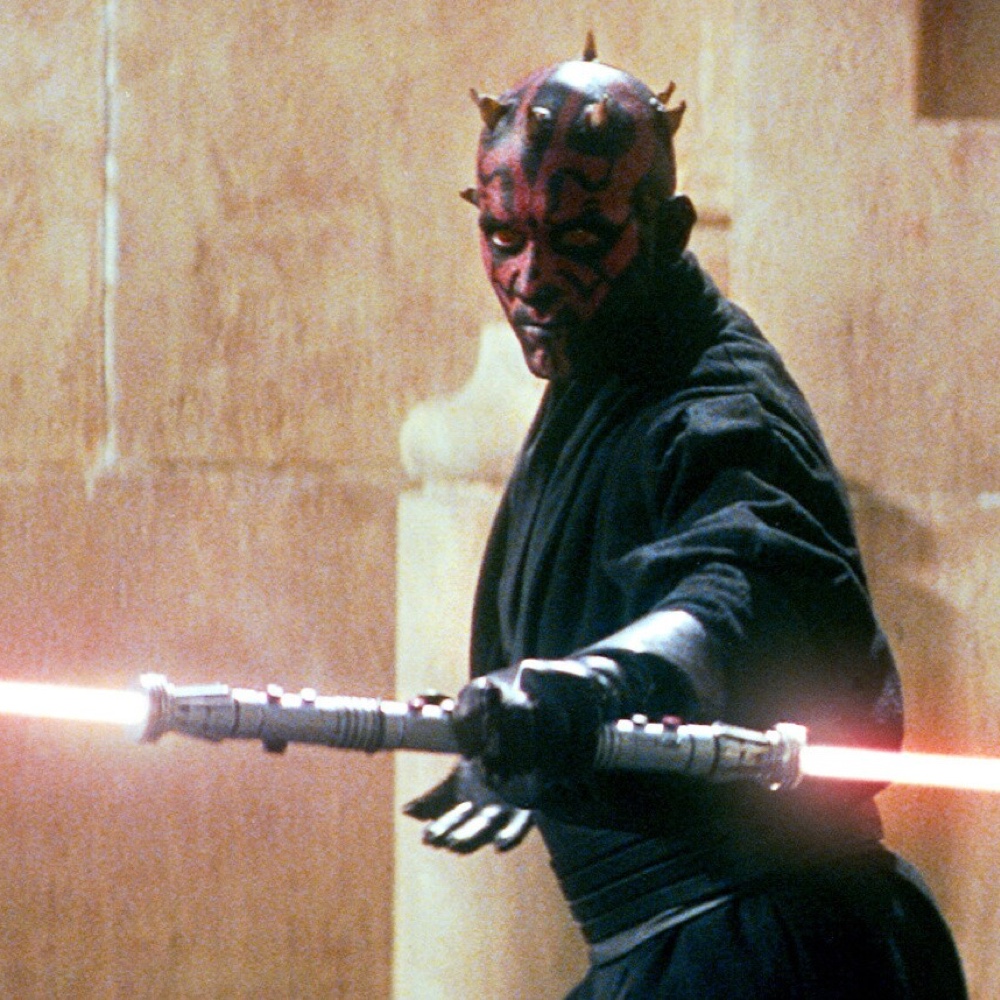 | # | Item | Description |
| --- | --- | --- |
| 1 | Black, long-sleeve, mandarin collar shirt (for the under shirt) | Concealed beneath the layers of darkness, Darth Maul's attire includes a black mandarin collar shirt, similar to the one suggested. Alternatively, a regular black turtleneck sweater can be used as a substitute. |
| 2 | Black, waffle kimono robe | You may already possess a black waffle kimono robe at home, which is perfect for this costume. However, any black bathroom robe will suffice. For a more authentic touch, consider a black karate uniform or karategi, as it closely resembles the tunic of this Dark Side martial artist. |
| 3 | Black jersey pants | While black jersey pants are preferred, any black pants will serve the purpose adequately. |
| 4 | Long, black, wool shawls (for tabard) | Inspired by traditional Jedi attire, Darth Maul's costume features a tabard. To create this component, acquire long black shawls similar to the ones depicted. While any thick material can be used, wool is recommended for its texture resembling the original outfit. |
| 5 | Wide, black waist belt | Instead of a waist sash, Darth Maul adorns a wide black waist belt made of leather. To replicate this, consider wearing a weightlifting belt backwards, or explore the suggested link for a suitable replica. |
| 6 | Black, mid-calf, pull-on boots | Authentic replicas similar to the ones depicted in the image will enhance the overall appearance of the costume. However, if you are on a budget or short on time, black rubber boots suitable for rainy weather will serve as a suitable alternative. |
| 7 | Darth Maul mask | To replicate Darth Maul's infernal visage, you can choose between enduring hours of intricate makeup application or opt for a convenient latex mask. |
| 8 | Darth Maul's lightsaber | Relive the iconic moment from "The Phantom Menace" by wielding this 5-foot long double-bladed lightsaber replica. |
| 9 | Black fencing gauntlets | Darth Maul sets himself apart by donning black fencing gauntlets reminiscent of those worn by X-Wing pilots. Complete the ensemble with a pair of black leather gloves that extend halfway up your forearm. |
| 10 | full costume | To simplify the process, we have provided a link to a ready-to-wear full Darth Maul costume. |
Darth Maul Overview
Darth Maul, one of the most memorable villains in the Star Wars saga, made his debut in "Star Wars: Episode I – The Phantom Menace." As a Dathomirian Zabrak Sith Lord, Darth Maul possessed a menacing appearance characterized by his crimson skin, fierce yellow eyes, and an extraordinary set of horns atop his head. His intimidating presence was further enhanced by his signature dual-bladed lightsaber, making him a formidable adversary to the Jedi. With his cunning and acrobatic combat skills, Darth Maul left an indelible mark on Star Wars lore and has become an iconic character beloved by fans around the world. Now, let's delve into the details of creating a remarkable Darth Maul costume that will do justice to this dark and enigmatic character.
Check out more Star Wars costume ideas here.