Are you ready to bring some spooky cheer to your next Halloween party? Look no further! With a few key pieces and some ghoulish accessories, you can transform yourself into a terrifying Dead Cheerleader with a Dead Cheerleader costume. The ultimate zombie fancy dress for halloween.
Dead Cheerleader Costume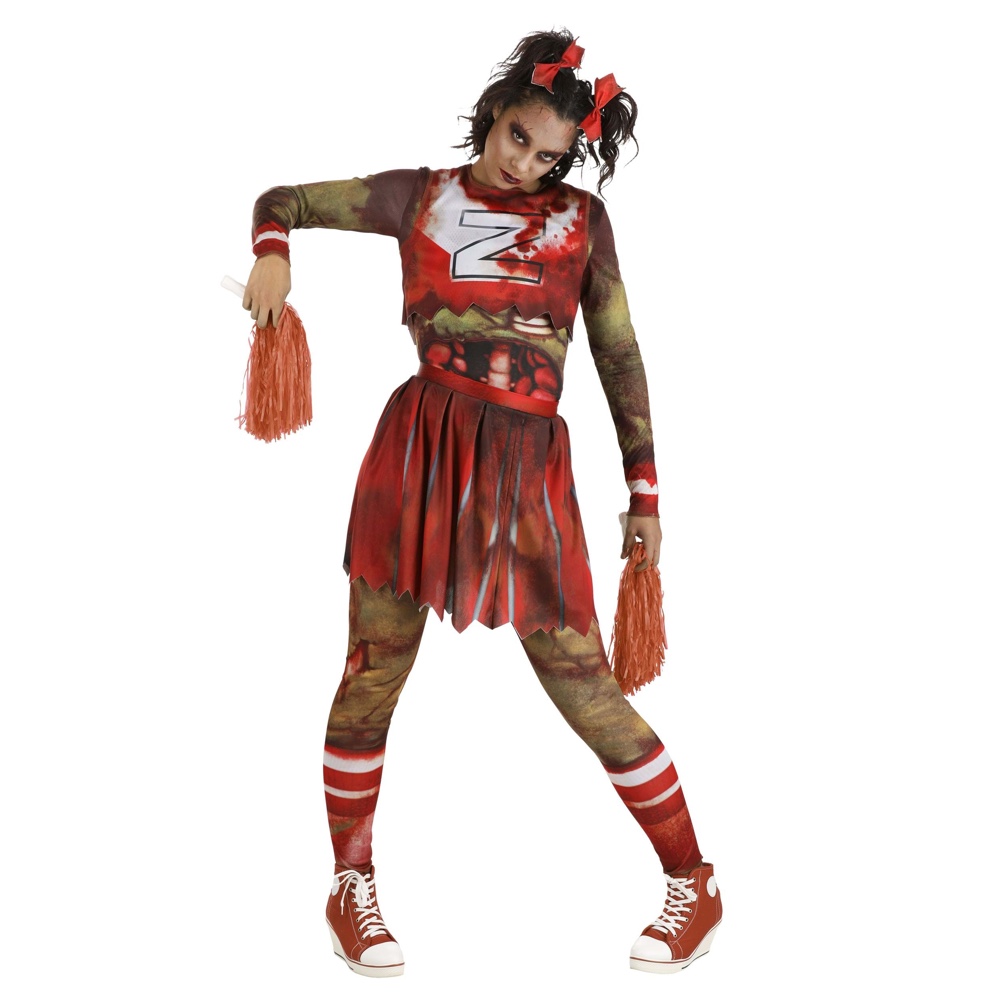 Not only is this costume fun and easy to put together, but you'll be the center of attention as you channel the iconic style and energy of the famous undead cheer squad. Get ready to look terrifying and make an impact with this step-by-step guide to creating the ultimate Dead Cheerleader costume.
| # | Item | Description |
| --- | --- | --- |
| 1 | Cheerleading Uniform with Pompoms | Elevate your eerie transformation with this captivating cheerleading uniform set, perfect as the foundation for your bone-chilling ensemble. |
| 2 | Bloody Thigh-High White Socks | Infuse a touch of macabre beauty into your look by donning a pair of blood-stained thigh-high white socks, embodying a haunting allure. |
| 3 | White Sneakers | Complete your ensemble with pristine white sneakers that offer both comfort and the ability to easily wipe away any unearthly residue. |
| 4 | Blue Cheerleading Ribbon | Complement your hair with hauntingly dark ribbons, lending an eerie touch to your undead cheerleader persona. |
| 5 | Fake Blood | Transform your outfit into a gruesome masterpiece by adorning it with simulated splatters of fake blood, intensifying the horror of your appearance. |
| 6 | Zombie FX Makeup | Embrace your undead identity with the help of transformative FX makeup, capturing the essence of a lifeless being in your ghoulish visage. |
| 7 | Full Costume Set | Indulge in the convenience of a pre-assembled Dead Cheerleader costume set, ensuring a hauntingly stunning ensemble without the need for intricate DIY efforts. |
| 8 | Complete Costume | Discover a complete costume solution specifically designed for girls, providing a ready-made ensemble that captures the essence of a zombie cheerleader effortlessly. |
Dead Cheerleader Overview
A "Dead Cheerleader" costume is a popular Halloween costume that features the appearance of a cheerleader who has been turned into a zombie. It typically includes a torn and tattered version of a traditional cheerleader uniform, along with zombie-inspired makeup and accessories such as fake blood and wounds. The costume is often used to depict a cheerleader who has risen from the dead and is now a member of the zombie horde. This particular costume is a popular choice among Halloween revelers looking to add a spooky and unique twist to their ensemble.
Check out more cool costume ideas here.