Ahoy there, matey! If you're looking to embark on a high-seas adventure and channel your inner pirate, you've come to the right place. This comprehensive guide is your treasure map to crafting an enchanting Elizabeth Swann costume. Elizabeth, a beloved character from the "Pirates of the Caribbean" film series, is known for her resilience, wit, and timeless pirate style. Whether you're setting sail for a cosplay event, a costume party, or simply paying homage to this iconic pirate, we'll help you navigate the waters of costume creation. So, grab your compass and follow us on this swashbuckling journey to recreate the look of the daring Elizabeth Swann.
Elizabeth Swann Costume – Pirates of the Caribbean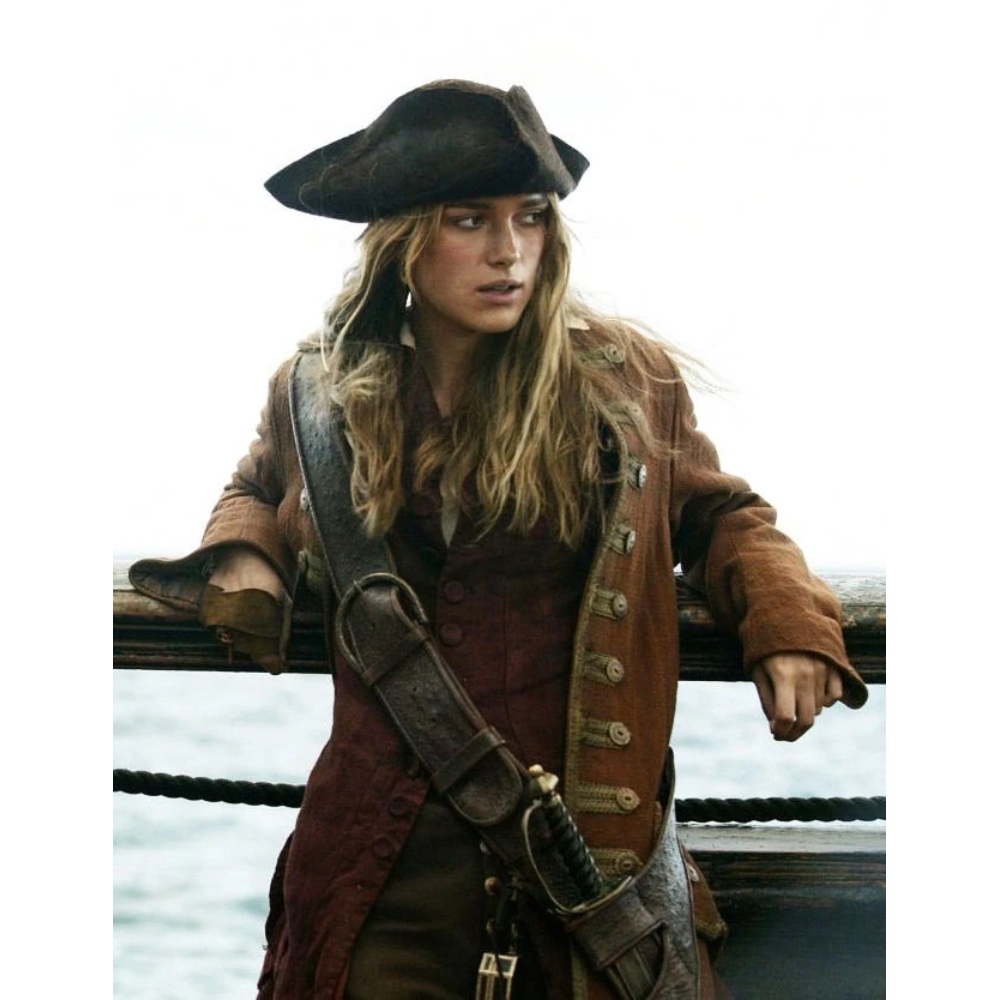 | # | Item | Description |
| --- | --- | --- |
| 1 | White Medieval Pirate Shirt | Elevate your pirate ensemble with the grace of the high seas. Start by donning this exquisite white medieval pirate shirt. |
| 2 | Brown Pirate Trousers | Complete your pirate look with these rugged brown pirate trousers that are perfect for adventures on land and sea. |
| 3 | Black Pirate Boots | Commandeer the deck in style with these imposing black pirate boots that will make you feel like the captain of your own ship. |
| 4 | Brown Pirate Vest | Protect your treasure with this rugged brown pirate vest, adding an extra layer of authenticity to your pirate persona. |
| 5 | Black Tricorn Pirate Hat | Top off your pirate look with this classic black tricorn pirate hat, the crowning jewel of any seafaring scallywag. |
| 6 | Bandolier Pirate Belt | Add a touch of rugged charm to your pirate ensemble with this essential bandolier pirate belt, perfect for carrying your pirate tools and trinkets. |
| 7 | Sword and Scabbard | Prepare to defend your pirate honor with this Pirates of the Caribbean sword and scabbard, a must-have for any buccaneer on the high seas. |
Elizabeth Swann Overview
Elizabeth Swann, portrayed by Keira Knightley, is a central character in the "Pirates of the Caribbean" film series, known for her evolution from a prim and proper young lady to a fearless pirate. Her character first graces the screen in "Pirates of the Caribbean: The Curse of the Black Pearl" and continues to play a pivotal role throughout the franchise.
Elizabeth begins her journey as the governor's daughter, living a sheltered life in Port Royal. However, her world takes a thrilling turn when she encounters the charming rogue Captain Jack Sparrow and becomes entangled in the dangerous world of piracy. Over the course of the series, she evolves into a formidable and independent pirate captain in her own right.
Elizabeth's style is a blend of elegance and pirate grit. Her iconic look features flowing dresses, corsets, and elaborate hairstyles, all of which make her a standout character in the world of cinematic pirates. She is known for her resourcefulness, intelligence, and unwavering determination, making her a fan-favorite and a symbol of empowerment.
As you embark on your quest to recreate Elizabeth Swann's character, remember to embrace her adventurous spirit and determination. With this guide, you'll learn how to assemble the perfect Elizabeth Swann costume, from her distinctive clothing to her signature accessories, so you can capture the essence of this legendary pirate on your own voyage.
Check out more movie costume ideas here.