Step into the world of Succession and embody the lovable personality of Greg Hirsch, portrayed by Nicholas Braun. Here we look at how to dress like and make your own Greg Hirsch costume.
As the cousin of the Roy siblings and a rising star in the corporate realm of Waystar Royco, Greg's style reflects a unique blend of business professionalism and relaxed charm. In this guide, we'll walk you through the key elements of Greg's wardrobe, helping you recreate his endearing look and channeling his quirky charisma. Whether you're a fan of the show or simply admire Greg's least corrupt behavior in the Roy family, this guide will help you embrace his style with ease. Get ready to dress like Greg Hirsch and become a part of the hilarious and unforgettable world of Succession.
Greg Hirsch Costume – Succession Fashion and Style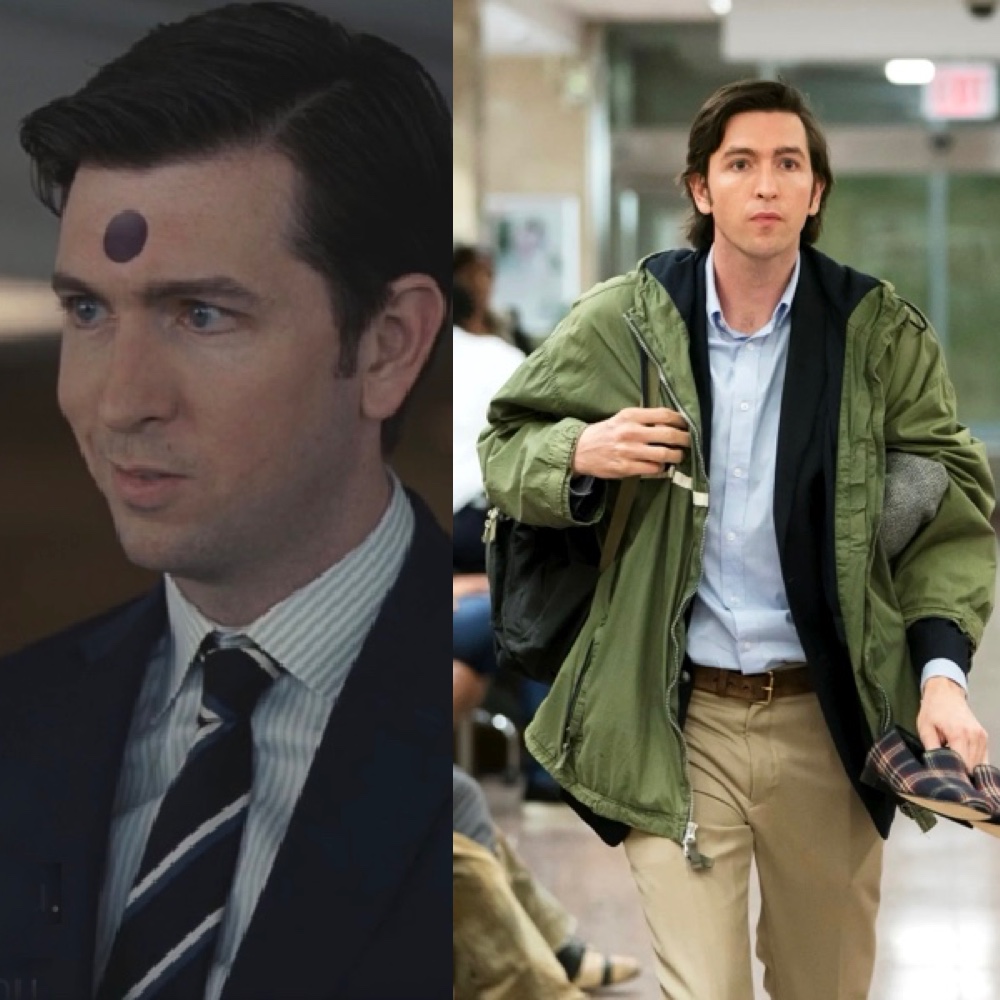 | | |
| --- | --- |
| Blue Shirt | The blue shirt is a foundational piece for Greg Hirsch's wardrobe, reflecting his corporate attire and polished look throughout the series. |
| Green Jacket | The green jacket adds a touch of personality to the costume, as Greg occasionally sports this distinctive piece in the show, making it a recognizable part of his character's style. |
| Tie | A tie is essential to complete Greg's corporate outfits, representing his professional demeanor and commitment to the business world. |
| Brown Belt | The brown belt not only complements the khaki pants but also helps to create a polished and well-coordinated ensemble. |
| Black Blazer | Greg often wears a black blazer over his dress shirt, and it's a versatile piece that elevates his overall look, especially during more formal events in the series. |
| Khaki Pants | Khaki pants are a staple in Greg's wardrobe, showcasing his classic and business-appropriate style. |
| Brown Shoes | Brown shoes are a must to complement the outfit, as Greg often pairs them with khaki pants and a blazer, adding a touch of sophistication to his ensemble. |
| Plaid Loafers | Plaid loafers are another fun addition to the costume, as they reflect Greg's quirky and unique fashion choices seen throughout the series. |
| Stickers | Stickers can be used as a playful and creative accessory to replicate Greg's moments of wearing name tags or badges as an intern in the company, adding an authentic touch to the costume. |
Tips for Your Greg Hirsch Costume, Fashion and Style
Dressing up as Greg Hirsch from Succession allows you to embrace his unique fashion and style, capturing the essence of his endearing character. Whether you're planning to don Greg's early intern look or his more refined corporate attire, these tips will help you nail the perfect Greg Hirsch costume:
The Nervous Intern Look: To recreate Greg's early appearance as a nervous intern, opt for a slightly ill-fitting suit in muted colors like beige or light gray. Pair it with a button-down shirt that's not entirely crisp and a slightly disheveled tie. Add a name badge or lanyard for an authentic touch, reflecting Greg's entry-level position.
Casual Chic: As Greg climbs the corporate ladder, he adopts a more polished yet approachable style. Go for well-tailored suits in darker hues like navy or charcoal. Choose slim-fit dress shirts and ties in classic patterns. Don't forget to keep your hair neat and well-groomed, just like Greg's signature look.
Accessorize Smartly: Pay attention to the details when putting together your Greg Hirsch costume. Opt for classic accessories like a silver watch or a subtle tie clip. Carry a slim leather briefcase to complete the polished executive look.
Greg's Glasses: Greg's iconic glasses are a key element of his style. Look for a pair of thin-framed, rectangular glasses that complement your face shape. If you don't wear prescription glasses, consider non-prescription clear lens glasses to achieve the same sophisticated look.
Nail the Body Language: To truly embody Greg Hirsch, practice his nervous body language. Maintain slightly awkward and jittery movements, and remember to flash his signature awkward smile. Letting his personality shine through in your mannerisms will add an extra layer of authenticity to your costume.
Confidence in Character: Finally, embrace the essence of Greg Hirsch's character. Channel his endearing sincerity and the way he navigates the intense corporate environment with a mix of naivety and integrity. Infuse your portrayal with his endearing charm, making your Greg Hirsch costume not just about the attire, but also about capturing the heart of the character.
By following these tips, you can step into Greg Hirsch's shoes with ease, becoming the embodiment of his charming personality and style from Succession.
Greg Hirsch Overview
Greg Hirsch, portrayed by the talented Nicholas Braun, is one of the standout characters in the acclaimed TV series Succession. As the cousin of the powerful and ruthless Roy siblings, Greg navigates the cutthroat world of corporate intrigue with an endearing mix of nervousness and genuine sincerity. From his first appearance as a young and impressionable intern to his gradual rise within the formidable Waystar Royco empire, Greg's journey is a captivating blend of comedy and drama.
Unlike his conniving relatives, Greg stands out with his least corrupt behavior and a genuine desire to do good in the midst of a morally bankrupt family. His awkward charm, nervous quirks, and humorous interactions with Tom Wambsgans, who becomes his mentor and friend, create a delightful duo that leaves audiences laughing and rooting for Greg.
Throughout the series, Greg's style evolves from an uncertain intern to a more confident and polished professional. His wardrobe reflects a mix of corporate formality and relaxed elegance, mirroring his character's growth and transformation.
As fans of Succession admire Greg's unique personality and enduring likability, this overview will delve into his character's traits and style, helping you understand and embrace the charm of Greg Hirsch. So, whether you're intrigued by his journey or simply captivated by his genuine demeanor, get ready to explore the world of Greg Hirsch and relish his endearing presence in Succession.
Check out more TV show costume ideas here.