Are you a fan of the hit series Succession and have an admiration for Tom Wambsgans' understated yet sophisticated style? If so, you're in the right place! In this guide, we'll show you how to recreate the classic and simple fashion of Tom Wambsgans, portrayed by the talented Matthew MacFadyen. From his navy blue suits and ties for formal occasions to the subtle elegance of vests and dress shirts for more relaxed events, we've got you covered with this guide to making your own Tom Wambsgans costume.
As a character who quietly works his way up in the corporate world of Waystar Royco, Tom's style perfectly reflects his ambition and determination. Whether he's mentoring his 'Disgusting Brother,' Greg Hirsch, or making his mark within the company, Tom's wardrobe remains consistently refined and appropriate for every occasion. Join us on this sartorial journey as we delve into the world of Tom Wambsgans' fashion and learn how to capture his timeless and professional look. Get ready to dress like a true underdog who silently climbs the ladder of success.
Tom Wambsgans Costume – Succession Fashion and Style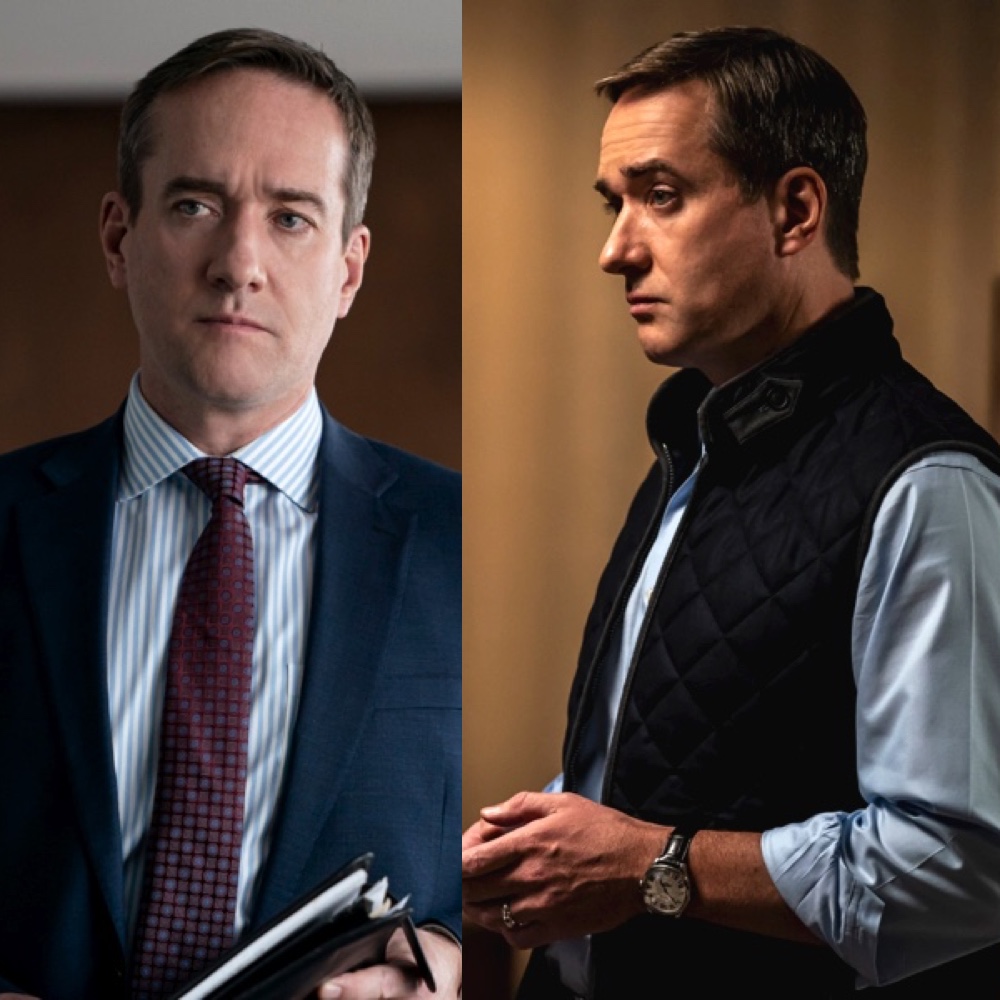 | | |
| --- | --- |
| Blue Striped Shirt | The blue striped shirt is a versatile and essential piece for creating a Tom Wambsgans costume. It can be paired with a navy suit for a formal look or worn alone with the vest for a more casual and sophisticated appearance. |
| Blue Shirt | This shirt can be worn with the navy suit or combined with the maroon tie for a more formal ensemble. |
| Navy Blue Quilted Vest | The navy blue quilted vest is a key element of Tom's more relaxed and understated style. It can be worn over a dress shirt, adding a layer of sophistication to his attire. |
| Brown Shoes | Brown dress shoes complement the navy suit and add a touch of elegance to the overall look. They perfectly match the classic and timeless style that Tom Wambsgans portrays. |
| Maroon Tie | The maroon tie is a subtle but important accessory that completes Tom's formal outfits. It adds a pop of color to the navy suit, exuding sophistication and confidence. |
| Watch | A wristwatch is a crucial detail in the Tom Wambsgans costume, showcasing his attention to detail and punctuality. Opt for a simple and elegant timepiece to match his polished appearance. |
| Navy Suit | The navy suit is the centerpiece of the Tom Wambsgans costume. It represents his classic and refined style and can be worn in various settings, from formal events to professional settings. |
Tips for Your Tom Wambsgans Costume, Fashion and Style
Classic Navy Blue Suits: Tom Wambsgans is often seen wearing impeccably tailored navy blue suits. Invest in a well-fitted navy suit to emulate his polished and professional look. Pair it with a crisp white dress shirt and a coordinating tie for a timeless ensemble.
Understated Dress Shirts: For a more casual yet sophisticated look, opt for dress shirts in muted colors like light blue, pale pink, or classic white. Tom's style is all about simplicity and elegance, so choose shirts with subtle patterns or solid colors that complement your navy suit.
Accessorize with Ties: Ties are a key element of Tom's attire, and they add a touch of formality to his outfits. Select ties in conservative patterns such as stripes or small prints to maintain the understated vibe.
Vest and Dress Shirt Combo: To replicate Tom's more casual look, consider wearing a vest over a dress shirt without a jacket. This ensemble is perfect for events that call for a less formal dress code while maintaining a polished appearance.
Timepiece: A classic wristwatch is a must-have accessory for a Tom Wambsgans-inspired outfit. Opt for a simple and elegant watch with a leather or metal band to add a touch of sophistication to your look.
Brown Dress Shoes: Complete your Tom Wambsgans costume with a pair of brown dress shoes. Brown shoes offer versatility and can be worn with both navy and grey suits, adding an extra touch of elegance to your attire.
Grooming: Keep your grooming neat and well-maintained to embody Tom's polished appearance. Pay attention to your hair and facial hair, ensuring they are well-groomed and tidy.
Confidence: Above all, embrace Tom Wambsgans' quiet confidence and charisma. Carry yourself with poise and self-assurance, just like this beloved Succession character. Remember, it's not just the clothes; it's how you wear them that completes the Tom Wambsgans look.
By following these tips and incorporating Tom Wambsgans' classic and sophisticated style into your wardrobe, you'll be ready to command attention and exude a quiet sense of power and success, just like this memorable character from Succession.
Tom Wambsgans Overview
Tom Wambsgans, portrayed by the talented Matthew MacFadyen, is a compelling character from the popular TV series Succession. He is married to Siobhan "Shiv" Roy, one of the children of media mogul Logan Roy, and works for the family's powerful company, Waystar Royco. Tom is ambitious and driven, always striving to advance his career within the company and prove himself to his demanding in-laws.
Throughout the series, Tom's endearing and sometimes awkward personality shines through, making him a fan-favorite. He develops a unique relationship with Greg Hirsch, his "Disgusting Brother," forming a hilarious duo that adds an extra layer of comedy to the show.
When it comes to style, Tom keeps it classic and understated. He doesn't seek attention with extravagant outfits, but rather exudes an air of quiet sophistication and professionalism. Navy blue suits, crisp dress shirts, and ties are his go-to choices for formal occasions, while he effortlessly pulls off a polished look with vests and dress shirts for more casual events.
Tom Wambsgans' journey in the corporate world of Waystar Royco is a captivating one, and his fashion choices reflect his determination and perseverance. In this guide, we'll explore the essence of his style and show you how to recreate the signature Tom Wambsgans look, so you too can exude his timeless elegance and make your mark in any setting. Get ready to channel the spirit of this lovable underdog and elevate your fashion game with a touch of Succession flair.
Check out more TV show costume ideas here.