Welcome to the ultimate guide on crafting the legendary costume of Han Solo, the charismatic smuggler and hero from the Star Wars universe. Whether you're preparing for a cosplay event or simply channeling your inner scoundrel, this comprehensive guide will walk you through the process of recreating a Han Solo costume. From his signature blaster to his iconic vest, we'll provide you with all the necessary information and tips to ensure that you capture the essence of this beloved character. Get ready to embark on a thrilling adventure as we dive into the details of bringing Han Solo's costume to life.
Han Solo Costume – Star Wars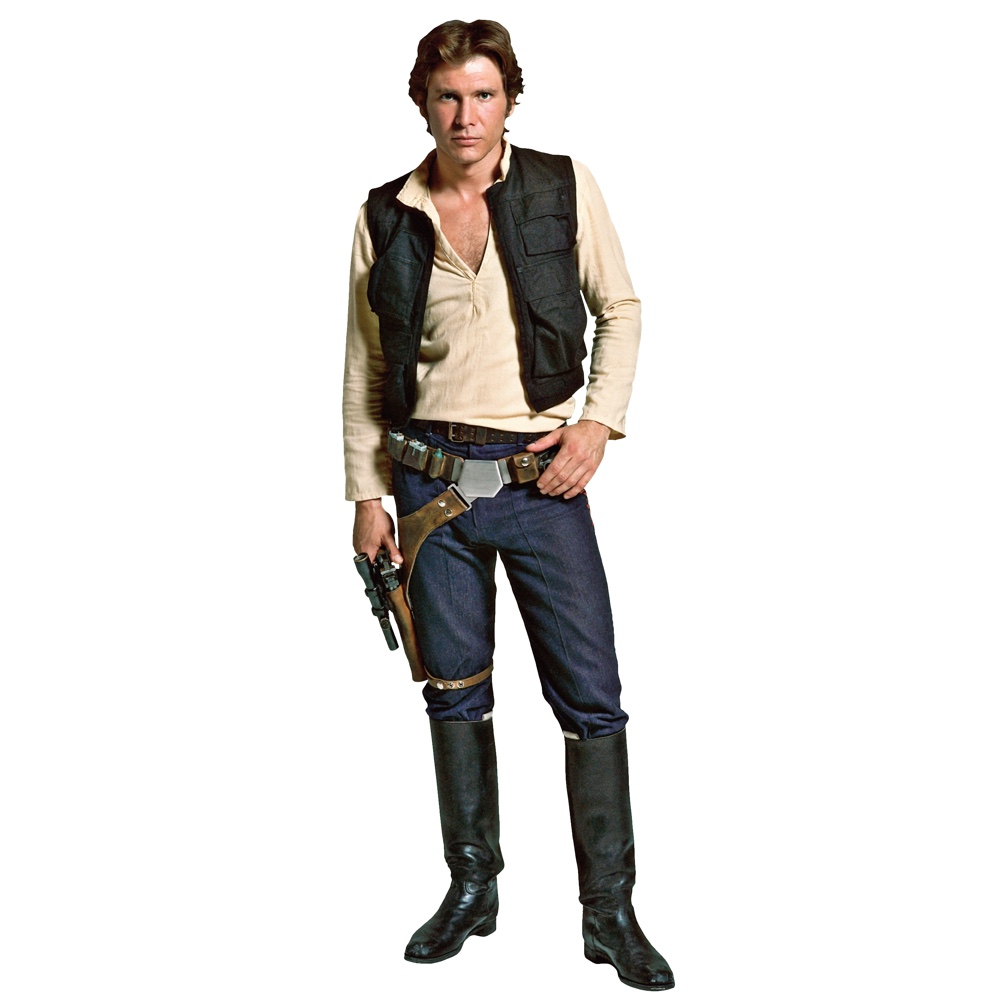 | # | Item | Description |
| --- | --- | --- |
| 1 | Black, four-pocket vest | Indispensable to Solo's iconic style, this black canvas vest with four pockets holds a significant role in the event that ended with Greedo's untimely demise. Its remarkable design perfectly complements Han's distinctive flair. |
| 2 | Beige, V-neck, half-collar, long sleeve shirt | The ever-elusive Han Solo, known for his perpetual evasion and adventurous spirit, hardly finds time to attend to mundane matters such as laundry. Thus, his shirt, tinged with a touch of yellow, reflects his perpetual state of motion. The exquisite offering from Magnoli Clothiers, found in the link provided, faithfully captures the essence of this distinguished garment. Alternatively, a budget-friendly alternative can be explored without compromising authenticity. |
| 3 | Blue pants with red rectangles piping | Intricately linked to Han Solo's roots on Corellia, the navy blue cotton-canvas pants adorned with red piping symbolize the prestigious Corellian Bloodstripes. Embracing this remarkable garment will infuse your costume with an unmistakable touch of authenticity, celebrating the bravery and gallantry inherent to Solo's origins. |
| 4 | Black leather boots | Prior to earning his reputation as the galaxy's most elusive smuggler, Han Solo proudly served as an officer and skilled pilot for the Empire. It was during this time that he acquired his distinctive black knee-high faux-leather boots. For an impeccable captain-of-your-own-cruiser look, Funtasma offers an exquisite option closely resembling Solo's esteemed footwear. |
| 5 | Utility belt with blaster holster (tools included) | Attention to detail is paramount, and this three-hole belt, often overlooked by many cosplayers, is a must-have addition to your ensemble. Not only does it serve as a practical accessory, preventing your pants from succumbing to the weight of the utility belt and holster, but it also enhances the overall authenticity of your Han Solo persona. |
| 6 | Tools not included | No Han Solo portrayal can be complete without the inclusion of his faithful blaster by his side. A choice presents itself—opt for a belt equipped with Solo's accompanying tools, or demonstrate your resourcefulness by selecting a more affordable alternative that allows for personalized craftsmanship. |
| 7 | Blaster | Once again, the quintessential element that completes the Han Solo aesthetic lies within the trusty blaster that forever remains by his side. This particular blaster, available in white and orange, faithfully captures the essence of the original. A simple coat of black and silver paint will transform it into a true cinematic masterpiece. |
| 8 | Wig | Costume Accessory |
| 9 | Full costume | Should the prospect of ordering individual components and accumulating a pile of packages at your doorstep be less than appealing, fear not! We have meticulously curated a selection of full Han Solo costumes, sparing you the hassle of piecing it all together yourself. |
Han Solo Overview
Han Solo, played by the charismatic Harrison Ford, is one of the most beloved characters in the Star Wars saga. Known for his roguish charm, quick wit, and undeniable bravery, Han Solo has captured the hearts of audiences worldwide. From his early encounters with Luke Skywalker and Princess Leia Organa to his daring exploits as a pilot aboard the Millennium Falcon, Han Solo's journey is filled with excitement, danger, and unexpected alliances. With his iconic black vest, blaster holster, and unruly hair, Han Solo has become an enduring symbol of the rebel spirit and the ultimate "space cowboy." Now, it's time to step into the shoes of this legendary character and bring Han Solo to life through the art of costume creation.
Check out more Star Wars costume ideas here.