Welcome to our enchanting guide on crafting a stunning Skelita Calaveras costume! Skelita Calaveras is a captivating character from the vibrant and colorful world of Monster High. With her intricate Day of the Dead-inspired appearance and rich cultural background, Skelita has won the hearts of fans worldwide. In this guide, we will take you on a journey of creating a mesmerizing Skelita Calaveras costume that captures her unique style, celebrates her heritage, and allows you to embody her spirited personality. Whether you're preparing for a costume party, cosplay event, or simply want to pay homage to this extraordinary character, this guide will provide you with the step-by-step process and inspiration to bring Skelita Calaveras to life in all her breathtaking glory.
Skelita Calaveras Costume – Monster High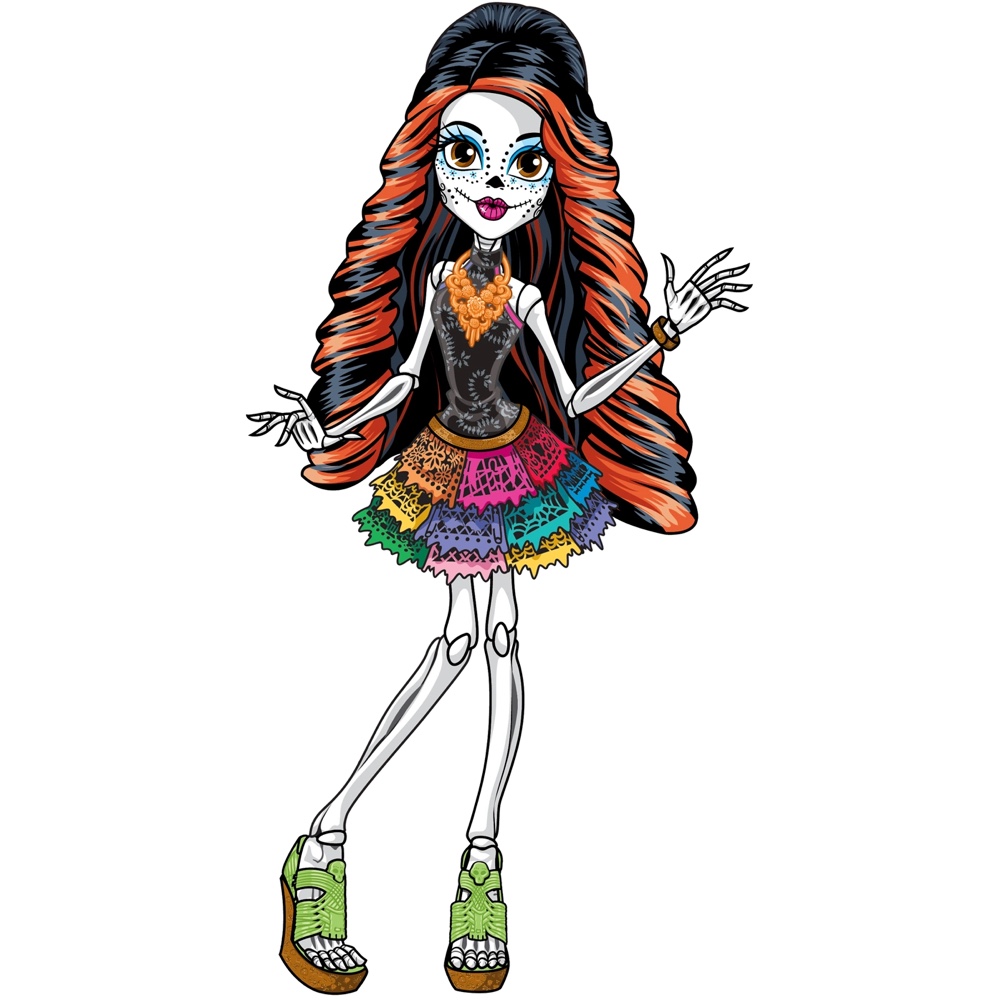 | # | Item | Description |
| --- | --- | --- |
| 1 | Black Turtleneck Halter Top | Create a captivating Skelita-inspired ensemble by donning this sleek black turtleneck halter bodysuit, forming the foundation of your outfit. |
| 2 | Multi-colored Tutu | Immerse yourself in a vibrant array of colors with this enchanting multi-colored tutu, reflecting the whimsy and charm of Skelita's skirt. |
| 3 | Skeletal Leggings | Embrace the eerie allure of a skeletal figure with these hauntingly stylish skeletal leggings, adding an element of mystery to your look. |
| 4 | Lime Green Platforms | Channel Skelita's love for bold and vibrant hues by opting for these eye-catching lime green platform sandals, creating a stunning fashion statement. |
| 5 | Day of the Dead Tattoo | Capture the essence of Skelita's unique appearance by adorning your face with these captivating Day of the Dead tattoos, showcasing your artistic spirit. |
| 6 | White Body Paint | Transform into a living canvas by enveloping your body in ethereal white paint, embodying the skeletal allure of Skelita's character. |
| 7 | Wig | Complete your Skelita-inspired look with this striking wig, allowing you to embrace her unconventional and mesmerizing hairstyle. |
| 8 | Full Costume Set | Opt for effortless costume preparation with this comprehensive costume set, ensuring you embody the essence of Skelita in a stunning and seamless manner. |
Skelita Calaveras Overview
Skelita Calaveras is a spellbinding character from Monster High, known for her striking appearance and strong cultural identity. As a skeleton from the Land of the Dead, Skelita embraces her Dia de los Muertos heritage with pride and elegance. Her distinct features include a beautifully painted skull face, vibrant and intricately designed traditional Mexican attire, and an enchanting personality that radiates warmth and compassion. Skelita's style incorporates a harmonious blend of vibrant colors, intricate patterns, and symbolic Day of the Dead elements, such as sugar skull motifs and marigold flowers. Her character embodies the importance of celebrating life and honoring loved ones, making her an inspiring figure for those who embrace their roots and cherish their cultural heritage. By following our guide, you'll embark on a transformative journey to create an enchanting Skelita Calaveras costume that pays homage to her captivating character and allows you to showcase your creativity and reverence for cultural traditions. So, let's dive into this extraordinary endeavor and bring Skelita Calaveras to life in all her mesmerizing splendor!
Check out more movie costume ideas here.