A complete and fun guide on making the enchanting I Dream of Jeannie costume! If you've ever dreamed of stepping into the magical world of genies and embodying the captivating Jeannie, then you're in the right place. In this comprehensive guide, we will walk you through the steps to recreate Jeannie's iconic look, from her flowing harem pants to her mesmerizing hairstyle. Get ready to transport yourself to a realm of enchantment and capture the hearts and imaginations of those around you with this beloved character's timeless costume.
I Dream of Jeannie Costume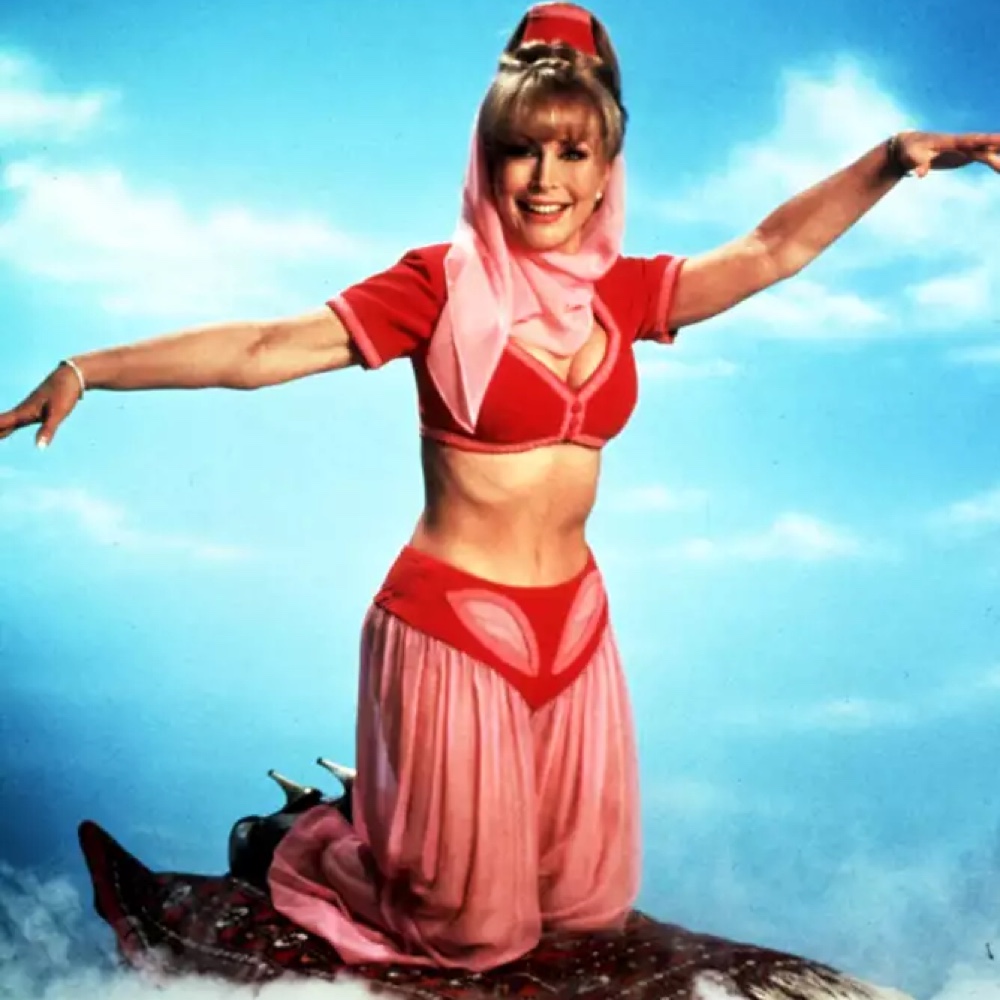 | # | Item | Description |
| --- | --- | --- |
| 1 | Bra, top, pink | Create a mesmerizing genie-inspired look with this stunning pink bra top. Emulate Jeannie's iconic style as you layer this piece under a vest for a touch of modesty. The vibrant pink hue adds a pop of color to your costume, while the bra design enhances your curves and captures the essence of Jeannie's allure. Prepare to cast spells of enchantment and capture the hearts of all those around you. |
| 2 | Vest, red | Add a touch of elegance and color to your Jeannie costume with this vibrant red vest. Jeannie's outfit is a harmonious blend of red and pink, and this vest perfectly complements the pink bra top. Slip into this vest and let it elevate your costume to new heights of style. Be prepared to captivate everyone with your enchanting presence and channel Jeannie's mystical charm. |
| 3 | Harem, pants, pink | Achieve the flowing and ethereal look of Jeannie's pants with these chiffon pink harem pants. The loose and lightweight fabric creates beautiful movement as you glide across the room, evoking the spirit of a magical genie. The vibrant pink color perfectly captures Jeannie's playful and whimsical style. Step into these pants and unleash your inner genie as you enchant everyone with your captivating presence. |
| 4 | Sash, red | Add a touch of flair and magic to your Jeannie-inspired costume with this vibrant red sash. Tie it around your hips to enhance the genie vibes of your outfit and create an eye-catching accent. The rich red color adds a pop of boldness and completes your transformation into the mystical Jeannie. Get ready to grant wishes and spread joy with yourcharming presence. |
| 5 | Wig, blonde, veil | Complete your Jeannie transformation with this enchanting blonde wig and veil. Designed to replicate Jeannie's iconic hairstyle, this wig features long, flowing blonde locks that cascade down to your shoulders. The attached veil adds a touch of elegance and mystery, capturing the essence of Jeannie's magical allure. Step into the world of genies and let this wig transport you to a realm of whimsy and wonder. |
| 6 | Heels, pink | Step into the spotlight with these fabulous pink heels. Jeannie's signature kitten heels add a touch of modern flair to her genie outfit, and this pair captures that essence perfectly. The sleek design and vibrant pink color make these heels a statement piece that will elevate your costume to new heights. Let your feet sparkle and dance as you embrace your inner Jeannie and cast a spell of glamour on everyone around you. |
| 7 | Jeannie, bottle | Embrace the enchanting world of genies with this inflatable Jeannie bottle. Jeannie herself keeps this bottle close, as it serves as her magical abode. Carry this bottle as a charming prop to complete your Jeannie costume and let everyone know that you're ready to grant wishes and bring joy. Spark curiosity and create an air of mystery as you embody the spirit of Jeannie in every step you take. |
I Dream of Jeannie Overview
"I Dream of Jeannie" is a popular American television series that aired from 1965 to 1970. The show revolves around the misadventures of Jeannie, a 2,000-year-old genie who is released from her bottle and becomes the companion of an astronaut named Major Anthony "Tony" Nelson. Jeannie is known for her distinctive outfit, which consists of a pink harem costume, a red vest, and a signature blonde ponytail with a beautiful veil. Her whimsical and mischievous personality, coupled with her magical powers, has made Jeannie an iconic and beloved character in pop culture. Now, let's dive into the details of creating your own I Dream of Jeannie costume and embrace the magic of this enchanting character!
Check out more TV show costume ideas here.