Greetings, fellow travelers of the 'verse! Welcome to a guide that will lead you through the wild and raucous world of cosplaying as the infamous Jayne Cobb, the rough and tumble mercenary from the cult-favorite TV series "Firefly" and the movie "Serenity." Prepare to dive headfirst into the realm of misadventures and camaraderie aboard the Firefly-class spaceship Serenity with your own Jayne Cobb costume. In this comprehensive guide, we will arm you with all the tips, tricks, and insights needed to embody the essence of Jayne Cobb – a boisterous, trigger-happy, yet surprisingly endearing mercenary. So, don your cunning hat, strap on your favorite firearms, and join us on a journey to create a costume that truly captures the spirit of Jayne Cobb!
Jayne Cobb Costume – Firefly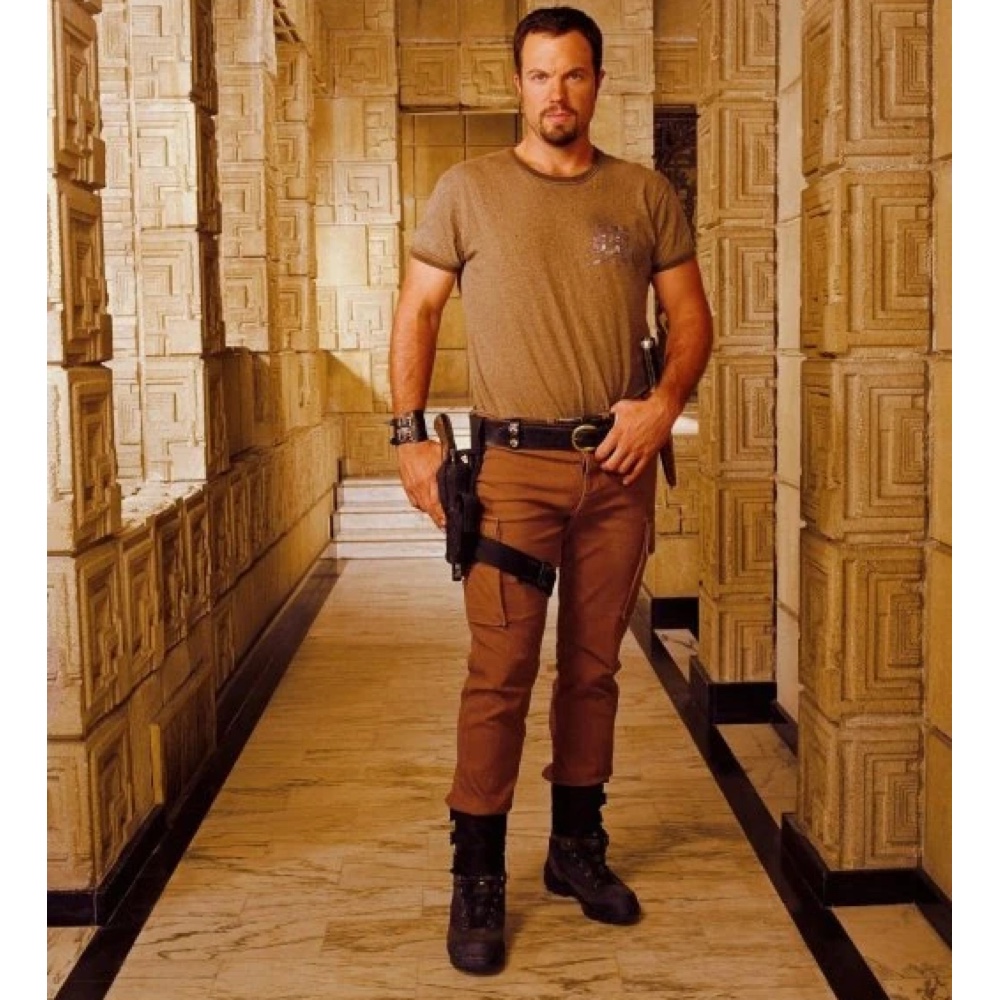 | # | Item | Description |
| --- | --- | --- |
| 1 | Firefly Jayne's Hat Replica | Embrace your inner Browncoat with this authentic replica of Jayne's iconic knit hat. Capturing the same pattern and colors as seen in the show, you won't need to search for alternatives. Once you don this hat, you'll instantly channel Jayne's rugged charm and wit, making it a must-have accessory for any dedicated fan. Add this unique piece to your collection and proudly display your admiration for Jayne Cobb. |
| 2 | Light Brown T-Shirt | Elevate your Jayne Cobb-inspired outfit with a classic crew neck, short-sleeve T-shirt in a rich light brown hue. This simple yet essential piece is readily available, making it effortless to complete your costume. As you wear this T-shirt, embody Jayne's bold and straightforward nature, reflecting the essence of the cunning and resourceful character. Get ready to join the crew and take on daring adventures in style. |
| 3 | Dust Brown Cargo Pants | Complete your rugged look with a pair of versatile dust brown cargo pants. Look for plain cargo pants with a slightly darker tone than your T-shirt to achieve the perfect contrast. These pants exude a sense of adventure, mirroring Jayne Cobb's adventurous spirit. As you wear the cargo pants, embrace Jayne's rough-around-the-edges charm and fearless attitude, ready to tackle any challenge that comes your way. |
| 4 | Black Leather Belt | Accentuate your outfit with a robust black leather belt, reminiscent of the one Jayne Cobb wears. Opt for a slightly wider belt to match the character's style. As you fasten the belt, embody Jayne's formidable presence, ready to stand tall as a loyal member of the crew. This belt is a crucial element in completing your Jayne Cobb costume with authenticity and flair. |
| 5 | Leg Pistol Gun Pouch Holder | Equip yourself with a practical black leg pistol gun pouch holder to complete your Jayne Cobb look. Choose any black leg holster that fits your comfort and style, as it adds a touch of ruggedness to your costume. As you secure the holster, channel Jayne's protective instincts and loyalty to those he holds dear. With this holster, you'll be ready to take on any challenge in the 'verse. |
| 6 | Brown Leather Bracelet | Add an extra dash of character to your costume with a distinctive brown leather bracelet, mirroring Jayne Cobb's rugged style. The bracelet signifies your adventurous spirit, just like Jayne's courageous demeanor. Choose a big brown leather bracelet that stands out and reflects your inner Jayne Cobb. With this accessory, you're all set to navigate the 'verse alongside your crew. |
| 7 | Gun Prop | Enhance your Jayne Cobb transformation with this realistic gun prop. Place it securely in your holster, completing the rugged and formidable appearance. While not directly referencing 'Firefly,' this gun prop is a nod to Jayne Cobb's undeniable presence in the 'verse. As you wield the prop, embody Jayne's protective nature and fearless attitude, ready to face any challenge head-on. |
| 8 | Black Leather Laced-up Boots | Step into the shoes of Jayne Cobb with a pair of all-black leather laced-up boots. Opt for boots that reach up to your ankle for added authenticity. As you wear these rugged boots, embrace Jayne's unwavering loyalty and determination to protect his crew. With these boots, you'll be ready to take on any adventure that awaits you in the 'verse. |
Jayne Cobb Overview
Jayne Cobb, brought to life by the talented actor Adam Baldwin, is a captivating and larger-than-life character in the "Firefly" universe. Hailing from the rough-and-tumble world of Canton, Jayne is known for his brawny physique, loudmouthed demeanor, and insatiable appetite for mischief and profit. As a mercenary and loyal crew member of Serenity, Jayne often finds himself entangled in risky endeavors, showcasing his skills as a formidable fighter and gun enthusiast.
Underneath the rough exterior, Jayne reveals moments of unexpected vulnerability and loyalty to his chosen family aboard Serenity. His signature look consists of a cunning hat, a heavy-duty vest adorned with multiple pouches, and his prized weapon of choice – the Vera, a powerful and iconic firearm.
Despite his gruff exterior, Jayne's interactions with his shipmates, including Captain Malcolm Reynolds, the ingenious mechanic Kaylee Frye, and the reformed Alliance operative Shepherd Book, contribute to the complexity of his character. His unique relationship with the enigmatic River Tam and her protective brother Simon Tam adds layers of depth to Jayne's journey as a member of Serenity's crew.
Throughout the series and film, Jayne's distinctive personality and quirky sense of humor shine through, making him a beloved and memorable character among fans. As we explore the elements of Jayne Cobb's iconic costume, we will also delve deeper into the essence of this boisterous mercenary, guiding you in bringing the legendary Jayne Cobb to life in your cosplay.
In the upcoming sections of this guide, we will take you through every detail, from the cunning hat atop his head to the trusty Vera in his hands, empowering you to embody the spirit of Jayne Cobb in your own cosplay creation. So, get ready to embrace your inner mercenary and embark on an unforgettable adventure as the one and only Jayne Cobb!
Check out more TV show costume ideas here.