Step into the thrilling realm of "Stranger Things" with our comprehensive guide on creating an authentic costume inspired by the indomitable character of Jim Hopper. Portrayed by the talented David Harbour, Hopper is the chief of police in the small town of Hawkins, Indiana. With his rugged charm, relentless determination, and a touch of old-school cool, Hopper has become a beloved and iconic figure in the hit Netflix series. Whether you're captivated by his unwavering bravery or inspired by his distinct sense of style, this guide will equip you with the knowledge and techniques to bring the formidable Jim Hopper to life through a meticulously crafted Jim Hopper costume. Get ready to channel Hopper's charisma and embody the spirit of a fearless sheriff as we unravel the secrets to creating an authentic Jim Hopper ensemble.
Jim Hopper Costume – Stranger Things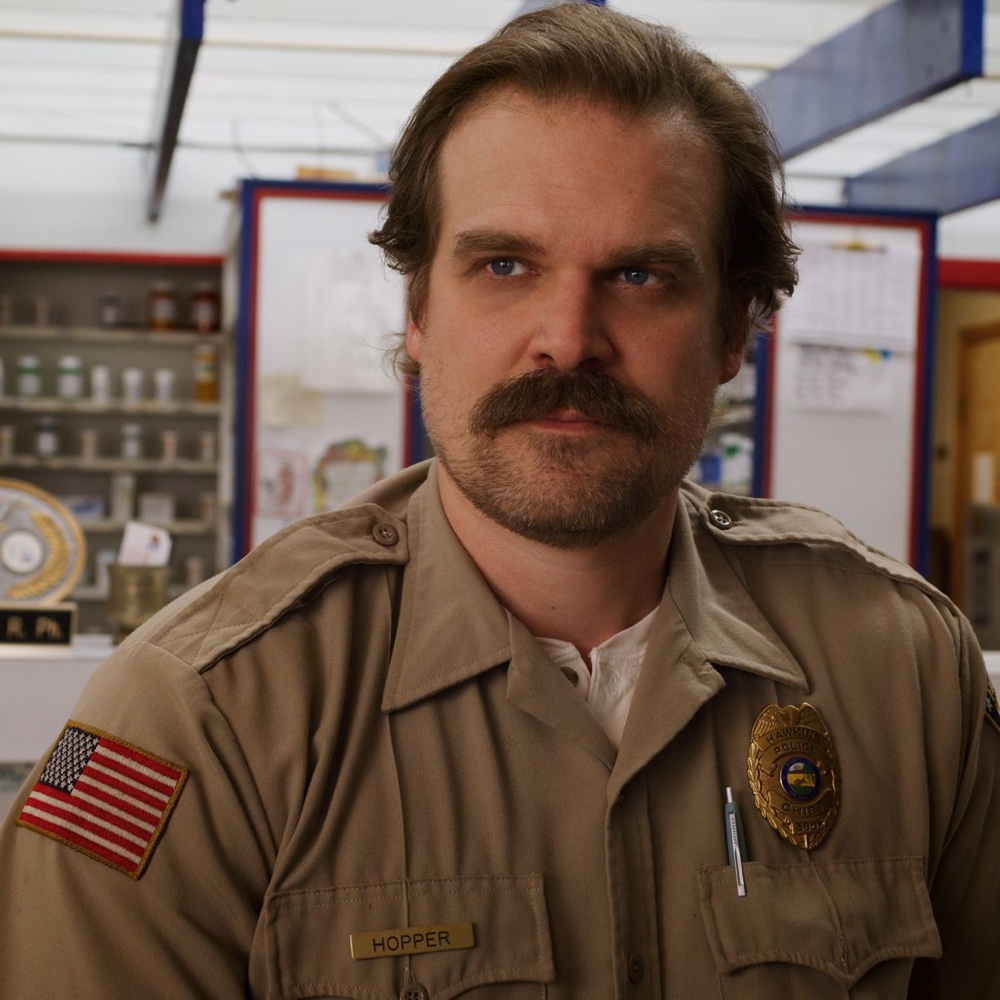 | # | Item | Description |
| --- | --- | --- |
| 1 | Tactical Khaki Long-Sleeved Shirt | Immerse yourself in the role of a police officer by wearing a collared, button-down, long-sleeved shirt in a khaki shade. This top will complete the authenticity of your police uniform ensemble. |
| 2 | Navy Blue Windbreaker Jacket | Add a layer of warmth and style to your police uniform with a navy blue windbreaker jacket. Emulate Hopper's cool and practical look by incorporating this jacket into your costume. |
| 3 | Tactical Khaki Pants | Complete your police uniform with a pair of khaki pants. These tactical pants perfectly match the style and functionality of Hopper's character, making your costume look even more authentic. |
| 4 | Brown Hiking Boots | Ensure your feet are ready for any adventure with a sturdy pair of brown hiking boots. These boots not only provide comfort but also add a touch of ruggedness to your Hopper-inspired costume. |
| 5 | Brown Mountie Hat | A brown Mountie hat is the perfect accessory to complete your Hopper costume. Wear this hat with pride and embody the authoritative presence of the sheriff himself. |
| 6 | Dark Aviator Sunglasses | Channel Hopper's cool and mysterious vibe with a pair of dark aviator sunglasses. Not only will they add style to your costume, but they'll also protect your eyes from the sun's harsh glare. |
| 7 | Brown Fake Beard and Mustache | Complete your transformation into Hopper with a brown fake beard and mustache. These accessories will give you that rugged, rough-around-the-edges look that defines the character. |
| 8 | American Flag Embroidered Patch | Show your patriotism by adding an American flag embroidered patch to your jacket. This small detail will enhance the authenticity of your Hopper costume and make it even more recognizable. |
| 9 | Hawkins Police Embroidered Patch | Make your police uniform truly authentic with a Hawkins Police embroidered patch. This patch will add the finishing touch to your costume and make you feel like a true member of the force. |
| 10 | Hopper Badge Set | Don't forget to complete your Hopper costume with a Hawkins police badge and wear Hopper's nameplate. These small but significant details will make your costume more recognizable and true to the character. |
| 11 | Brown Leather Belt | Keep your pants securely in place with a brown leather belt. Not only is it a practical accessory, but it also adds an extra touch of style to your Hopper-inspired costume. |
| 12 | Brown Leather Side Holster | Complete the look of a dedicated law enforcement officer by incorporating a brown leather belt holster into your costume. This accessory will make your toy revolver easily accessible and add an extra level of authenticity. |
| 13 | Toy Revolver | No police officer costume is complete without a toy revolver. Add this accessory to your brown leather belt holster for a more convincing and immersive Hopper-inspired look. |
| 14 | Costume Set | If you're looking for a hassle-free option, consider getting this Jim Hopper costume set. It includes all the essential elements to transform yourself into the iconic Stranger Things character without the need for DIY. |
Jim Hopper Overview
Jim Hopper is a pivotal character in the supernatural drama series "Stranger Things." As the chief of police, Hopper is known for his unwavering determination, protective nature, and gritty personality. Played by David Harbour, Hopper is a complex character with a troubled past, seeking redemption and solace in the small town of Hawkins. His fashion sense exudes a rugged, no-nonsense style, often seen sporting his signature tan Sheriff's uniform, complete with a worn-out hat and rugged boots. Hopper's character embodies a mix of toughness and vulnerability, showcasing a deep love for his community and a relentless pursuit of justice. By capturing his distinctive appearance and embracing his indomitable spirit, you can transform into the enigmatic Jim Hopper, standing as a symbol of strength and resilience in the Upside Down. Join us as we dive into the intricacies of Hopper's style and guide you on an exciting journey to create an authentic Jim Hopper costume that pays homage to the beloved character.
Check out more TV show costume ideas here.