Step into the spotlight and pay tribute to one of rock 'n' roll's most iconic figures with a sensational Joan Jett costume. Joan's fierce attitude, rebellious style, and unmistakable charisma make her an ideal inspiration for a costume that exudes rockstar energy. In this guide, we'll walk you through the steps of crafting a Joan Jett ensemble that captures her essence and lets you rock out with confidence. Get ready to channel your inner rock goddess and unleash your rebellious spirit as we delve into the world of Joan Jett fashion!
Joan Jett Costume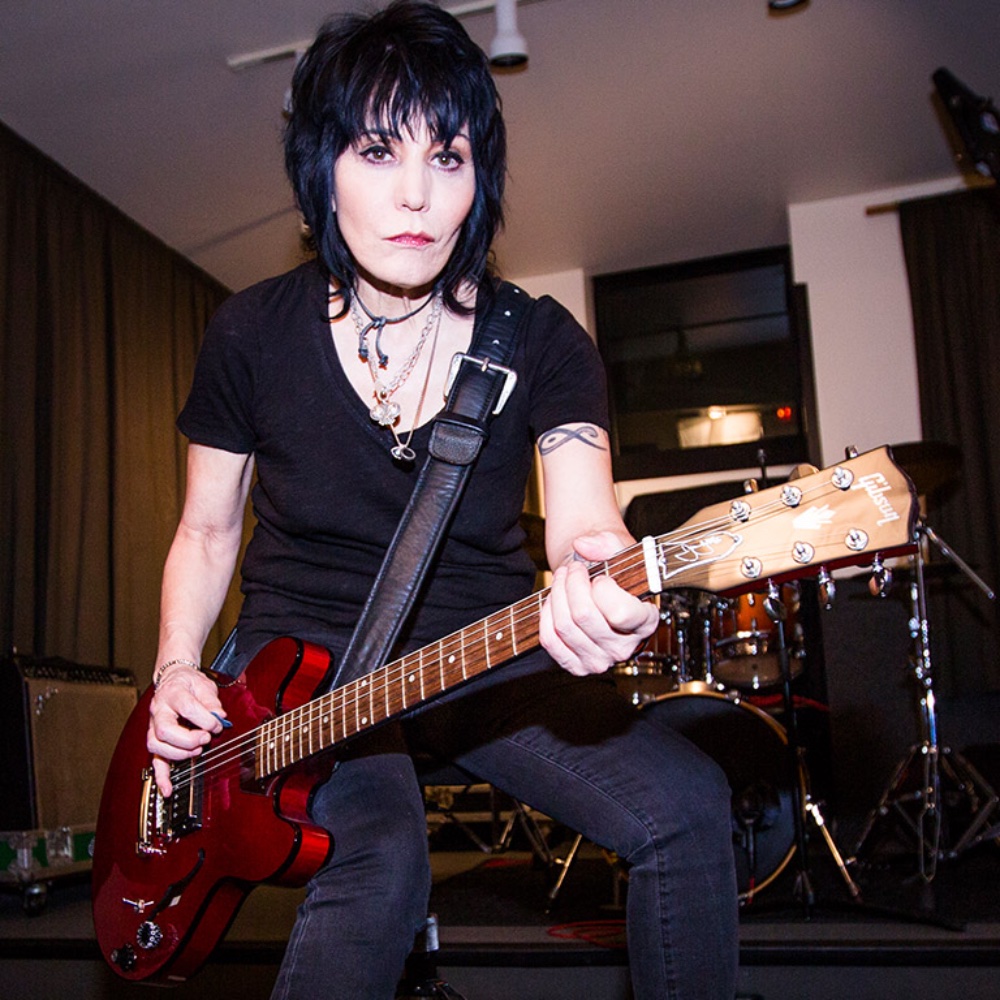 | # | Item | Description |
| --- | --- | --- |
| 1 | Sequined Top | Elevate your ensemble with a touch of shimmering glamour. This sequined top adds a dazzling allure to your rockstar chic vibe. |
| 2 | Biker Jacket | Top off your look with an edgy twist. Slip into a biker jacket that exudes boldness and attitude, the perfect finishing touch for your rock-inspired ensemble. |
| 3 | Striped Pants | Infuse vibrant hues into your rockstar attire with these striped pants. The bold patterns add a pop of color to your look, ensuring you stand out in style. |
| 4 | Belt | Elevate your pants game with a statement belt. Opt for a studded or rocker-style belt that perfectly complements your ensemble, adding a touch of rebellious flair. |
| 5 | Boots | Step into a pair of boots that scream rockstar vibes. These boots complete your look with an edgy and confident stance, ensuring you're ready to take on the spotlight. |
| 6 | Necklace | Add a touch of finesse to your ensemble with this exquisite necklace set. These accessories elevate your rock-inspired look, creating a captivating blend of elegance and rebellion. |
| 7 | Wig | Elevate your transformation with a striking wig that captures the essence of iconic rockstar style. Craft Joan's signature hair look and unleash your inner rock legend. |
| 8 | Black Makeup | Complete your transformation with captivating eye makeup that exudes rockstar intensity. The dark and dramatic touch adds a magnetic allure to your overall look. |
Tips for Your Joan Jett Costume
Channel the Attitude: Joan Jett's fierce attitude is a cornerstone of her rockstar persona. Embrace her confidence and rebellious spirit by adopting a self-assured demeanor. Walk with purpose, exude confidence, and let your inner rocker shine through.
The Iconic Hairstyle: Joan Jett's signature shaggy black hairstyle is instantly recognizable. If you don't have similar hair, consider using a wig to achieve her iconic look. Style it with a messy, bedhead texture and use hair spray to add volume and hold.
Rock 'n' Roll Wardrobe: Joan Jett's fashion sense is a blend of punk and glam. Opt for a black leather jacket, fitted band t-shirt, and skinny jeans for an edgy and authentic look. Don't forget the studded belts, leather cuffs, and fingerless gloves to complete the ensemble.
Accessorize with Edge: Accessories play a vital role in capturing Joan Jett's style. Load up on chunky silver rings, choker necklaces, and hoop earrings. Add a few temporary tattoos to your arms for an extra dose of rocker chic.
Smokey Eyes and Bold Lips: Joan Jett's makeup is all about the eyes and lips. Apply a smokey eye with dark eyeshadow and eyeliner for an intense, smudged effect. Finish the look with bold red lipstick to achieve her signature pout.
Footwear and Attitude: Don a pair of black combat boots or high-top sneakers to complete your Joan Jett ensemble. Walk with a confident strut and let your attitude radiate rock 'n' roll coolness.
Guitar Hero: If you really want to up the ante, consider carrying a prop guitar or air guitar to pay homage to Joan Jett's rockstar status. It's the ultimate accessory that captures the heart of her music and persona.
Confidence is Key: Above all, remember that confidence is the key to embodying Joan Jett's spirit. Embrace her boldness, individuality, and fearlessness, and you'll truly rock your Joan Jett costume with style and authenticity.
Crafting a Joan Jett costume is all about capturing the essence of a legendary rocker. Embrace her fierce personality, unique style, and unapologetic attitude as you bring this iconic character to life. With the right elements and a dash of rebellious energy, you'll be ready to hit the stage and rock the night away in true Joan Jett fashion.
Joan Jett Overview
When it comes to rock 'n' roll legends, few names shine as brightly as Joan Jett. Born to rock, Joan Jett's musical journey began with her role as the frontwoman of the groundbreaking all-female rock band, The Runaways. Her distinctive raspy vocals, intense guitar playing, and fearless attitude set her apart as a force to be reckoned with. As a solo artist, Joan Jett continued to dominate the music scene with hits like "I Love Rock 'n' Roll" and "Bad Reputation." Known for her signature black attire, leather jackets, and smudged eyeliner, Joan Jett's style is a fusion of punk edge, glam aesthetics, and a dash of rockstar allure. Embrace the spirit of defiance, confidence, and pure rock 'n' roll rebellion as you embark on the journey of crafting your very own Joan Jett costume. With the right elements and a touch of attitude, you'll capture the essence of this trailblazing musician and inspire awe wherever you go.
Check out more celebrity costume ideas here.