One of the many fancy dress ideas from the 2023 Barbie movie that is truly awesome is a Journalist Barbie costume. This is an easy costume to make which is great for halloween or fancy dress and is based on the character portrayed by Ritu Arya.
Journalist Barbie Costume – Barbie Movie (2023)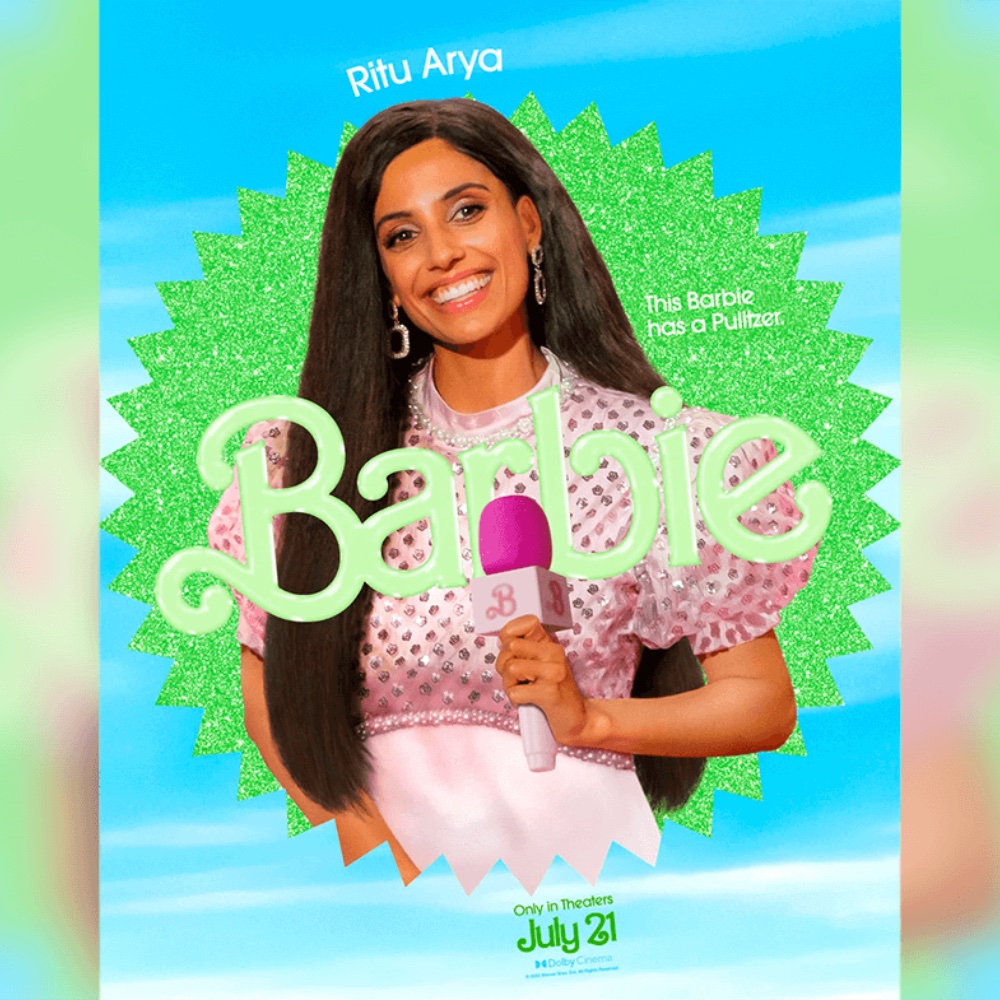 | | |
| --- | --- |
| Pink Silky Dress | The base of this Barbie cosplay is a light pink dress. Ideally you are looking for pink dress made from a silky material. The top half of the dress should ideally have darker pink spots while the lover half should simply be plain pink. |
| Large Dark Stoned Earrings | If you can find a set of dangly earrings for this costume they will look fantastic. The earrings worn by the character appear to have a dark square stone in the centre and are surrounded with what look like diamonds. |
| Pink Microphone | Use a pink microphone prop with this costume to confirm you are indeed journalist Barbie. |
| Straight Black Wig | Replicate the hairstyle of this character easily with a black straight hair wig. |
Journalist Barbie Overview
In the dynamic world of "Barbie: The Movie," a character of journalistic prowess and determination takes center stage as Journalist Barbie. This compelling role is brought to life by the talented actress Ritu Arya, adding depth and authenticity to the film's narrative.
Barbie, portrayed by Ritu Arya, assumes the role of a renowned and accomplished journalist within the captivating realm of Barbie Land. With an unquenchable thirst for truth and a passion for storytelling, Journalist Barbie navigates the intricate web of news and reports with an unwavering commitment to accuracy and integrity.
As a character in "Barbie: The Movie," Journalist Barbie's presence echoes themes of investigative journalism, curiosity, and the power of the written word. Ritu Arya's portrayal infuses the character with a sense of purpose and relatability, creating a journalist who not only reports the news but also engages with the world around her.
In a world that mirrors our own, Journalist Barbie serves as an inspiration for those who aspire to shed light on the truth and amplify voices that deserve to be heard. Her presence adds depth to the film's narrative, exploring themes of media ethics, the responsibility of the press, and the role of journalism in shaping society.
"Diplomat Barbie" delves into the idea that even within fantastical settings, the principles of journalism and the pursuit of truth remain universally significant. Ritu Arya's portrayal brings a sense of authenticity and purpose to Journalist Barbie, reminding audiences of the vital role that journalism plays in fostering informed communities and a well-functioning society.
Check out more Barbie costume ideas here.