Welcome to our comprehensive guide on creating an authentic and stylish costume inspired by the charismatic Lando Calrissian from the beloved Star Wars franchise. Lando Calrissian, portrayed by the suave Billy Dee Williams, is a fan-favorite character known for his charm, wit, and impeccable fashion sense. In this guide, we will walk you through the process of bringing the suave and sophisticated Lando Calrissian to life with your own Lando Calrissian costume, allowing you to capture his iconic style and exude his captivating presence.
Lando Calrissian Costume – Star Wars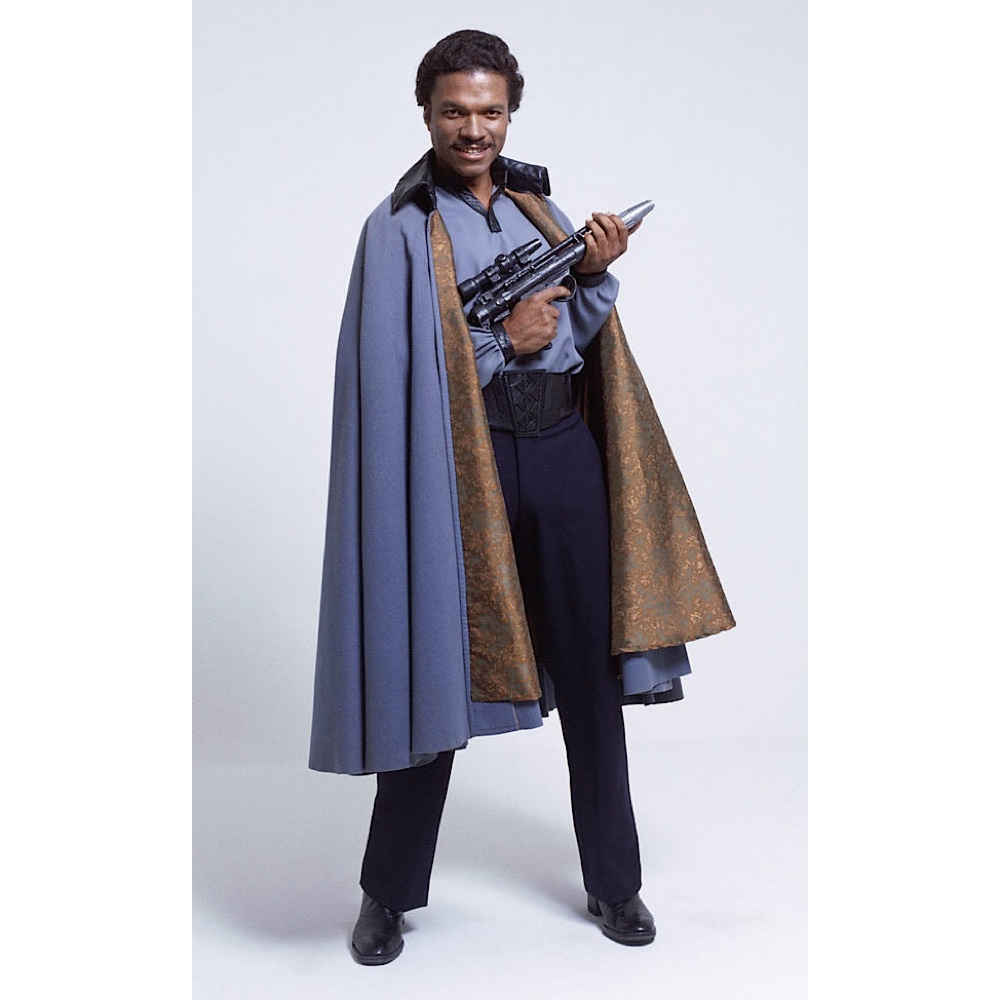 | # | Item | Description |
| --- | --- | --- |
| 1 | Costume Kit | Embark on a journey as the charismatic Lando Calrissian by acquiring a comprehensive costume kit. Explore the realm of possibilities with high-quality kits that effortlessly capture the essence of this iconic character. |
| 2 | Black Pants | Immerse yourself in Lando Calrissian's timeless style by donning a pair of black pants. Opt for a loose-fitting option that resonates with his preference for relaxed and comfortable attire. |
| 3 | Loose Blue Tunic | Elevate your Lando Calrissian portrayal with a dancing-like blue tunic or shirt. Capture the essence of his effortless charm and suave demeanor with this essential piece of the ensemble. |
| 4 | Classic Black Shoes | Step into Lando Calrissian's shoes—quite literally—by selecting a pair of classic black shoes. Embrace timeless elegance and sophistication with footwear that perfectly complements this charismatic character. |
| 5 | Two-Layer Blue and Gold Cloak Cape | Imbue your Lando Calrissian portrayal with an air of regality and intrigue with his signature two-layer blue and gold cloak cape. This eye-catching and essential piece serves as the centerpiece of his distinctive ensemble. |
| 6 | Black Belt | Add the finishing touch to your Lando Calrissian costume with a wide black belt. Seek out a buckle-free option that emphasizes elegance and minimalism, perfectly complementing his debonair style. |
| 7 | Fake Mustaches | Elevate your transformation into Lando Calrissian with the subtle yet impactful addition of fake mustaches. These delightful accessories add a playful and distinctive element to your overall portrayal. |
Lando Calrissian Overview
Lando Calrissian is a charismatic and smooth-talking character who plays a significant role in the Star Wars saga. Initially introduced as the administrator of Cloud City in The Empire Strikes Back, Lando becomes a key ally to the Rebel Alliance and a trusted friend to Han Solo. Lando is known for his impeccable fashion taste, often seen wearing a stylish cape, a sleek shirt, and well-tailored trousers. His charm and confidence are matched only by his piloting skills, as he pilots the iconic Millennium Falcon during critical missions. To embody Lando Calrissian, you'll need to embrace his suave demeanor, distinctive fashion style, and effortless coolness. Get ready to immerse yourself in the world of Star Wars and embark on the journey to create an unforgettable Lando Calrissian costume. May the Force guide you as you capture the essence of this iconic character in your own unique way.
Check out more Star Wars costume ideas here.