Welcome to the ultimate guide for creating a vibrant and captivating Lily Parrot costume! If you're looking for a unique and colorful Halloween ensemble that exudes creativity and fun, then this costume is the perfect choice. Inspired by the lively Lily Parrot from the hit TV series "How I Met Your Mother," this costume will surely make you the center of attention at any costume party or event. In this guide, we'll take you through the step-by-step process of bringing this feathery and fabulous costume to life. From crafting the colorful outfit to adding the perfect parrot-inspired accessories, we've got you covered. So, get ready to spread your wings and embark on an exciting adventure into the world of Lily Parrot!
Lily Parrot Costume – How I Met Your Mother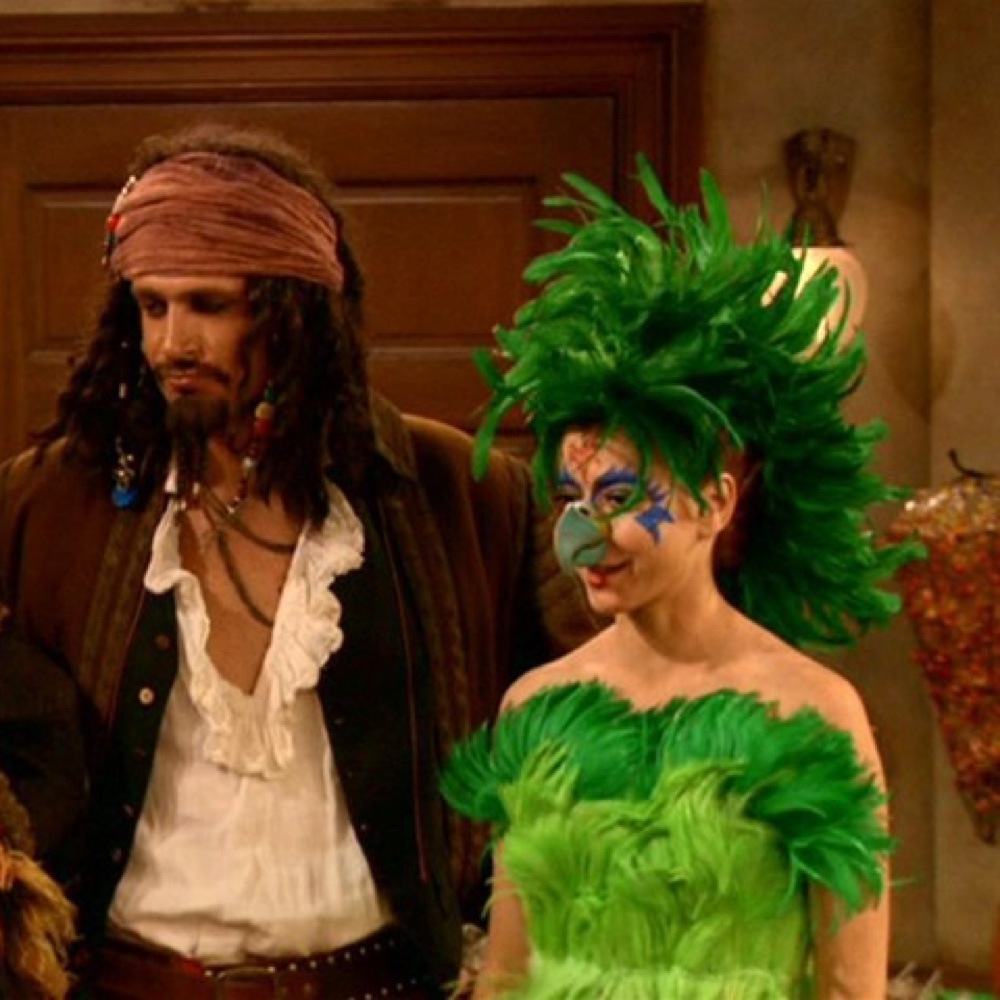 | # | Item | Description |
| --- | --- | --- |
| 1 | Tight dress, green with straps | The tight green dress with straps serves as the foundation for this vibrant and eye-catching parrot costume. To imitate Lily's look, you'll sew multicolor feathered boas onto the dress, starting from the bust and covering it completely with 4-5 boas. This gives the dress a stunning and exotic parrot-feather appearance. |
| 2 | Feathered boas, multicolor | The multicolor feathered boas are the key elements to transform your green dress into a dazzling parrot costume. Sew them onto the dress, starting from the bust area and extending to cover the entire dress. The vibrant colors and texture of the boas give the outfit a playful and flamboyant parrot-like appearance. |
| 3 | Tights, purple | Add a touch of authenticity to your costume by wearing purple tights underneath the dress, just like Lily does. These purple tights complement the vibrant colors of the costume and enhance the overall parrot-inspired look. |
| 4 | Feathered parrot headdress | The feathered parrot headdress is a crucial component of this costume. It adds an authentic touch, transforming you into a colorful and majestic parrot. This eye-catching headdress enhances the overall appearance, making your parrot costume stand out in any event or party. |
| 5 | Parrot beak | For those who truly want to embrace the parrot look, you can add the parrot beak accessory. This fun and quirky addition will fully transform you into an adorable parrot and captivate everyone at the party with your playfulness. |
| 6 | Costume makeup | Add a creative touch to your face with costume makeup. Lily wears vibrant and bright makeup to give her face a semblance of a parrot. You can follow her makeup style to bring out the playful parrot spirit in your look and make your costume even more enjoyable. |
| 7 | Boots, long, green | Complement the green dress base with a pair of long green boots. These stylish green boots perfectly tie in with the color scheme of the costume, completing your parrot-inspired outfit with a touch of elegance and style. |
| 8 | Bubble skirt | Finish off the look with a colorful and playful bubble skirt. This addition complements the vibrant feathered boas, enhancing the overall parrot-inspired appearance and making you the life of the party. |
Lily Parrot Overview
Lily Parrot, portrayed by the talented Alyson Hannigan, is one of the quirky alter egos of Lily Aldrin in "How I Met Your Mother." This flamboyant and feathered persona emerges during the show's famous Halloween episodes. Lily Parrot showcases a wild and whimsical side of Lily Aldrin, known for her love of vibrant colors and a fearless approach to fashion. With her eye-catching feathered boas and extravagant headdress, Lily Parrot embodies the spirit of a tropical bird, bringing laughter and joy wherever she goes. As a Halloween costume, Lily Parrot allows you to embrace the spirit of the tropics, infusing your outfit with vivid hues and a touch of theatricality. So, get ready to embrace your inner parrot, and let's create a stunning Lily Parrot costume that will leave everyone squawking with delight!
Check out more TV show costume ideas here.