Welcome to the ultimate guide for creating a captivating Lily White costume! If you're a fan of iconic TV characters and love to showcase your creativity on Halloween, this costume is a perfect choice. Lily White, a beloved character from the popular TV series "How I Met Your Mother," is known for her unique and stylish fashion sense, making her a fantastic inspiration for your Halloween look. In this guide, we'll walk you through the steps to transform into the fabulous Lily White, embodying her wit, charm, and elegance. Whether you're attending a costume party, a themed event, or just want to celebrate the spirit of Halloween in style, the Lily White costume is sure to turn heads and leave a lasting impression. So, let's dive into the world of crafting this fashionable and charismatic costume and make this Halloween an unforgettable one!
Lily White Costume – How I Met Your Mother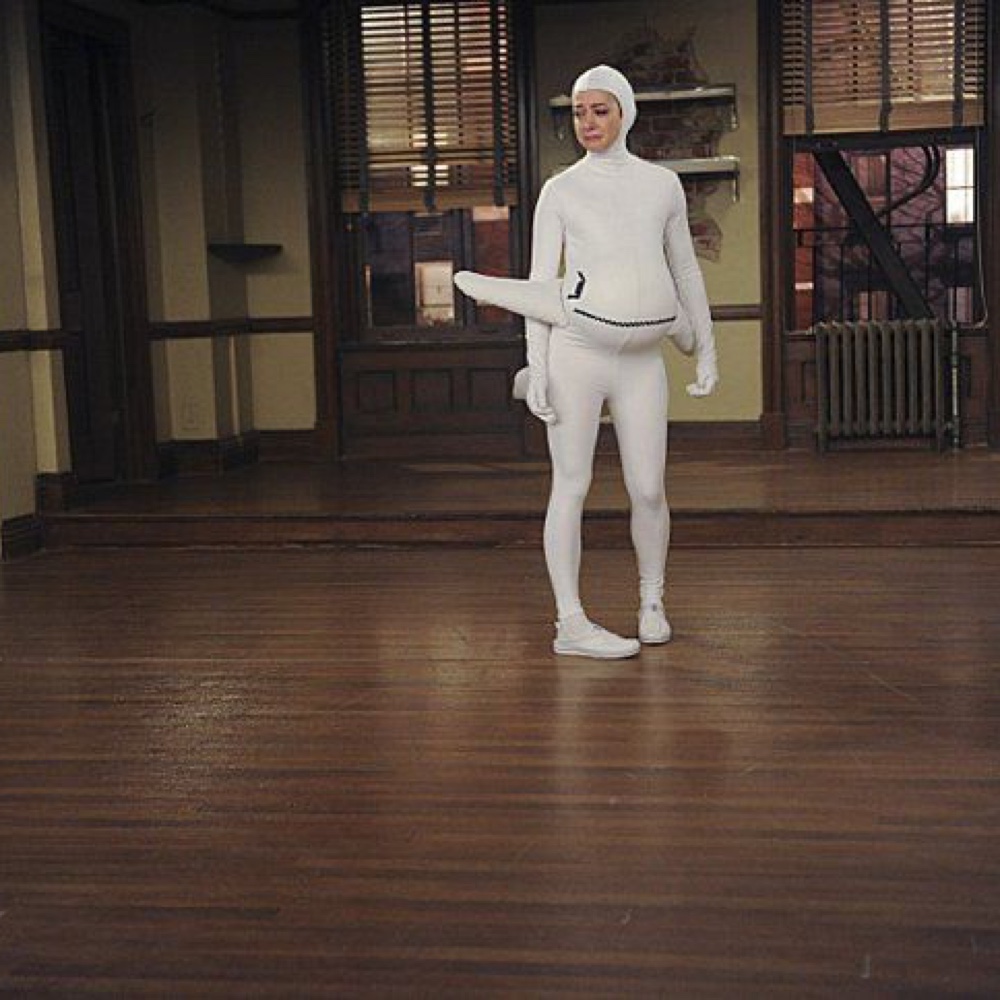 | # | Item | Description |
| --- | --- | --- |
| 1 | White morph suit, open faced | The white morph suit forms the foundation of this creative and fun Lily Aldrin Halloween costume. The suit is designed to emphasize the pregnant belly, replicating Lily's iconic "pregnant whale" look from How I Met Your Mother. |
| 2 | Black marker | To complete the look, use the black marker to draw a simple whale-like face on the belly area of the morph suit. Don't worry; it's a straightforward task! Just follow Lily's drawing to capture her hilarious "pregnant whale" concept. |
| 3 | Pillow, white, long | For the adorable whale tail, you'll need a white, long pillow. Sew it onto the back of the morph suit and fold it over into a triangle shape to create the tail. This tail, paired with the whale face on your belly, will bring Lily's "pregnant whale" costume to life! |
| 4 | Extra pillow stuffing | To give your pillow more body and help it hold its tail shape better, use the extra pillow stuffing. This additional filling ensures that your whale tail looks full and realistic, just like Lily's adorable creation in the show. |
| 5 | Sewing kit | With the sewing kit, you can make the necessary alterations to the pillow and morph suit. Sew the pillow securely into place on the back of the morph suit, and after stuffing and folding the pillow into a tail shape, sew it together so that it maintains its adorable form throughout the night. |
| 6 | White boots, tight fitting | To complete your Lily Aldrin costume, step into a pair of tight-fitting white boots. These stylish and chic boots add the perfect finishing touch to the outfit, making you ready to rock the "pregnant whale" look with confidence and humor. |
Lily White Overview
Lily White, portrayed by the talented Alyson Hannigan, is a pivotal character in "How I Met Your Mother." She is known for her quirky personality, unwavering loyalty to her friends, and a distinctive fashion sense that blends elegance with a touch of eccentricity. As an artist, she has an eye for creativity and an adventurous spirit that resonates with viewers. Lily's wardrobe is a mix of vintage-inspired pieces, vibrant colors, and playful accessories, all of which contribute to her signature style. Her outfits often feature bold prints, unique patterns, and layered looks that showcase her love for fashion experimentation. With her magnetic personality and knack for pulling off eye-catching ensembles, Lily White is a fantastic character to channel for your Halloween costume. Embrace her flair for fashion, tap into your own creativity, and let the world see the fabulous Lily White come to life on Halloween night!
Check out more TV show costume ideas here.