Welcome to "The Complete Guide to Crafting an Authentic Max Mayfield Costume." If you're a fan of the hit Netflix series "Stranger Things" and want to bring the rebellious and adventurous character of Max Mayfield to life, you've come to the right place. In this comprehensive guide, we will walk you through the process of recreating Max's unique style, from her iconic '80s fashion choices to her fierce personality. Get ready to step into the world of Hawkins, Indiana, and showcase your love for the show with an incredible Max Mayfield costume.
Max Mayfield Costume – Stranger Things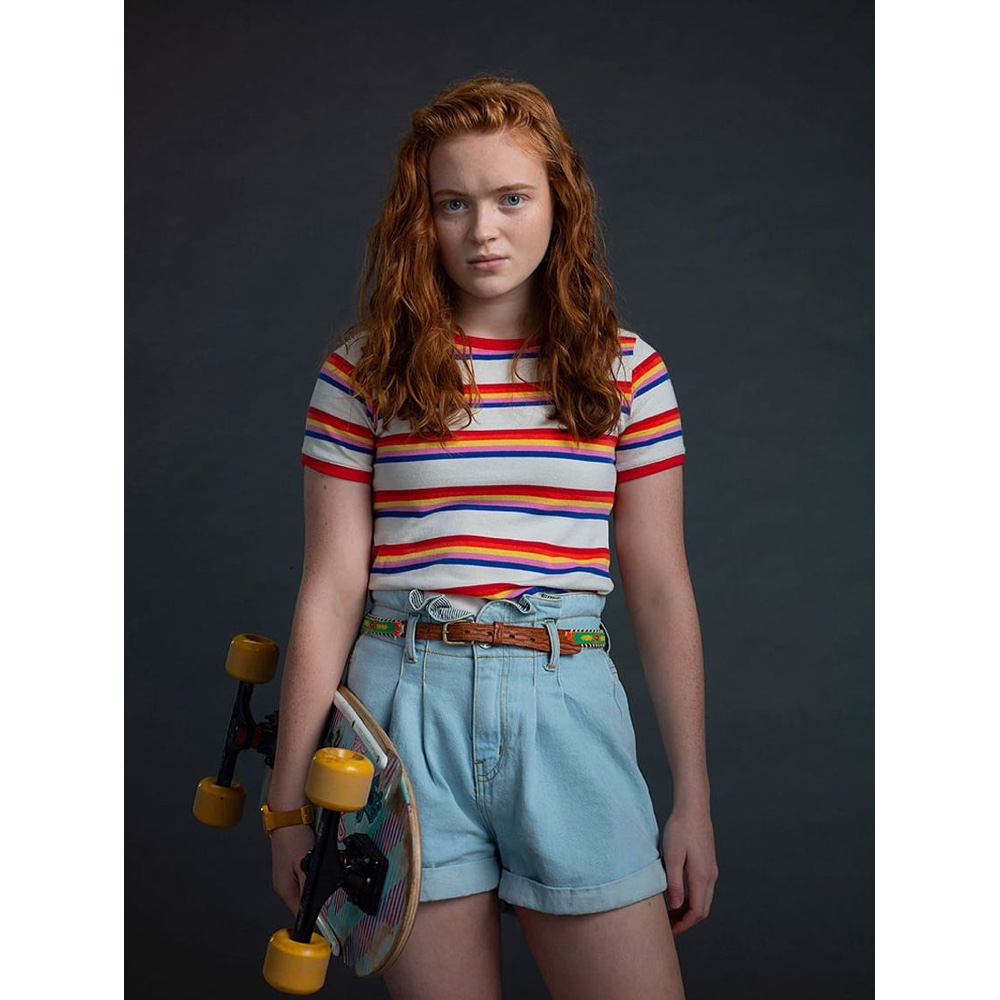 | # | Item | Description |
| --- | --- | --- |
| 1 | Vintage Striped Tee | Start off your Max-inspired outfit with the warm-toned Vintage Striped Tee. This classic piece exudes timeless fashion, reminiscent of a bygone era. Get the perfect retro look by adding this essential item to your wardrobe. |
| 2 | High-Waist, Light-Washed Denim Shorts | Elevate your style with these comfortable and fashionable High-Waist, Light-Washed Denim Shorts. These shorts perfectly complement the vintage striped tee, creating a stunning Max-inspired ensemble. Embrace the retro vibes and make a fashion statement with this versatile piece. |
| 3 | White Socks | Add a touch of comfort to your Max-inspired outfit with these cozy White Socks. These versatile accessories not only keep your feet warm but also complete the overall look. Experience the perfect blend of style and comfort with these essential items. |
| 4 | Sneakers | Elevate your style and add an extra dose of trendiness with these stylish Sneakers. Step into the spotlight and embrace the retro-inspired fashion of Max with this essential footwear. Perfectly blending style and comfort, these sneakers will become your go-to choice for any casual occasion. |
| 5 | Red Sunglasses | Add a cool and stylish touch to your Max-inspired look with these Red Sunglasses. Not only do they protect your eyes from the sun, but they also exude a sense of retro flair. Make a statement and embrace the iconic fashion of Max by accessorizing with these trendy sunglasses. |
| 6 | Ginger Wig | Transform into Max's doppelgänger with this vibrant Ginger Wig. Recreate Max's iconic hairstyle and complete your Max-inspired look with this attention-grabbing wig. Step into the world of retro fashion and capture the essence of Max's character with this essential accessory. |
| 7 | Yellow Watch | Add a pop of color to your wrist with the Yellow Watch. Its vibrant and playful design complements the retro theme of your Max-inspired outfit. Stay on time and stylish with this eye-catching accessory. |
| 8 | Belt | Style the bottoms with a belt. The Belt is a versatile accessory that adds an extra touch of sophistication to your Max-inspired ensemble. Whether you're wearing jeans or shorts, this stylish belt will effortlessly enhance your look. Complete your retro outfit and showcase your fashion sense with this essential accessory. |
Max Mayfield Overview
Max Mayfield, played by the talented Sadie Sink, is a vibrant and fearless character introduced in the second season of "Stranger Things." Her confident attitude and skateboarding skills quickly make her an integral part of the group of friends. Max is known for her bold fashion sense, sporting colorful outfits that perfectly capture the '80s aesthetic. With her strong-willed nature and loyalty to her friends, Max becomes an inspiring character for fans of all ages. As you embody Max Mayfield, you'll channel her independence, resilience, and unwavering determination.
Check out more TV show costume ideas here.