Prepare to step into the gritty world of "Star Wars" with our comprehensive guide on creating a Mayfield costume from The Mandalorian In this guide, we'll walk you through the steps to recreate the iconic look of Mayfeld, a character known for his sharp wit, complex past, and memorable appearances in the Star Wars universe. Whether you're gearing up for cosplay at a convention or simply want to pay homage to this intriguing character, we've got you covered.
Mayfeld Costume – The Mandalorian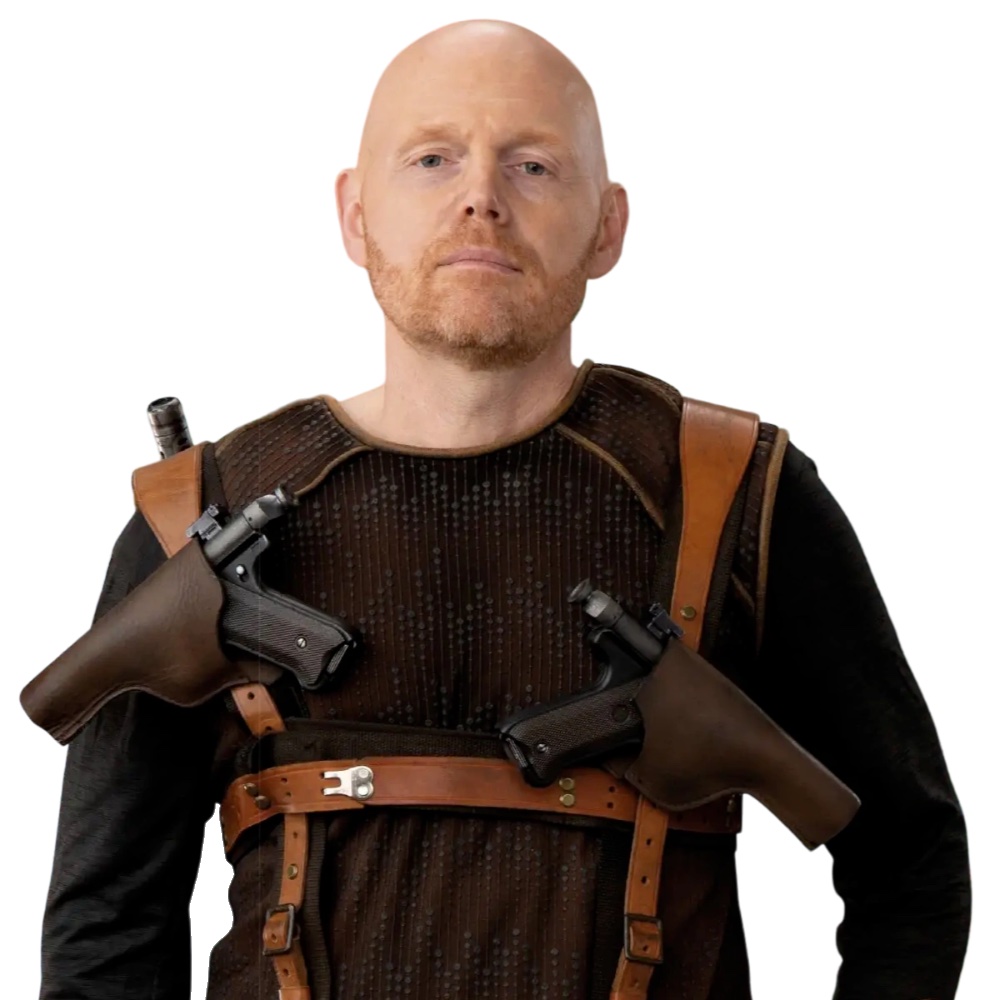 | | |
| --- | --- |
| Bald Cap | Mayfeld is recognized for his bald head. The bald cap allows you to replicate his bald look and ensures that your costume is instantly recognizable as Mayfeld. |
| Black Tactical Gloves | Mayfeld is often seen wearing black tactical gloves, which are integral to his overall look. These gloves help capture the character's tough and practical persona. |
| Charcoal Cable Knit Sweater | Mayfeld's cable-knit sweater is a defining part of his costume. Its charcoal color and textured pattern are distinctive, and wearing it is essential to achieving a screen-accurate look. |
| Brown Leather Suspenders | Suspenders are a key accessory in Mayfeld's outfit. They serve both a practical and aesthetic purpose, holding up his pants while adding to his rugged appearance. |
| Star Wars Tactical Belt | Mayfeld's tactical belt is specific to the "Star Wars" universe and adds authenticity to the costume. It also provides a place to attach other costume accessories. |
| Dark Blue Jeans | Mayfeld's choice of jeans is dark blue. These jeans are comfortable for cosplay and maintain the character's appearance. |
| Dark Brown Leg Garter Harnesses | The leg garter harnesses are a distinctive element of Mayfeld's costume, contributing to his rugged and unconventional look. They add depth and detail to the outfit. |
| Dark Brown Boots | Completing the costume are dark brown boots, which are practical for cosplay while staying true to Mayfeld's appearance. |
Mayfeld Overview
Mayfield, portrayed by the talented Bill Burr, is a character introduced in the "Star Wars" series, specifically in the second season of "The Mandalorian." This sharpshooting ex-Imperial sharpshooter turned mercenary quickly became a fan favorite. Mayfield's character is a complex one, known for his dry humor, cynical outlook, and roguish charm.
What sets Mayfield apart is his distinctive appearance, which we'll help you recreate in this costume guide. He's often seen wearing a sleek and practical outfit, perfect for the gritty world of "Star Wars." Mayfield's character arc takes him from a past of service in the Galactic Empire to a path of self-discovery and redemption.
Check out more The Mandalorian costume ideas here.