Are you ready to embark on a creative adventure in the Star Wars galaxy? In this comprehensive guide, we'll help you bring the lovable and skilled Ugnaught, Kuiil, to life through a stunning costume. Kuiil, with his endearing personality and vital role in "The Mandalorian" series, has won the hearts of fans across the universe. By following our step-by-step instructions, you'll have the opportunity to recreate this iconic character and become a beloved part of the Star Wars universe.
Kuiil Costume – The Mandalorian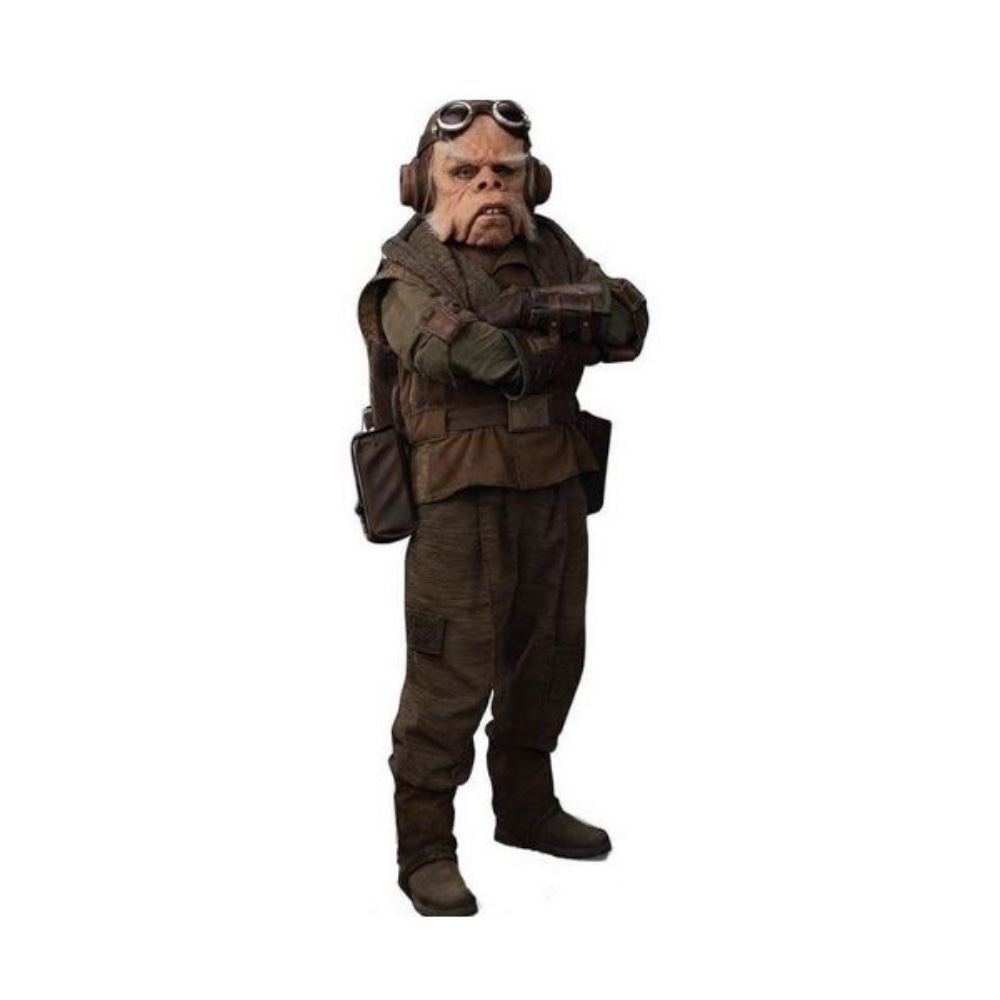 | | |
| --- | --- |
| Brown Aviator Hat + Pilot Goggles | descriptionhere |
| CoserWorld Kuiiil Mask | The Kuiil mask is the centerpiece of the costume, as it transforms your face into the character's. It allows you to emulate Kuiil's distinctive facial features and expressions. |
| Fake White Sideburns | Kuiil has distinctive white sideburns and eyebrows. These faux hairpieces help you accurately recreate his facial hair, which is a noticeable aspect of his appearance. |
| Fake White Eyebrows | You must also consider the eyebrows of this character. |
| Brown Scarf | Kuiil is often seen wearing a brown scarf that covers his neck and upper chest. This accessory adds depth and detail to the costume, making it more faithful to the character. |
| Brown Armguards | Kuiil's armguards are a defining part of his outfit. They provide authenticity to the costume and capture the character's utilitarian style. |
| Black Motorcycle Gloves | Kuiil's black gloves are another essential element of his costume. They serve both a practical and aesthetic purpose, adding to the overall look and feel of the character. |
| Brown Satchels | Kuiil is known for his satchels, which he uses to carry various items. Including these satchels in your costume is crucial to conveying his role as a hardworking mechanic. |
| Olive Green Sweater | The olive green sweater is a foundational piece of Kuiil's outfit. It contributes to the character's color palette and helps create a screen-accurate representation. |
| Light Brown Doublet Vest | Kuiil's vest, with its distinctive light brown color, adds depth and texture to the costume. It's a key element for recreating his layered appearance. |
| Brown Belt with Silver Buckle | The brown belt with a silver buckle is an essential accessory. It cinches the vest and sweater, giving the costume its distinctive silhouette. |
| Dark Brown Sweatpants | Kuiil's costume extends to his lower body, where he wears dark brown sweatpants. These pants are comfortable for cosplay while staying true to the character's look. |
| Dark Brown Work Boots | Completing the ensemble are dark brown work boots. These boots provide the necessary footwear and are practical for events or conventions. |
Kuiil Overview
Kuiil, an Ugnaught native to the planet Arvala-7, is a character introduced in the widely acclaimed Disney+ series, "The Mandalorian." Voiced by the talented Nick Nolte, Kuiil is renowned for his wisdom, humility, and deep sense of honor. He is a skilled mechanic and a former indentured servant of the Empire, known for his iconic phrase, "I have spoken."
Kuiil's unique appearance and personality make him a captivating choice for cosplay enthusiasts. He has distinct features, including his tattered work clothes, rugged boots, and a signature deep-set facial structure. Kuiil's character is defined by his wisdom, his journey from servitude to freedom, and his commitment to helping others in the galaxy.
Check out more The Mandalorian costume ideas here.